Dr. Anthony Fauci revealed that he has not briefed President Donald Trump on the coronavirus pandemic in at least two months, as polls continue to show Trump's sinking approval rating.
Fauci, the top adviser on the White House's coronavirus task force, told the Financial Times that he has not seen Trump in person since early June, and that he has not briefed the president in "at least two months."
Instead, Fauci meets with the White House Coronavirus Task Force, which is run by Vice President Mike Pence. Fauci told the Times that he is "sure" his messages are passed to Trump.
But Trump's approval rating regarding his handling of the pandemic continues to reach record lows.
According to a recent ABC News/Ipsos poll, 33 percent of Americans said they approved of his response, down from a previous low of 39 percent reported in a June poll.
Newsweek contacted the White House for comment but did not hear back in time for publication.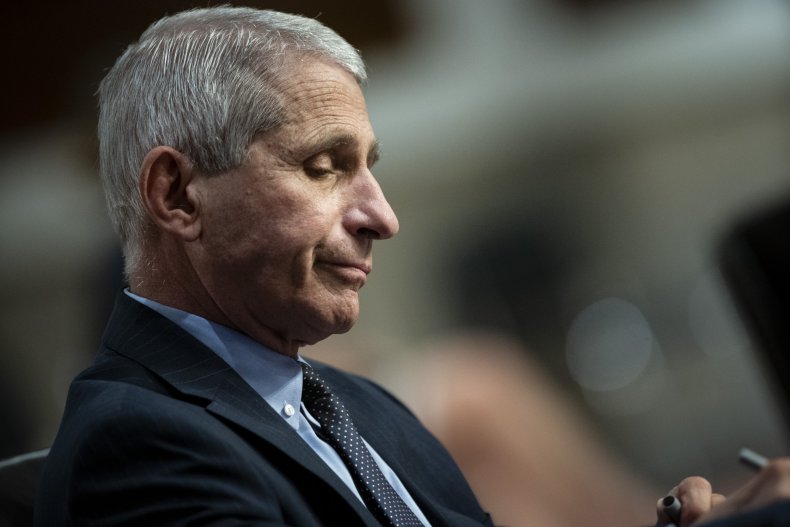 In April, the president claimed that injecting disinfectant might help treat coronavirus.
"I see the disinfectant that knocks it out in a minute, one minute," Trump had said during a press briefing. "And is there a way we can do something like that by injection inside, or almost a cleaning? Because you see it gets inside the lungs and it does a tremendous number on the lungs, so it would be interesting to check that."
According to an internet survey conducted by the Centers for Disease Control and Prevention, nearly one third of respondents said they had "engaged in non-recommended high-risk practices," including using bleach on food products and applying household cleaning and disinfectant products to the skin.
And on July 4, Trump had told a crowd on the White House lawn that "99 percent of [coronavirus cases] are totally harmless," prompting immediate backlash.
For his part, Fauci has said he was trying to figure out where Trump had gotten that figure.
"What I think happened is that someone told him that the general mortality is about 1 percent. And he interpreted, therefore, that 99 percent is not a problem, when that's obviously not the case," Fauci told the Times, letting out a small laugh when asked if he thought Trump was wrong for making such a statement.
Trump announced Tuesday that the U.S. would officially begin the process of withdrawing from the World Health Organization, a group Fauci has worked with throughout his career.
While Fauci acknowledged the WHO's imperfections, he told the Times that the tension between the WHO and White House is "really unfortunate."
Just last week, Fauci had warned Congress that if the country stays on its current trajectory of rising coronavirus cases, he would "not be surprised" if the U.S. sees 100,000 new cases per day.
According to data provided by the CDC, the U.S. reported 64,771 new cases on July 9—the highest number reported yet, by nearly 10,000, since the crisis began in March.
"I don't think it's an exaggeration to say we have a serious ongoing problem, right now, as we speak," Fauci told the Times.
Newsweek reached out to Fauci for further comment but did not hear back in time for publication.