Fauci Says Trump Equates Wearing Masks With Weakness, and It Doesn't Make Sense
Dr. Anthony Fauci has said there is "no doubt" that masks prevent the spread of the coronavirus, and that President Donald Trump suggesting wearing a face covering is a sign of weakness makes no sense to him.
Fauci, the decades-long director of the National Institute of Allergy and Infectious Diseases (NIAID) and White House coronavirus task force member, made the comments in a wide-ranging CBS 60 Minutes interview broadcast on Sunday.
Asked by host Dr. Jon LaPook to comment on the president not wearing masks consistently, Fauci said this was not proof that the president was anti-science, but rather what Trump regarded as an apparent "statement of strength."
"He sometimes equates wearing a mask with weakness," said Fauci.
"Does that make sense to you?" asked LaPook, to which Fauci replied: "No, it doesn't. Of course not."
The president avoided wearing and promoting masks in the early stages of the epidemic, before shifting to calling them "patriotic" in August. At the presidential debate with Democratic nominee Joe Biden last month, he said: "I think masks are OK."
Referring to Biden, the president said: "When needed, I wear masks. I don't wear masks like him. Every time you see him, he's got a mask. He could be speaking 200 feet away from them, and he shows up with the biggest mask I've ever seen."
LaPook also asked the leading immunologist whether he thought it was ironic that the president, who has not always consistently followed the advice of public health officials and scientists, recovered from COVID-19 due to science. The president tested positive for the coronavirus at the start of the month, and was given a unique cocktail of experimental drugs.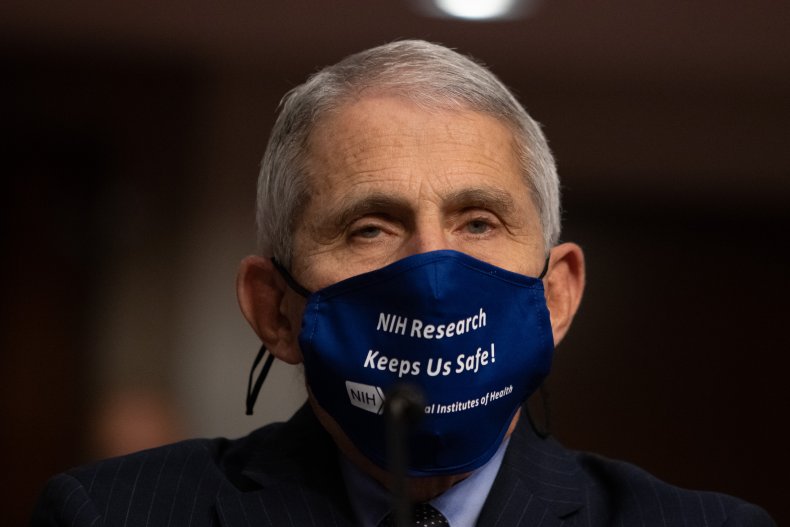 Fauci said it wasn't ironic but "fortunate" that the president benefited from science. "Deep down he believes in science, if he didn't he wouldn't have entrusted his health to the very competent physicians at the Walter Reed army medical center," Fauci said.
As shown by the graphic by Statista below, trust in science is a partisan issue in the U.S.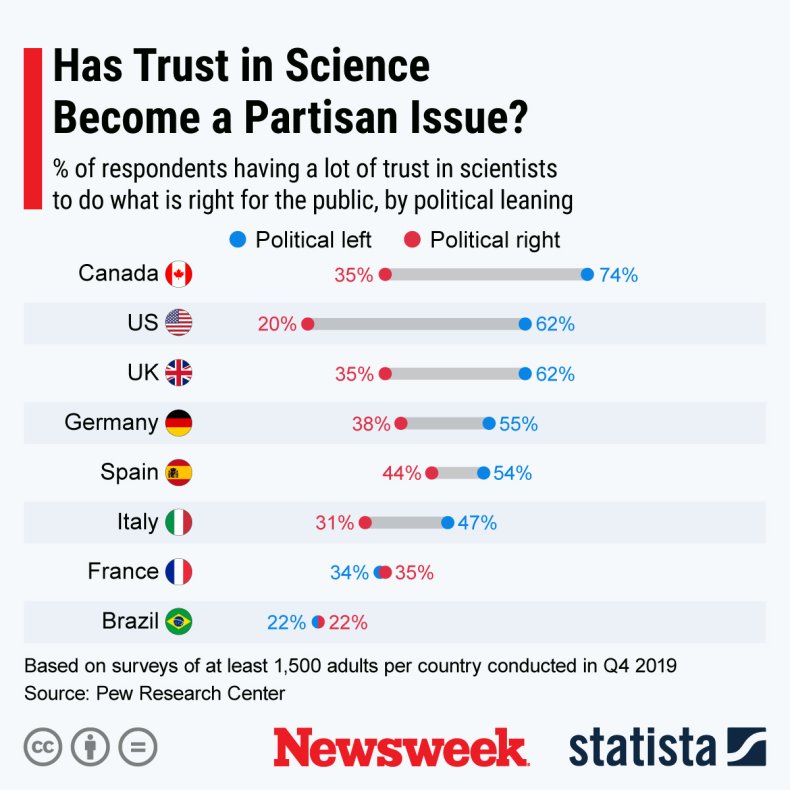 The pre-recorded interview was broadcast the day that Twitter removed a tweet by White House coronavirus adviser Dr. Scott Atlas, a neuroradiologist with no expertise in infectious disease or epidemiology, claiming that masks do not work. Newsweek has contacted Atlas for comment.
In the interview, Fauci confronted the fact he advised against wearing masks early in the pandemic, before changing his stance—something that Trump raised during the presidential debate with Democratic nominee Joe Biden.
Fauci explained that it became clear that cloth coverings, and not necessarily the types of masks that needed to be reserved for healthcare workers, work to prevent the virus from transmitting. Studies have also since that "masks really do work in preventing infections," he said.
"When you find out you were wrong it's a manifestation of your honesty to say 'hey, I was wrong, I did subsequent experiments and now it's this way'," said Fauci.
Newsweek has contacted the White House for comment.
This article has been updated with a Statista graphic.