Fauci Warns Americans Not to 'Panic' Over Omicron as Scientists Rush to Determine Threat
Dr. Anthony Fauci said Monday that the U.S. should not panic over the spread of Omicron, the new coronavirus variant, as the international community is racing to determine how the latest strain will affect the pandemic.
Speaking on CBS Mornings, the infectious diseases expert said that instead of "freaking out," Americans should be taking precautionary steps to protect themselves against the virus, such as getting vaccinated or receiving a booster shot.
"We should not be freaking out. We should be doing the things that we know work when you're dealing with a pandemic virus. It's not the time to panic. We should be concerned, and our concern should spur us to do the things that we know work," he said.
The Omicron variant was first detected in South Africa this month and has now spread to over a dozen countries, with no cases reported yet in the U.S. The World Health Organization (WHO) has labeled Omicron a "variant of concern" and said that its global risk could be "very high" because of its more than 30 mutations.
Some experts fear the new variant may be more transmissible than other versions of the virus or be capable of bypassing certain levels of immunity, but such theories have yet to be proved. In the meantime, countries around the world have rushed to close their borders and ramp up vaccinations in an effort to slow the virus's spread.
"It appears to be spreading very readily and has a transmission advantage," Fauci said Monday, referring to early information provided by South African scientists.
Fauci added that one of the key things that remain unknown is whether the new variant causes more severe COVID-19 symptoms than previous strains, according to CBS. However, the scientists who first discovered the variant in South Africa have so far said that the symptoms appear to be "mild."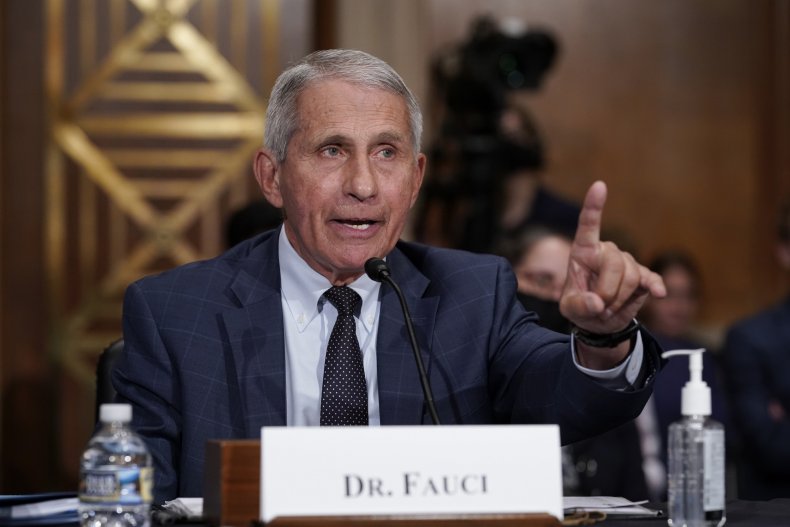 On Sunday, the Canadian government announced the first known cases of the Omicron variant in North America, among two people who recently traveled to Nigeria. While no cases have been reported in the U.S. as of Monday morning, Fauci and other scientists have said that the virus may already be here.
"The sequence was first reported on November 11. This virus must have been circulating in southern Africa before then, so it may well have entered the U.S. already," Stephen Morse, a professor of epidemiology at Columbia University's Mailman School of Public Health, told Newsweek.
On Monday, the WHO said in a risk assessment about Omicron that countries should accelerate vaccinations against the coronavirus as rapidly as possible, particularly for vulnerable populations and for those who are unvaccinated or not fully vaccinated. The agency also called on health authorities to strengthen surveillance and field investigations to better determine the variant's characteristics.
Fauci echoed that sentiment on Sunday, saying that the severity of the Omicron variant in the U.S. may be determined by how well we mitigate the situation with vaccines and boosters now.
"[The new wave] will really be dependent upon what we do in the next few weeks to a couple of months," Fauci told CBS' Face the Nation.
"So if we now do what I'm talking about in an intense way, we may be able to blunt that. If we don't do it successfully, it is certainly conceivable and maybe likely that we will see another bit of a surge," Fauci added. "How bad it gets is dependent upon us and how we mitigate."