'FBI: International' Release Date, Cast, Trailer, Plot: Showrunner Derek Haas Reveals All
FBI is getting a third crossover this year on CBS. FBI: International focuses on a bureau "fly team" that jet sets across the world solving crimes.
The spin-off will be released this fall with a major crossover between FBI, FBI: International, and FBI: Most Wanted. In that three-way crossover, fans will meet the new cast, led by Luke Kleintank as elite agent Scott Forester.
In the lead up to the release date of the FBI: International pilot, Newsweek spoke to its showrunner (and Chicago PD, Med and Fire creator) Derek Haas to find out exactly what fans can expect from the new spin-off.
When does FBI: International start?
The new spin-off kicks off at 10 p.m. ET / 9 p.m. CT on Tuesday, September 21 as the third part of a three-part crossover.
Haas teased of this: "It was a case too big for just one show! You will see almost all of the agents from the other shows in the third hour so don't touch that dial (as we used to say.)"
That case sees the International team brought in as an American fugitive flees to Croatia. The story will begin with FBI at 8 p.m. ET / 7 p.m. CT, with Most Wanted at 9 / 8 and International at 10 / 9.
After that first week, International will move forward an hour, with the remaining episodes airing on Mondays at 9 p.m. ET / 8 p.m. CT on CBS. Episode are also expected to stream live and on demand on Paramount+.
Who is in the cast of FBI: International?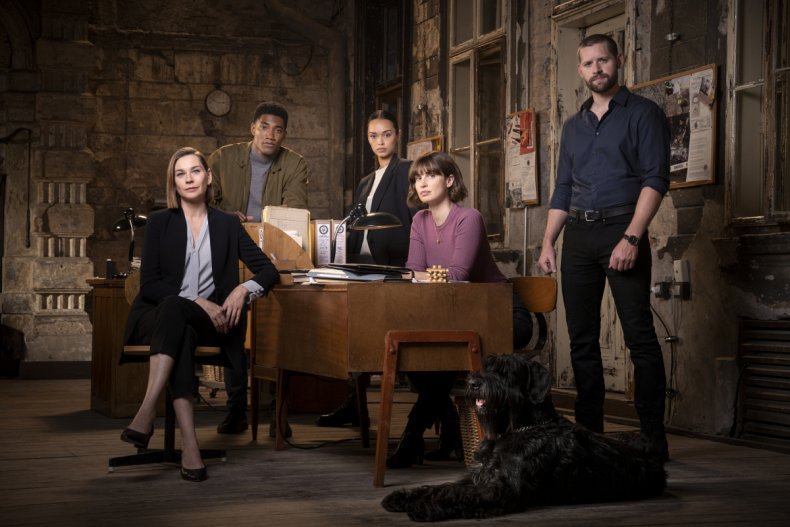 Haas said of the new cast of characters: "They take every case personally. They aren't beaten-down and world weary... they can't wait to get up in the morning and catch bad guys."
Leading the FBI Fly Team at the heart of the show is The Man in the High Castle star Luke Kleintank as Special Agent Scott Forester. Per CBS' official description, Scott is an "accomplished and dedicated leader, puts his missions ahead of his personal life and is rarely seen without the team's 'secret weapon' – their trusty Schutzhund dog, Tank."
Second in command is Special Agent Jamie Kellett, played by Poldark actor Heida Reed, who is "not afraid to tussle – in an alley or courtroom – and her extensive network of informants is a powerful resource."
Also starring in the show are:
Carter Redwood (Orange is the New Black) as Andre Raines, an accountant turned FBI special agent
Vinessa Vidotto (Lucifer) as Cameron Vo, the team newbie, who is "a competitive West Point grad who excels at interrogation and strategy."
Christiane Paul (Counterpart) as Katrin Jaeger, a Europol agent who helps the team liaise with authorities in whichever country they find themselves in.
What to expect from FBI: International
The official synopsis from CBS reads: "Headquartered (and filmed) in Budapest, elite operatives of the Federal Bureau of Investigation's International Fly Team travel the world with the mission of tracking and neutralizing threats against American citizens wherever they may be."
Asked what sets this second spin-off apart from the first two editions, Haas said, "a lot of people don't realize that the FBI has agents posted overseas. They think that is the domain of the CIA. But this is the premiere law enforcement agency in the world and they are very successful about partnering with law enforcement in over 90 countries around the world. We're going to show you a side of the FBI that rarely gets seen."
He added: "The show has a relentless pace and passionate agents who chase down criminals all over Europe. It just feels bigger in every way."
"I was excited to write and produce a show that would be set in and shot overseas about an FBI Fly Team that hopped from country to country each week. It didn't seem like there was anything like this on network TV."
As the title suggests, the show will be truly international in scope. After a block of filming in Budapest, the series is shooting in Austria and France in the coming months. Speaking of this cosmopolitan feel, Haas said, "we will be setting the show in Madrid, Paris, Zagreb, Sofia, Budapest, Naples... the list just goes on and on. This is a fly team... it's right there in the title!"
Is there a trailer for FBI: International?
A promo for the show was released back in May. It sees show creator Dick Wolf discussing the inspiration behind the show, as well as giving viewers an explosive first look at the show.