FBI Will 'Storm' Stage, Arrest Trump on Live TV, Radio Host Predicts
Former President Donald Trump at some point will be arrested live on national television as a way to prevent him from becoming, or even running for, president again, conservative commentator Todd Starnes predicted Wednesday.
"Mark my words here: There will be a moment when President Trump is giving one of his big speeches somewhere and the FBI will storm the stage," Starnes said. "They will arrest the president on national television and drag him away. That's how all of this will end up."
Starnes made the prediction on his podcast in an episode titled Will Biden dispatch feds to arrest Trump supporters? and came following Monday's FBI search of Trump's Mar-A-Lago residence. His reasoning was that such a dramatic public display of federal power would dissuade many Americans from voting for Trump if he makes a 2024 presidential run, or legally make Trump unable to run for office altogether.
He and some Republican members of Congress, including Senator Rand Paul and Representative Marjorie Taylor Greene have repeated Trump's claim that the FBI potentially "planted" evidence. They've argued it was possible due to a lack of on-scene witnesses—a claim that one former federal prosecutor said was indicative of admitting guilt and hiding the truth.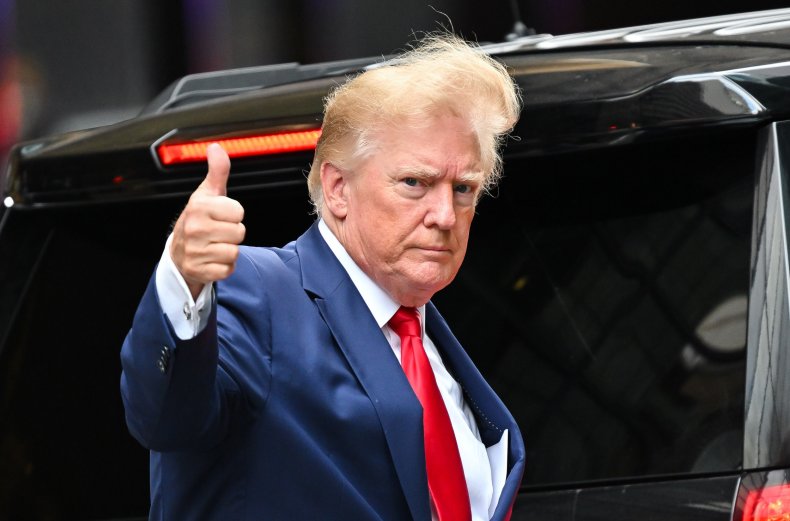 The "raid" was "meant to embarrass and humiliate" Trump, Starnes said.
Starnes also said Wednesday that "the federal government has been weaponized" to prevent another Trump White House, saying "Democrats are terrified" of his political viability.
Trump has not yet announced an official presidential campaign but has continuously teased about another run. In late July, he was asked by radio show hosts why he hadn't yet declared considering the likelihood he would have a rematch against President Joe Biden.
"Very hard for me not to run, to be honest," Trump said on the The Clay Travis & Buck Sexton Show, referencing polling that showed "it would be easy" to beat Biden.
Polls have skewed in Trump's favor to defeat Biden in a rematch, with some showing that even with the ongoing January 6 hearings and other legal inquiries, he is still slightly favored to win.
However, other polls and fundraising numbers shed doubt about whether Trump would even be his own party's nominee, considering a massive uptick in attention garnered by Florida Governor Ron DeSantis throughout the past year or so.
A straw poll at last weekend's Conservative Political Action Conference showed that about 69 percent of attendees preferred Trump to run again. DeSantis came in second with 24 percent.
However, Trump's fundraising showed some holes in the first six months of this year. Money dipped about $20 million year over year, while DeSantis raised about $9 million more in that same six-month period.