A Feinstein Retirement Would Test Newsom's Pledge to Appoint a Black Woman
Should Senator Dianne Feinstein decide to retire, Governor Gavin Newsom would be tested to follow through with a pledge he made to Californians last year.
Feinstein, 88, was first elected to the U.S. Senate in 1992 and is the oldest sitting lawmaker in the chamber. Recently, Feinstein has been at the center of speculation about whether she will retire as reports detail how those around her are allegedly worried about her cognitive health.
Those concerns were amplified in a new report from the San Francisco Chronicle on Thursday. The article cited four unnamed senators and three former Feinstein staffers who told the newspaper that "her memory is rapidly deteriorating."
If Feinstein were to retire before her term is up in 2024, Newsom, also a Democrat, would be responsible for selecting someone to fill her seat. While fighting a recall race last year, Newsom said he would nominate a Black woman to serve the remainder of Feinstein's term if she stepped down.
"I have multiple names in mind," Newsom told MSNBC in March 2021.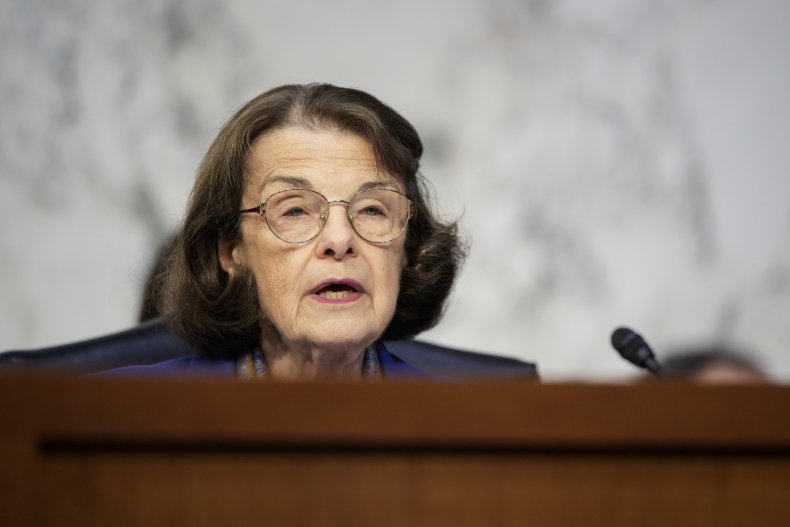 Newsom made the statement after Kamala Harris, the only Black woman in the U.S. Senate, left the chamber to serve as vice president. Newsom appointed California's junior senator, Alex Padilla, to Harris's seat.
Feinstein told Newsweek in a statement that she remains "committed to do what I said I would when I was re-elected in 2018: fight for Californians, especially on the economy and the key issues for California of water and fire."
"While I have focused for much of the past year on my husband's health and ultimate passing, I have remained committed to achieving results and I'd put my record up against anyone's," Feinstein continued. She cited her work on getting Congress to reauthorize the Violence Against Women Act and securing government funding for California.
"The real question is whether I'm still an effective representative for 40 million Californians, and the record shows that I am," she said.
One California Democrat serving in Congress told the Chronicle they had a conversation with Feinstein in which they had to reintroduce themselves to her several times, and that the senator allegedly repeated several questions.
"They said it appears she can no longer fulfill her job duties without her staff doing much of the work required to represent the nearly 40 million people of California," the newspaper wrote.
In December 2020, the New Yorker reported that Feinstein's "missteps" were raising a " painful age question" among the Democratic wing of the Senate. One example cited was Feinstein repeating a question to Twitter executive Jack Dorsey during a Senate Judiciary Committee hearing.
Newsweek reached out to Newsom's office for comment.