Philippines' Marcos Jr. Can Visit U.S Without Arrest Over $353M Court Order
Ferdinand "Bongbong" Marcos Jr., the incoming president of the Philippines, will be allowed to set foot on United States soil without being detained over a long standing contempt order worth $353 million, a State Department official has confirmed.
Marcos Jr., the son of former Philippine dictator Ferdinand Marcos Sr., won the presidential election in the South East Asian country with around 60 percent of the votes in May. There have been questions about whether Marcus Jr. would be allowed to visit the U.S. due to the contempt order issued by the District Court of Hawaii in 2011 in connection to human rights abuses linked to his family's previous rule.
During a visit to the Philippines on Thursday, U.S. Deputy Secretary of State Wendy Sherman confirmed that Marcus Jr. will not be arrested if he entered the U.S. once he is president because he will be protected by diplomatic immunity.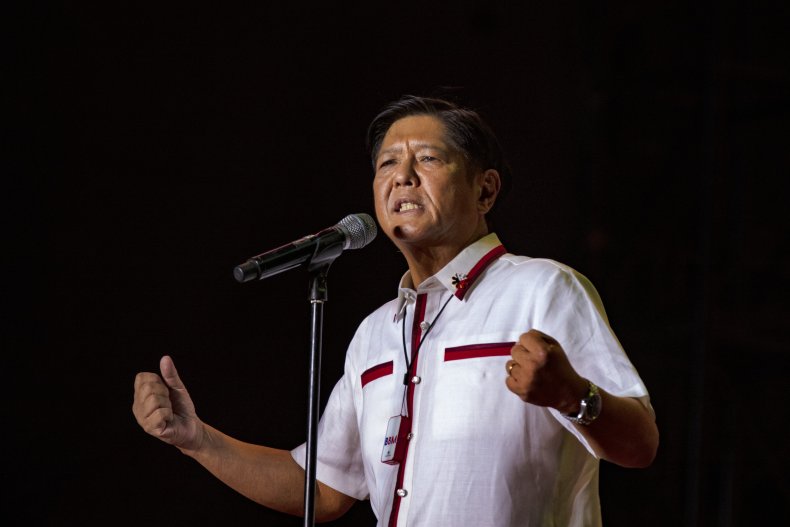 "The fact is when you are head of state, you have immunity in all circumstances and are welcomed to the United States in your official role," Sherman told reporters on Thursday. "When someone is head or state, they have [diplomatic] immunity and would be welcome in the United States."
Sherman also shared a picture of herself on Twitter shaking hands with the President-elect Marcos during the diplomatic visit.
"We discussed strengthening our longstanding alliance, expanding people-to-people ties, deepening our economic relationship, advancing human rights, and preserving a free and open Indo-Pacific," Sherman tweeted alongside the photo.
Marcus Sr. was ousted in a pro-Democracy revolt known as the People Power Revolution in 1986 after two decades in power. The dictator is accused of imprisoning around 70,000, torturing 34,000 and killing around 3,200 of his own citizens after imposing martial law in the Philippines between 1972 and 1981, according to Amnesty International.
The District Court of Hawaii ordered the Marcos family in 1995 to pay $2 billion of reparations to the victims of the martial law imposed by Marcus Sr. In 2011, Marcus Jr. and his mother, Imelda, were fined $353 million by the court for failing to provide information on assets in connection to the human rights class action suit against Marcos Sr.
A spokesperson for the U.S. Embassy in Manila, without directly addressing Marcos' case, told Reuters that the president-elect will be free to enter the country without risk despite the contempt order still being active.
"Under international law, a sitting head of state is granted comprehensive immunity from foreign jurisdiction," the spokesperson said. "Therefore, a president will have immunity from U.S. jurisdiction, including when traveling in the United States."
President Joe Biden was one of the first world leaders to call and congratulate Marcus Jr. following his election win.
"President Biden underscored that he looks forward to working with the President-elect to continue strengthening the U.S.-Philippine Alliance, while expanding bilateral cooperation on a wide range of issues, including the fight against COVID-19, addressing the climate crisis, promoting broad-based economic growth, and respect for human rights," the White House said in a May 11 statement.
Newsweek reached out to the State Department for comment.