Fewer Adults Refusing COVID Shot, Signaling Vaccine Hesitancy is Waning as Delta Surges
As the highly contagious COVID-19 Delta variant surges and vaccines are increasingly encouraged across U.S. workplaces, fewer adults than ever are refusing to receive the shot, according to a new poll.
In a new Axios/Ipsos poll, only one in five Americans said they aren't likely to get the coronavirus vaccine, marking the lowest that figure has been since the group began tracking surveys in the pandemic. For those who said they would definitely not get vaccinated, that number has dropped to just 14 percent, down one percentage point from July and four points from a similar poll released in May.
The survey also found that 80 percent of Americans have concerns regarding the spread of the Delta variant in the U.S., while 78 percent believe the current outbreak of cases is concerning – signaling that people now feel more inclined to receive protection against the virus.
Other driving factors for waning vaccine hesitancy include recent FDA approval of the Pfizer/BioNtech shot and vaccine mandates at work, according to the poll.
One in three unvaccinated Americans said FDA approval would make them likely to receive the shot, 43 percent said their boss requiring vaccination would encourage them to do so, up from 10 percentage points from July.
"Schools, organizations, companies, governments implementing mandates are forcing people to deal with them," Cliff Young, president of Ipsos U.S. Public Affairs said, according to Axios. "That's what going on."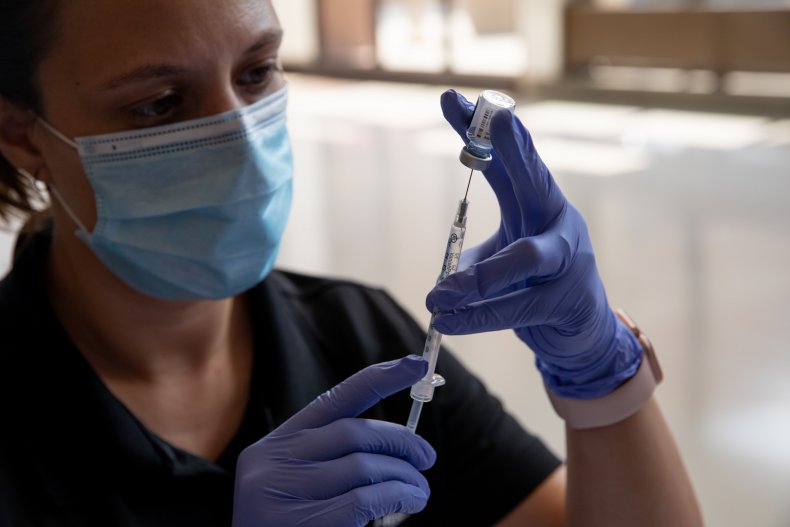 As vaccine hesitancy appears to wane for adults, the poll also found that a majority of parents support getting their children vaccinated. Two-thirds, or 68 percent, said they are likely to vaccinate their kids or they already have, while just 31 percent said they would not.
The survey was conducted from August 27-30 using a sample of 1,071 adults age 18 or older. The margin of sampling error is plus or minus 3.2 percentage points.
The findings come as the U.S. continues to grapple with surging coronavirus cases and hospitalizations.
In states including Alabama, Arkansas, Florida, Georgia, Mississippi and Texas, hospital ICU capacities have all reached over 90 percent in recent weeks as the Delta variant surges. Fatigued hospital workers across the country, from Florida to California, have expressed frustration by the number of unvaccinated coronavirus patients facing severe health consequences – with many in their 20s or 30s.
According to data from Johns Hopkins University, there were over 258,000 new cases and 1,172 deaths in the U.S. on August 30. Since the pandemic began, the country has seen more than 39 million cases and 638,711 total deaths.
As of Tuesday, over 52 percent of all Americans are fully vaccinated against the coronavirus, while 61 percent have received at least one dose, according to the Centers for Disease Control and Prevention (CDC).