Percentage of Americans Saying They'll Never Get COVID Vaccine Drops to New Low of 18%
As President Joe Biden pushes for 70 percent of Americans to receive at least one shot of the COVID-19 vaccine by July, the number of those who said they would never be inoculated has reached an all-time low, according to a new poll.
In a Yahoo News/YouGov poll published Friday, just 18 percent of Americans reported that they would never receive a coronavirus vaccine. That number marks a two-point decrease from a similar poll released on May 1.
According to the survey, the number of "never-vaxxers" appears to have declined throughout the month since states began incentivizing vaccinations with cash prizes and other rewards. Among key groups who have previously leaned toward anti-vaccination – Republicans, Latinos, and Americans making less than $50,000 – each have reported being more inclined to receive the COVID-19 vaccine at some point.
The poll also found that the general anxiety surrounding the pandemic has fallen to its lowest levels, with just 15 percent of Americans saying they are now "very worried" about COVID-19. Only 35 percent reported being "somewhat worried" about the virus, while 30 percent said they are "not very worried," and 20 percent said they were "not worried at all."
The poll was conducted by YouGov from May 24 to May 26 using a sample of 1,588 U.S. adults interviewed online. The margin of sampling error is plus or minus 2.8 percent.
The survey was released just days after the U.S. reached a milestone of fully vaccinating 50 percent of the adult population on Tuesday.
According to the CDC, more than 133 million Americans are fully vaccinated against COVID-19. In total, over 62 percent of all U.S. adults have received at least one dose of a vaccine. For the population aged 12 and above, over 59 percent has received at least one shot, while 47 percent is fully vaccinated.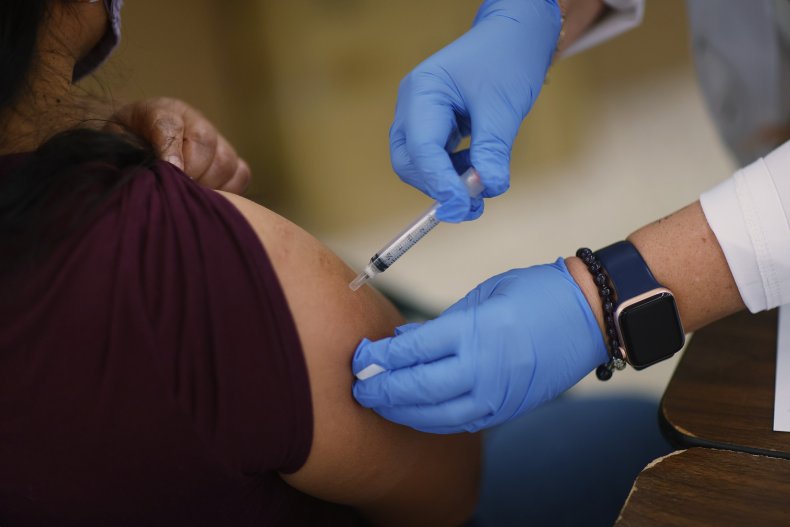 Last month, the Biden administration more than doubled its initial goal of 100 million COVID-19 vaccinations in his first 100 days in office, reaching the 200 million benchmark on April 21. Now Biden is pushing for a new goal to have at least 70 percent of the population partially vaccinated by July 4.
On Tuesday, White House COVID-19 advisor Andy Slavitt urged Americans who may still be on the fence about the jab to set up a consultation and have questions answered by a health care expert.
"Find whatever reason you want to get vaccinated. For those not sure yet, do your homework, talk to your doctor or your pharmacist. All concerns are reasonable, but do yourself a favor: Don't let some guy on Facebook answer your question when good answers are available," Slavitt said during a White House press briefing, CNN reported.
Health care experts have long said that at least 70 to 85 percent of the U.S. population will need to reach immunity through either vaccination or infection in order to halt the spread of the virus.
To combat vaccine hesitancy, Biden said earlier this month that more than $130 million will be allocated to improve vaccine education and information in underserved communities. Another $250 million will go to community-based organizations to mobilize outreach efforts.
Furthermore, at least nine states have begun implementing programs that provide cash prizes, lottery tickets, and complimentary drinks and gift cards as a way to incentive people to get the COVID-19 jab. In Ohio, Republican Governor Mike DeWine is offering five vaccinated adult residents $1 million each through the "Vax-a-Million" lottery. That program has already seen a 30 percent increase in vaccination rates, according to data from the state's health department.