Finland Leaves Sweden Behind in Race to NATO Membership
Finland is set to press ahead with its NATO bid alone as Turkey holds up Sweden's attempt to join the alliance because of bilateral political disputes.
Finnish President Sauli Niinistö is in Turkey on Friday to meet with Turkish counterpart Recep Tayyip Erdogan and possibly receive the nod on Helsinki's accession.
NATO Secretary-General Jens Stoltenberg has expressed the hope that both Sweden and Finland will become full members of the alliance by the time of the NATO summit in Vilnius in July.
Finnish President Sauli Niinistö on Friday appeared set to receive the nod on Helsinki's NATO membership from Turkish counterpart Recep Tayyip Erdogan, who for several months has held up the alliance's proposed expansion because of political disputes with Sweden.
Sweden and Finland had planned to join NATO at the same time, a proposal supported by the U.S. and other key Western alliance nations. But with Erdogan still blocking Sweden's bid, Finland is set to press ahead alone.
"It was known that once President Erdogan has for his part made the decision concerning the ratification of Finland's NATO membership, he would wish to meet and fulfil his promise directly from President to President," Niinistö said in a statement on Wednesday, during a trip to Turkey in which he visited areas in the southeast of the country devastated by February's earthquake.
"The Turks have hoped that I be present when they announce this decision," the Finnish president said. "Of course, I accepted the invitation and I will be there to receive his expression of will."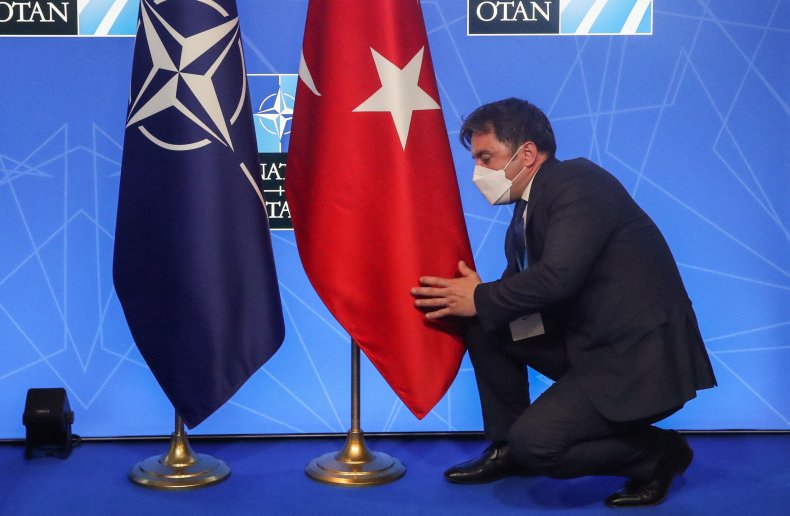 NATO Secretary-General Jens Stoltenberg earlier in March expressed the apparent shift away from alliance hopes that Stockholm and Helsinki would be welcomed into NATO together.
"My goal is that both Sweden and Finland should become full members of NATO as soon as possible," he said, "at least by the Vilnius summit," referring to the planned alliance meeting in the Lithuanian capital in July.
Swedish Prime Minister Ulf Kristersson echoed the outlook this week, telling reporters: "What we have encountered in recent weeks is that the probability of this happening at different times has increased…At the end of the day, it is not a matter of whether Sweden becomes a member of NATO, but when."
NATO's Slow Expansion
The 30-nation bloc officially invited Sweden and Finland to join the alliance in 2022, just months after Russia launched its full-scale invasion of Ukraine. The Kremlin's "special military operation" prompted a historic shift in political and public opinion towards NATO membership, leading both nations to jettison their long-held official neutrality.
Only Hungary and Turkey are yet to approve the dual accession. Both parliaments have repeatedly delayed the debate and ratification process required, though lawmakers in Budapest finally began their discussions in February.
But in Turkey, where presidential and parliamentary elections are looming, and Erdogan's government is grappling with the earthquake fallout, progress has been slower.
Ankara has expressed concern about Swedish and Finnish arms exports to Kurdish groups in Syria that Turkey considers terrorist organizations, as well as the presence and activism in both countries of pro-Kurdish organizations and those accused of involvement in the failed Turkish coup of 2016. Both Sweden and Finland have accepted some, but not all, Turkish demands.
Stockholm has rankled Erdogan by refusing to extradite Turkish dissidents, with tensions exacerbated by far-right protests in Stockholm at which a Quran was burned. Erdogan then pulled out of the trilateral framework set up to negotiate the dual accession. Renewed talks between the three nations at NATO headquarters in Brussels last week failed to find a breakthrough.
Fatih Ceylan, Turkey's former representative to NATO, told Newsweek from Ankara that Niinistö is likely to return to Finland from his current trip to Turkey with Erdogan's approval.
"I think the mood regarding the package deal of Finland and Sweden acceding to NATO has also changed in the alliance and in the United States," he said.
"I believe sincerely that there will be a deal today announced by both presidents that Turkey will ratify the accession protocol of Finland, probably by mid-April, because in mid-April the parliament will go into recess because of elections," Ceylan—who is the president of the Ankara Policy Center think tank—added.
"With regard to Sweden, I believe we will have to wait for a while," he said.
A Swedish foreign ministry spokesperson told Newsweek that Turkey's decision to approve Finland's membership bid was "expected." Referring to Turkey by its official name, Türkiye, they added: "Sweden continues to implement the Trilateral Memorandum between Sweden, Finland and Türkiye. We have complied with all parts of the agreement, and we continue to implement them.
"It is up to Türkiye to decide when ratification will take place. We cannot speculate on a specific date."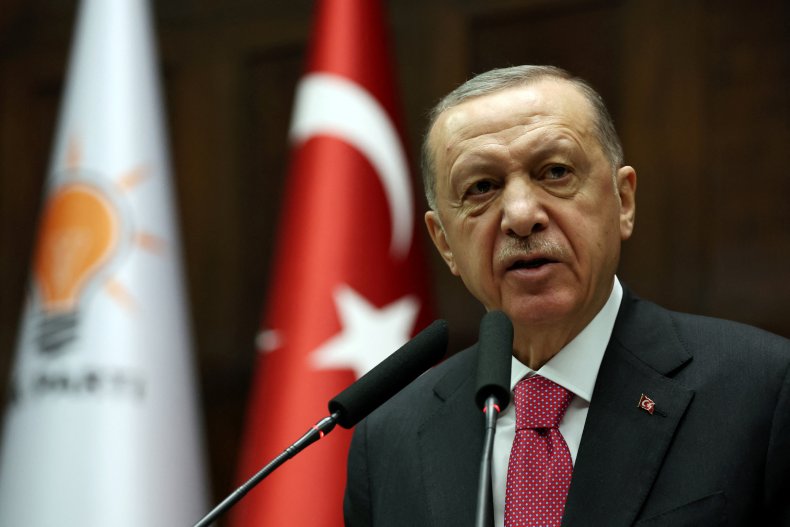 Looking to Vilnius
NATO nations hoped for a rapid agreement on expanding the alliance given the bloc's long cooperation with Sweden and Finland, plus both nations' well-funded and modern militaries. The Madrid summit in July 2022 was touted as a celebration of the two accessions but such hopes were dashed. Now, the alliance is eyeing the Vilnius meeting as a formal marking of the newly expanded NATO.
By July, Turkey's presidential and parliamentary elections—scheduled for mid-May—will be over. Erodgan is seeking another term but faces a six-party coalition and rising public anger over the perceived mishandling of the February earthquake in which some 46,000 people have been confirmed killed, alongside more than 7,000 who died across the border in Syria.
This week, floods swept through earthquake-affected areas, killing at least 16, inflicting serious material damage, and deepening the challenges faced by those trying to rebuild.
The opposition will be led by long-time social democratic politician Kemal Kılıçdaroğlu, who is running slightly ahead of Erdogan in the polls. This week, Ünal Çeviköz— Kılıçdaroğlu's chief foreign policy adviser—told Politico that a coalition government would not block Swedish-Finnish accession.
"If you carry your bilateral problems into a multilateral organization, such as NATO, then you are creating a kind of polarization with all the other NATO members with your country," he said. "I think a membership of Sweden and Finland will increase and strengthen the security of a collective defense organization, such as NATO."
Ceylan told Newsweek that a "change of guard" would mean "enough time by the Vilnius summit to finalize the ratification of Sweden's Accession Protocol to NATO." Still, he added: "If the same people stay in power, I think they will also have to tackle this problem before the Vilnius summit, and at the latest at the Vilnius summit."
Indeed, Kristersson said this week he is hoping for a "rapid ratification process after Turkey's election."
All in all, Ceylan said: "I think there is there are enough concrete grounds to be optimistic," even if the Finnish and Swedish bids are being forced apart. Though a "miracle" Turkish approval of Sweden's NATO bid before the May elections is unlikely, "there could be some positive steps," Ceylan said.
"The ratification of Finland's accession protocol would create a certain sigh of relief, albeit modest. Even if that's achieved, that's good progress," he said.
Progress for Finland might also help move the needle in Hungary, where Prime Minister Viktor Orban has long been enjoying his spoiler role on the European Union and NATO stages.
"If Turkey ratifies the accession protocol of Finland, that could put pressure on Hungary and the Hungarian parliament," Ceylan said. "It could trigger a chain reaction over there."
3/20/23 4:23 a.m. ET: This article has been updated to include comment from the Swedish foreign ministry.