Russian Mall Blaze Kills at Least 64 People, Including Children
A fire at a mall in the Siberian city of Kemerovo, Russia, has killed at least 64 people, including at least nine children.
The fire swept through the Winter Cherry mall's entertainment complex while scores of people were attending screenings at its multiplex cinema, Russian news agency TASS reported.
Videos posted on social media showed people jumping from windows to escape the heat and thick black smoke as firefighters fought for 17 hours to extinguish the flames.
Andrei Mamchenkov, deputy head of Russia's National Crisis Management Centre, said 41 children were unaccounted for.
The cause of the fire, which started on the top floor of the four-story building at around 5 p.m. local time on Sunday, is not yet known. Yevgeny Dedyukhin, deputy head of the Kemerovo region emergency department, told the BBC, "The shopping center is a very complex construction. There are a lot of combustible materials." He said the fire covered an area of approximately 16,145 square feet.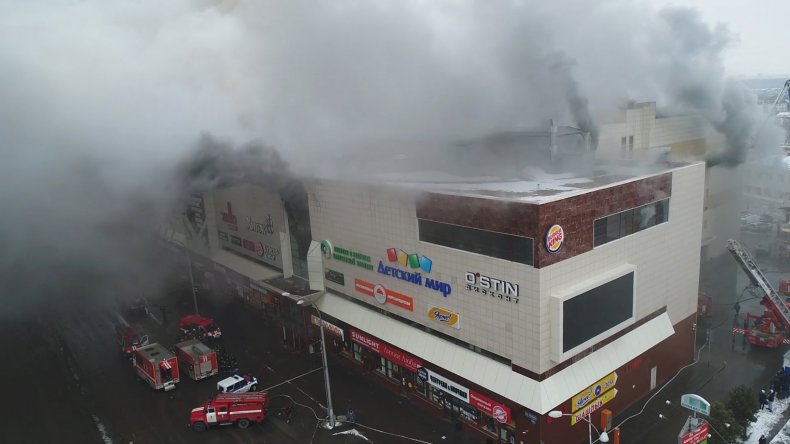 Though firefighters managed to extinguish the blaze, they struggled to reach the upper floors of the building due to collapsed floors and ceilings. TASS quoted deputy emergencies minister Vladlen Aksyonov, who said that the ceilings of two out of three cinema halls had collapsed on those inside.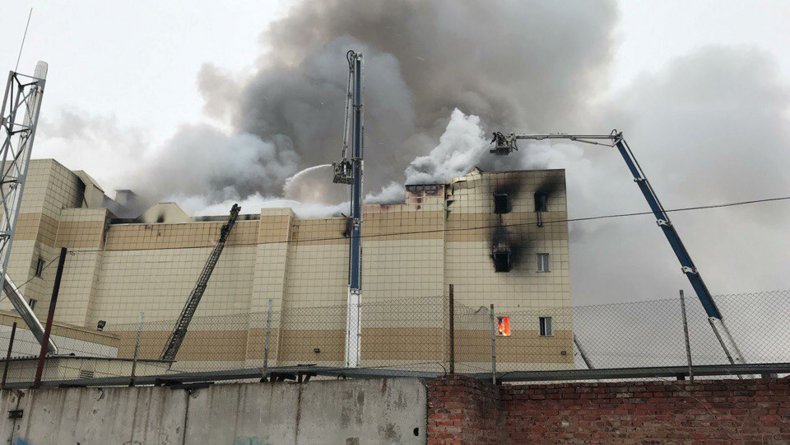 Four people were detained for questioning over the fire, including the owner of the mall and the head of the company that manages the complex. Witnesses told several Russian news agencies that the mall's fire alarms did not go off even as thick smoke filled the upper floors, The Guardian said. The resulting panic turned the evacuation into a stampede.
According to Reuters, Vladimir Putin expressed "his deep condolences to the relatives and loved ones of those who died" in a statement issued by the Kremlin.
Aman Tuleyev, governor of the Kemerovo region, said the families of the dead would receive 1 million rubles ($17,530) in compensation for each family member they lost. The governor said that one of his own relatives had died in the fire, "and unfortunately this relative was a little girl."
Kemerovo has a population of around 550,000 and is an important coal-producing area some 2,200 miles east of Moscow. The mall, which opened in 2013, also contains restaurants, a sauna, a bowling alley and a petting zoo.