U.S. Pilots Risk Accidentally Starting a Global War with Russia in Syria on a Daily Basis
U.S. pilots run the risk of starting a war with any of the multitude of nations—including Russia and Iran—flying combat missions in the increasingly turbulent skies over Syria, a U.S. Navy rear admiral told USNI News.
As the number of ISIS targets diminish and new fronts open, Syrian airspace is becoming smaller and more confused. With so many warplanes, helicopters and drones operating in the same area, the risk of confrontation has increased dramatically.
ISIS's recent battlefield defeats have left it with a limited and isolated strip of desert territory straddling the Syria-Iraq border. This is a far cry from the high-water mark of its self-proclaimed caliphate, when its territory encompassed some 8 million people.
When U.S. airstrikes on ISIS began in 2014, "there were that many ISIS fighters out there… There weren't a whole lot of places you could go where there was no ISIS presence," Lieutenant Joe Anderson, an F/A-18F pilot, told USNI news. Although pilots are still flying as many missions as they were in 2014, they are geared toward support and defense of U.S. and coalition ground forces rather than executing preplanned strikes, Anderson explained.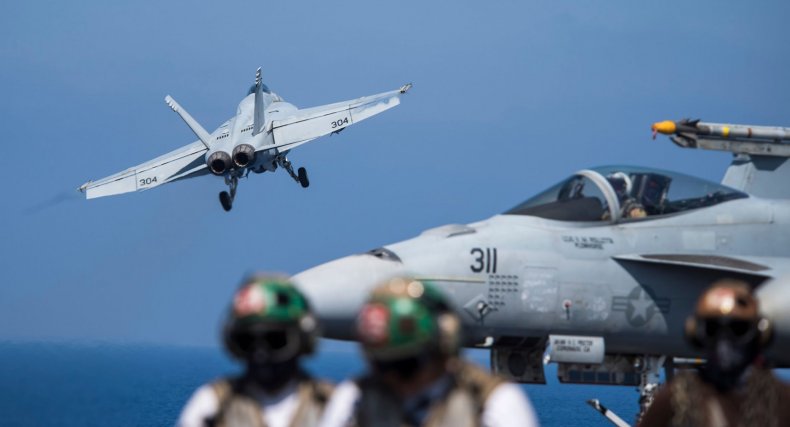 American pilots are joined by Russian, Iranian, Syrian, Turkish and other coalition aircraft above Syria. As carrier strike group commander Rear Admiral Steve Koehler told USNI News, "The threat picture in Syria is just crazy: How many different countries can you cram in one different place, where they all have a different little bit of an agenda? And you put a tactical pilot up there and he or she has to employ ordnance or make defensive counter-air decisions with multiple people."
New challenges arise with the ebb and flow of the seven-year-old war. With increased Turkish activity in the northwest of the country, U.S. jets are tasked with protecting U.S. troops stationed alongside Kurdish forces who are the subject of the Turkish assault. If U.S. forces come under threat from Turkish planes, U.S. pilots may be forced to make a difficult decision: Defend Americans and risk war, or stand back and risk dead Americans?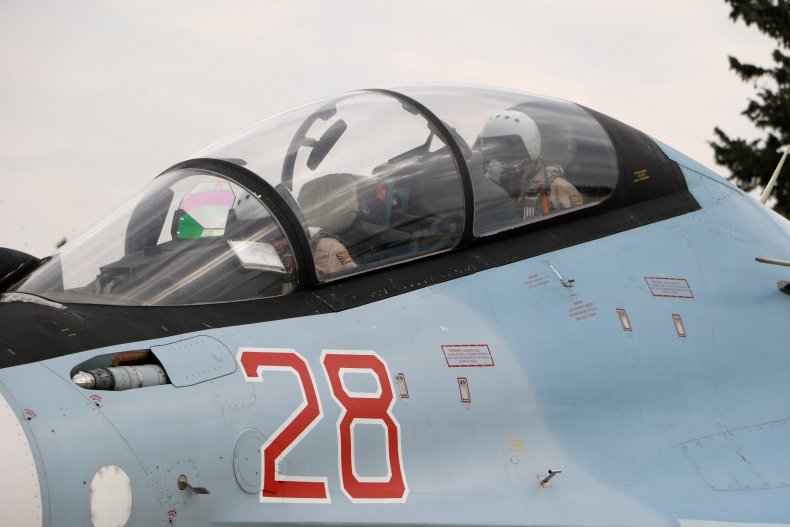 American and Russian jets have already intercepted each other several times over Syria, and Russian and American forces have reportedly clashed on the ground, though not on an official footing. In June 2017, U.S. jets shot down a Syrian bomber that was attacking U.S.-backed Kurdish forces.
Retired U.S. Marine Corps Lieutenant Colonel David Berke told Business Insider, "If you misinterpret what someone does, you can create a massive problem, you can start a war. I can't think of a more complex place for there to be or a greater level of risk."
Koehler also accused enhanced Iranian presence, particularly of drones, of destabilizing the situation. He said that U.S. ships and planes are encountering Iranian drones every day, and though they do not yet seem to be armed, their presence is unsettling.
"Is flying over hostile? I certainly don't want it here if it's in a position to drop any sort of weapons. Trying to determine that is very difficult, a very hard problem," Koehler said.