The NFL season has barely entered its second month, but the feel-good factor that traditionally accompanies a new campaign has all but dissipated in Pittsburgh.
The Steelers are 1-2-1 after four games, have lost both of their home games and remain without a win against divisional rivals, while one of their best players remains locked in a standoff with the franchise.
It might be too early to panic, but if September is anything to go by, the winter in Pittsburgh could be far colder than usual.
So where does the Steelers' malaise stem from?
Problems at Home
The home field factor no longer seems to apply to Pittsburgh, where the Steelers have given opponents a combined 35-0 lead over their last two games. They have lost twice in a row on home turf for the first time since 2016.
On Sunday, the Ravens raced to a 14-0 lead within seven minutes, and while the Steelers forced their way back into the game, Baltimore won 24-16.
Slow starters at home, the Steelers have barely got out of the blocks this season, and their 1-2-1 record is their second-worst start this decade. Only the 2013 campaign, when they went 0-4, was worse.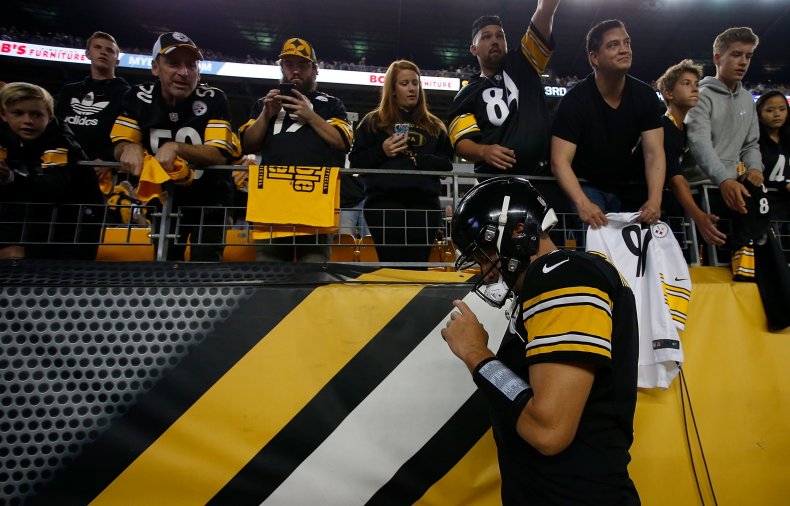 A Blunted Offense
The Steelers offense is suffering from a problem most observers had forecast: Le'Veon Bell's absence—more on that later.
Pittsburgh failed to get on the scoreboard in the second half against the Ravens, rushing a meagre 19 yards as a team, its fewest in a game since 1970.
After rushing for 159 yards in Week 1, the Steelers averaged just 43.3 yards over the next three games, while the number of rushing attempts fell from 35 in the opening game to an average 15.3 between Weeks 2 and 4.
Pittsburgh ranks 29th in the NFL in terms of rushing attempts, 28th in terms of yards gained and 27th in terms of yards gained per attempt. Statistics can fit any agenda, but these figures paint a sorry picture for the Steelers.
Le'Veon Bell's Absence
The Steelers and Bell failed to agree on a long-term deal ahead of the July 16 deadline for franchise-tagged players, and he has repeatedly indicated he wants to secure a lucrative long-term contract, particularly after Todd Gurley agreed a four-year extension worth $57 million with the Los Angeles Rams in July.
Bell, who is forfeiting $852,941 each week he fails to show up, feels he's worth as much as Gurley and wants to be paid accordingly. He has missed the first four games of the season after failing to report to training.
Earlier this week, ESPN reported Bell will interrupt his self-imposed exile at some point between Week 7 and Week 8, but the Steelers remain open to trading him if they receive the right offer.
Bell recorded a career-high 321 rushing attempts last season for 1,291 yards—his second-best return in the NFL—and nine rushing touchdowns, which was also a career high.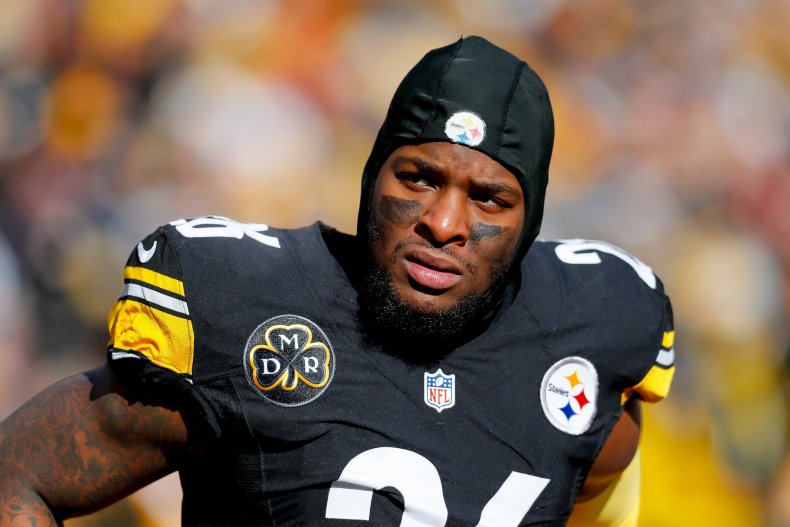 Pressure on Big Ben
The Steelers' dismal rushing offense has placed immense pressure on the shoulders of Ben Roethlisberger. The quarterback completed 27 of 47 passes for 274 yards and a touchdown on Sunday, but he also had a costly interception and threw for only 50 yards in the second half.
With Bell still AWOL, the Steelers have been forced to go through the air more often than last year. Last season, Roethlisberger attempted 561 passes over 15 games, at an average of 37.4 attempts per game. This season, after just four games, he has attempted 186 passes at an average of 46.5 per game.
Only two teams in the NFL have attempted more passes this season, but, crucially, the Steelers are ranked 11th in touchdowns scored.
"I'm not playing well enough," Roethlisberger told reporters after the defeat against the Ravens, as per ESPN. "I need to play better. Today was just a bad day at the office. I promise I'll be back to play better."
Big Ben remains one of the league's best quarterbacks but desperately needs help.
A Shaky Defense
If the Steelers' rushing offense has been spluttering, their defense hasn't been firing on all cylinders either. Only six teams have conceded more points than Pittsburgh so far, and only two teams have allowed more total yards. Pittsburgh has conceded the second-highest number of passing touchdowns in the league, and only three teams have allowed more passing yards. Troubling figures.
Uncommon Knowledge
Newsweek is committed to challenging conventional wisdom and finding connections in the search for common ground.
Newsweek is committed to challenging conventional wisdom and finding connections in the search for common ground.
About the writer
Dan Cancian is currently a reporter for Newsweek based in London, England. Prior to joining Newsweek in January 2018, he was a news and business reporter at International Business Times UK. Dan has also written for The Guardian and The Observer.