Five Things To Look Out for in Today's Primaries
Voters in New York, Florida and Oklahoma will go to polls on Tuesday in crucial primary races ahead of the 2022 midterm elections, with some prominent Democrats and Republicans almost certain to lose out.
Congressional redistricting means two sitting members of the House of Representatives are facing off in New York's 12th district, while Florida Democrats will choose a challenger for Republican Governor Ron DeSantis.
The possible impact of abortion on the midterms will also be tested in a special U.S. House election in New York's 19th district, where the Democratic candidate has made abortion rights a major part of his campaign.
Here are five things to look out for in Tuesday's primaries.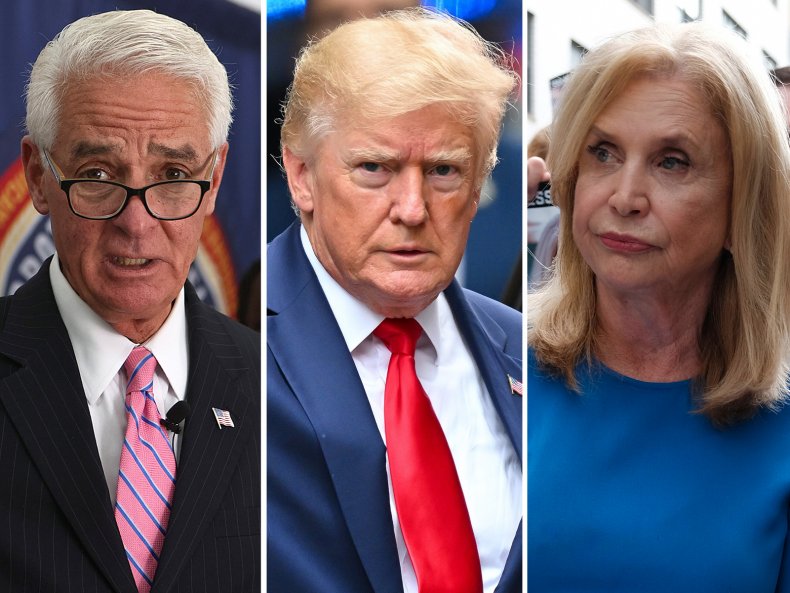 1. Who Will Challenge Ron DeSantis?
Democrats in Florida will choose their gubernatorial nominee in a fiercely contested race between Representative Charlie Crist and state Agriculture Commissioner Nikki Fried.
Fried is the only statewide elected Democrat in Florida, while Crist previously served as governor from 2007 to 2011. He was a Republican at the time but subsequently changed party.
Whoever wins will face DeSantis in November. He enjoys a significant national profile and is seen as a potential presidential candidate.
A poll by St. Pete Polls, conducted for FloridaPolitics.com and published on Monday, showed Crist leading Fried with 59.3 percent to her 29.7 percent. However, a University of North Florida poll last week showed Fried with a four point lead.
It appears both candidates have everything to play for in today's primary.
Florida Democrats are widely expected to nominate Representative Val Demings for U.S. Senate. If she wins, she'll face Republican Senator Marco Rubio in November.
2. Jerrold Nadler v. Carolyn Maloney
Two high profile Democrats will face each other in Tuesday's primary for New York's newly redrawn 12th district and one is certain to lose out.
Nadler, chair of the House Judiciary Committee, is competing against Maloney, chair of the House Oversight Committee, after the neighborhoods they represent were merged into the new district.
As poll tracker FiveThirtyEight notes, 61 percent of residents in the new district were previously in Maloney's old district and she has outraised Nadler. However, a third candidate—attorney Suraj Patel—could be a major factor in the race.
Maloney narrowly saw off a primary challenge from Patel in 2020 and she is now facing him and Nadler to retain her seat. A recent Emerson College poll shows Nadler leading with 43 percent, followed by Maloney on 24 percent and Patel on 14 percent.
3. Controversy Over Carl Paladino
Republican Carl Paladino is seeking his party's nomination for the House of Representatives in New York's 23rd congressional as he faces Nick Langworthy, the state party chairman.
Paladino has a history of controversial statements, including once calling Nazi dictator Adolf Hitler "the kind of leader we need today." He later clarified that he did not support Hitler.
Langworthy, a former ally of Paladino, has warned that his opponent could jeopardize the gubernatorial campaign of Representative Lee Zeldin if he's added to the GOP ticket for November. Paladino ran for governor himself in 2010.
Paladino and Langworthy are competing to succeed Republican Representative Chris Jacobs and a recent poll shows Langworthy leading with 39 percent to Paladino's 37 percent. However, that poll was led by veteran pollster Barry Zeplowitz, who has donated to Langworthy's campaign and previously worked with him.
4. Will Anger Over Abortion Help Democrats?
Though abortion is not on the ballot on Tuesday, at least one Democrat has made it a campaign issue. Pat Ryan is running a special election in New York's 19th district against Republican Marc Molinaro.
One of Ryan's campaign yard signs reads: "Choice Is on the Ballot" but it remains to be seen how much of a motivating factor the recent Supreme Court decision in Dobbs v. Jackson Women's Health Organization will be.
Polling in the race has been limited as the men compete to fill the seat left vacant when former Representative Antonio Delgado became New York's lieutenant governor.
Though the special election could prove an interesting test for the effect of abortion as an election issue, the old 19th district will soon cease to exist. Ryan is also running in the primary for the newly drawn 18th district, while Molinaro is running in the new 19th district and is unopposed in the primary. Both could end up in Congress.
5. Will Trump's Backhanded Endorsements Pay Off?
Former President Donald Trump offered "endorsements" to two Democratic candidates in New York congressional races last week.
Trump took to his Truth Social platform to offer what appeared to be mocking endorsements of Representative Carolyn Maloney and Daniel Goldman, a candidate in today's primary in the state's new 10th district.
Maloney called Trump's endorsement "laughable," writing on Twitter: "I reject any endorsement from Donald Trump. Trump doesn't respect women. He instigated the attacks on January 6th and claimed that the 2020 election was a big lie."
Goldman also rejected his endorsement, calling it "a pathetic attempt at fooling Democrats who are far smarter than Trump is."
Goldman was the chief investigator during Trump's first impeachment and he's facing a crowded field of Democrats, though a recent Emerson College poll showed him leading with 22 percent, followed by state Assembly woman Yuh-Line Niou on 17 percent, U.S. Representative Mondaire Jones on 13 percent and New York City Council member Carlina Rivera on 13 percent.
The New York Times has also endorsed Goldman, which may help him in the district more than apparent support from Trump.