Flag Memorial for 13 U.S. Service Members Killed in Kabul Attack Keeps Getting Vandalized
A flag memorial in Riverside, California, meant to honor the 13 U.S. service members killed during a recent airport attack in Afghanistan has been repeatedly vandalized and torn down.
The memorial was first set up earlier this month on the 91 Freeway in Riverside by an anonymous resident, and consisted of 13 American flags and one with the symbol of the U.S. Marine Corps, according to the Press Enterprise.
Two of the U.S. service members who were killed in the August 26 attack – 20-year-old Marine Lance Cpl. Kareem Mae'Lee Grant Nikoui and 22-year-old Marine Cpl. Hunter Lopez – were Riverside Country natives.
But shortly after the memorial was set up, the flags were found shredded by vandals. On September 6, the incident was reported to local police and the memorial was taken down.
"This wasn't wind damage," Officer Ryan Railsback, a Riverside Police Department spokesman told the Press Enterprise. "It looks like someone intentionally cut or ripped these."
The ripped flags were then handed over to a local Boy Scouts of America troop to be retired, Railsback told the news outlet. After the incident, the Chambers of Commerce's Military Affairs Council, along with several other residents, moved to quickly replace the flags.
The new memorial contained 27 flags and was again hung on the freeway. But the next day, the flags were found yanked from the fence they were attached to, with nothing but torn remnants left behind.
In response, the Chambers of Commerce moved to install a separate memorial at a different overpass on Tuesday. Even so, the Marine Corps flag was missing from the memorial the next morning, and another appeared to have been damaged.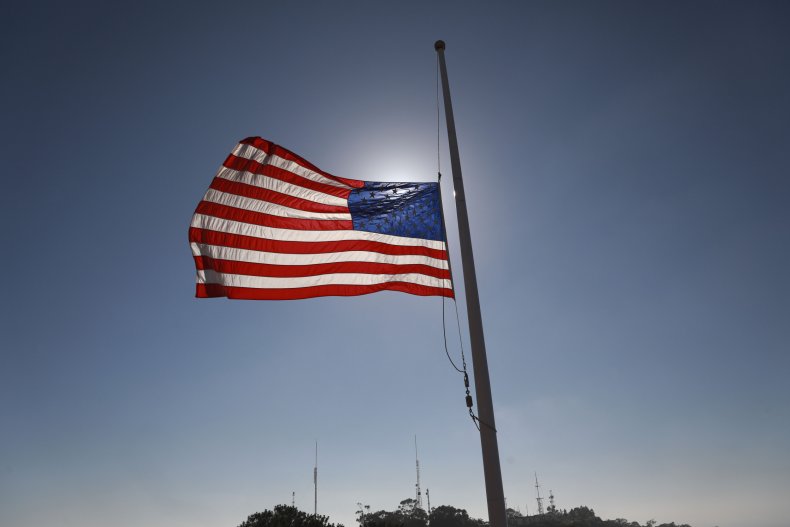 Railsback told Newsweek on Saturday that the areas that the flags were hung did not have surveillance cameras, so police have been unable to identify suspects involved in the damage. Nonetheless, he said the community continues to come together to fly flags outside of businesses, homes, and additional overpasses throughout the city.
"We're really seeing our community come out," Railsback said in a statement. "Three of our major overpasses now have flags."
Earlier this week, the Chambers of Commerce said it plans to keep memorials hanging through Saturday, marking the 20th anniversary of the September 11 terrorist attacks, the Press Enterprise reported.
"I think we can all agree, regardless of our political views, that the loss of a service member, let alone 13 in a single attack, is devastating," Railsback told the outlet. "These were more than flags; these represented 13 lives and their families."
On Saturday, Sal Atiel Garnica, a Marine Corps veteran and local resident, told CBS Los Angeles that he will hold a small ceremony at the original memorial site to honor those who lost their lives.
"I saw their photographs, they looked like me when I was in bootcamp. We all had the same haircut. We all looked super skinny and sunburnt. I know they would do the same for any other Marine or soldier or sailor," Garnica said.
The 13 soldiers, along with over 170 Afghans, were killed in an Islamic State suicide bombing outside of Kabul's Hamid Karzai International Airport last month following the Taliban's rapid takeover of Afghanistan.
The soldiers came from across the country — from California to Wyoming to Tennessee — and had an average age of just over 22 years old, with several as young as 20. The blast led to the first U.S. military casualties in Afghanistan in over a year and marked the deadliest incident there in 10 years.
"The 13 service members that we lost were heroes who made the ultimate sacrifice in service of our highest American ideals and while saving the lives of others," President Joe Biden said in a statement last month. "Their bravery and selflessness has enabled more than 117,000 people at risk to reach safety thus far."
Updated 11:54 AM ET, with a statement by Officer Ryan Railsback to Newsweek.