'The Flash': Why Are Tom Cavanagh and Carlos Valdes Leaving the Show?
The Flash Season 7 will be the final one for two members of Team Flash. Carlos Valdes and Tom Cavanagh are exiting the CW show, with both set to appear in only a few more episodes as Cisco Ramon and the Timeless Wells respectively.
Why are Tom Cavanagh and Carlos Valdes leaving 'The Flash'?
Valdes' reason for leaving the show is straightforward. On network shows such as The Flash, the standard contract length is seven years and Valdes has simply chosen not to renew his contract.
The contract length was confirmed by the Flash himself. Grant Gustin told Entertainment Tonight in May 2020: "Seven [seasons] is it for most of the cast, actually, but I think it would be great if we can continue after that."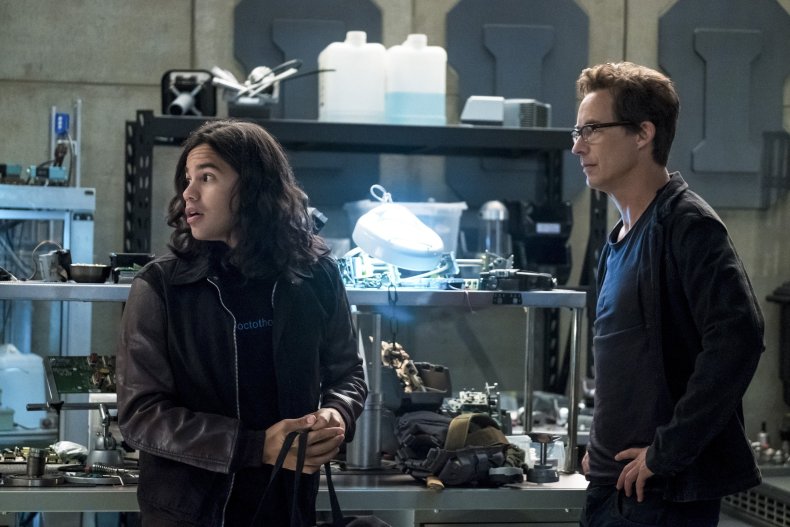 Another Arrowverse star, Emily Bett Rickards from Arrow, opted to leave her show at the Season 7 milestone. Other actors who have done the same include Anna Faris from Mom and Steve Carrell from The Office.
Although Valdes' exit has just been announced, it may have been on the cards for a while. Gustin told the Inside of You with Michael Rosenbaum podcast that contract negotiations for potential eighth and ninth seasons began in May 2020, only to be paused during the coronavirus pandemic.
Cavangh's exit as a series regular on The Flash actually came at the start of Season 7, when his character sacrificed himself to save Barry Allen (Gustin). At the time, showrunner Eric Wallace told Entertainment Weekly: "Tom Cavanagh is still part of the show. I would just say that we've already seen there's an infinite numbers of Wellses. Just because they're all dead doesn't mean that should change. And Tom Cavanagh has more to do in Season 7—much more to do."
In the next episode, Cavanagh returned as what was called a "reconstituted" version of the character, who then left the show to be with his wife. In the May 11 episode, he is set to appear again as Barry Allen hunts down the Timeless Wells.
Cavanagh's character was initially set to leave the show at the end of Season 6, but returned for Season 7 after filming was shut down because of the pandemic.
Rumors about Valdes' departure began at the end of Season 5. He returned for Season 6, but his character took some time off the show during the Crisis on Infinite Earths crossover.
The Flash Season 7 airs on Tuesdays at 8 p.m. ET / 7 p.m. CT on The CW.