Flight Attendants Union Takes Aim at Mitch McConnell on Flight Delays: 'Do We Have Your Attention Now?'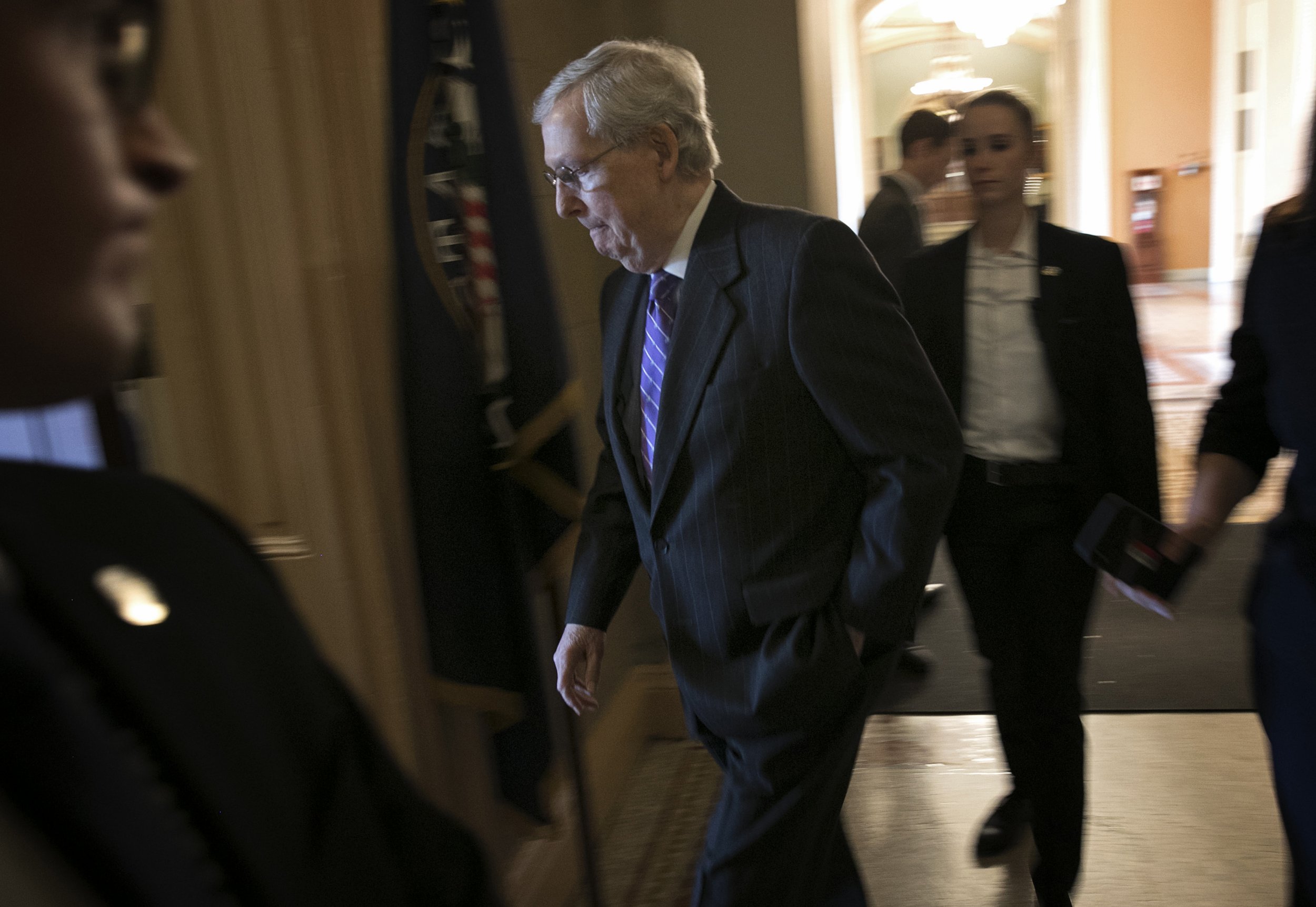 On the 35th day of the partial government shutdown Friday, several major airports reported significant delays due to a shortage in air traffic controllers who remained on the job, unpaid. A flight attendants union called out members of Congress, specifically Senate Majority Leader Mitch McConnell.
"This is exactly what [the Association of Flight Attendants (AFA)] and other aviation unions have been warning would happen," AFA President Sara Nelson said. "Do we have your attention now, Leader McConnell? All lawmakers? Open the government and then get back to the business of democracy to discuss whatever issue you so choose."
Two dueling spending bills failed to advance in the Senate on Thursday, the first time the chamber has voted on legislation that would end the shutdown since it began. The House has voted several times on spending measures that would reopen the government.
Staff shortages in air traffic control centers in Washington, D.C., and Jacksonville, Florida, prompted the Federal Aviation Administration (FAA) to order a temporary ground stop at LaGuardia Airport in New York. The administration reported delays at other major airports, including Newark Liberty International in New Jersey, Philadelphia International in Pennsylvania and Reagan National in Virginia.
"The aviation system depends on the safety professionals who make it run. They are fatigued, worried and distracted–but they won't risk our safety," Nelson continued in her statement. The Transportation Security Administration has faced an unusually high number of employees calling in sick since the shutdown began. "The planes will stay on the ground. This is anything but a sick out—it is only about our safety and the air traffic controllers' absolute commitment to it."
Nelson added that the government employees who will have lost two paychecks by close of business Friday were being "betrayed by the government that employs them."
A spokesperson for McConnell did not immediately respond to Newsweek's request for comment.
There were signs Friday afternoon that President Donald Trump was ready to sign a short-term funding bill. After Thursday's spending votes failed in the Senate, a bipartisan group of senators revealed they had found a possible solution that would temporarily end the shutdown.
"Let's get government open, give us some time, and then we are committed to working together to come up with a bipartisan proposal for border security," said Democratic Senator Ben Cardin.
Along with GOP Senator Lisa Murkowski and Democratic Senator Chris Van Hollens, Cardin is helping spearhead a proposal that more than a dozen senators signed on to that would fund the government for three weeks. The temporary shutdown break would allow Congress time to come up with a long-term immigration package Trump would support, and provide relief to the federal agencies and roughly 800,000 government employees who haven't been paid.
But Trump and more conservative Senate Republicans have the ability to derail the potential deal. The president said he would only support such a short-term continuing resolution (CR) if a "prorated" or a "large down payment" for the wall were included—a stipulation that Democrats said they were unwilling to provide.
"[Senate Minority Leader Chuck Schumer] and Senate Democrats have made clear to Leader McConnell and Republicans that they will not support funding for the wall, prorated or otherwise," a Schumer spokesperson told Newsweek following a lengthy meeting the senator had with McConnell Thursday afternoon. House Speaker Nancy Pelosi said any sort of "down payment" in exchange for a CR was a nonstarter, saying it wasn't "reasonable."
GOP Senator Lindsey Graham, a Trump confidant, issued advice to his colleagues after he had a phone call with the president: "To my Democratic friends, money for a barrier is required to get this deal done." Graham said the airport delays were "signs of things to come."
The chairman of the House Homeland Security Committee, Democrat Bennie Thompson, told Newsweek on Wednesday that Democrats were prepared to "meet or exceed" Trump's $5.7 billion demand—but not for the wall. The money could only be allocated for non-barrier expenditures, such as upgrading existing fencing, new technology, more border agents and additional immigration judges. House Democratic leadership has yet to officially extend the offer to Trump.