Flooding on Cruise Captured in Dramatic Video Prompts Comparison to Titanic
A viral video shows footage of flooding that took place after a pipe burst on the Carnival Vista cruise ship. Posted by TikTok user @adrienne_marie_1, the video has amassed more than 18 million views.
The video showed a group of guests standing in the hallway while water reached their ankles.
"Woke up to water rushing into our cabin...our lives flashed before our eyes," read the caption of the video, which had the song "My Heart Will Go On" from the film Titanic playing in the background.
A spokesperson for Carnival Cruise Line told Newsweek that the cause was a plumbing issue. It took place several weeks ago but was "quickly resolved" by the company's onboard team.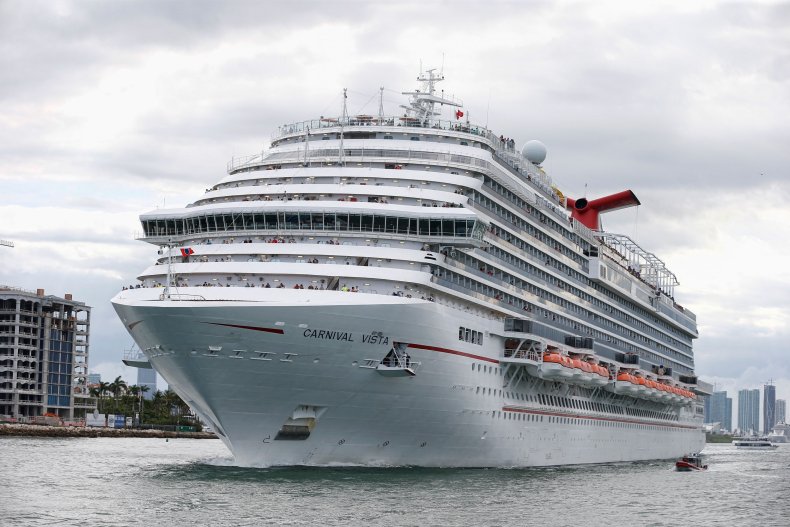 The person filming the video turned and walked in the opposite direction, splashing through the water. A pile of towels and sheets lay in a heap on the floor in front of a door.
Viewers were stunned by what happened and shared their thoughts in the comments section, many of which took a cue from @adrienne_marie_1 and drew comparisons to the film Titanic.
"Well now you just HAVE to do the door re-enactment," a viewer wrote. "Hope everything is good tho [for real]."
"Wait until the dudes in the band start playing," commented another TikTok user.
"Bro...where's Jack, he'll give you a whole float," one viewer wrote.
TikTok user @adrienne_marie_1 posted a second video showing the rushing water as it streamed through the hallway.
In that video, a man off camera said that a pipe burst in one of the rooms.
"So much water came in that they opened it and all this came out and now they're trying to hold back the door," he said.
The video included photos of the room, water pouring down a staircase and guests waiting outside in various hallways.
"The ceiling caved in and filled this room...eventually breaking through the door and filling our room and others," read the text over the video.
Although there was a hiccup on the trip, @adrienne_marie_1 said she and her friends enjoyed their time.
"Just documenting a scary experience that turned out funny," the caption on her second video read. "We did actually wake up to this flood and water past our ankles...so Titanic vibes for about 5 minutes."
According to its website, officers and crew members with Carnival undergo safety and emergency training and its ships are designed to remain safe under adverse conditions.
"Additionally, it is our normal procedure to conduct a mandatory lifeboat drill at the start of every voyage," the website said. "The purpose of the drill is to ensure that guests know where to go and what to do in case of emergency."
Newsweek reached out to @adrienne_marie_1 for further comment.
Photos and videos were previously shared showing a fire that broke out on a different Carnival cruise ship in May.
Another video shows a cruise ship on the Mississippi River as a tornado can be seen in the background.
One video went viral after it captured Daisy Duck's performance to Beyoncé's Run the World (Girls) on a Disney cruise ship.