Florida's coronavirus case rate has dropped to among the lowest in the country as the state's Republican leaders continue to fight vaccine mandates and other measures to combat the pandemic.
The state currently has the lowest count of cases per capita, jointly tied with Georgia and Hawaii at 7 cases per 100,000 people, according to data from The New York Times.
In contrast, California—a state that has enforced some of the strictest mandates in the country, has seen infections on the rise. Experts have explained that states that saw large outbreaks driven by the Delta variant over the summer now see fewer avenues for the virus to spread, thanks to greater numbers of people acquiring immunity after recovering from infections plus those who are vaccinated.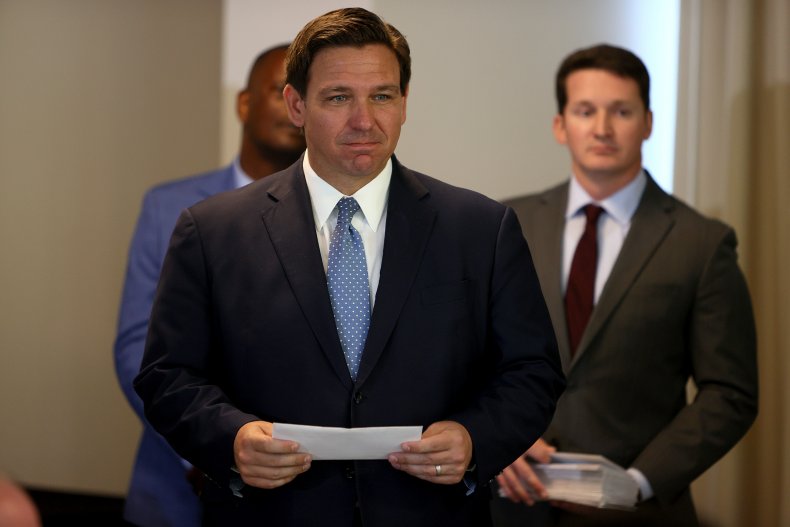 Around 60 percent of Florida's residents are fully vaccinated, while California—the nation's most populous state—has fully vaccinated 63 percent of its population.
Still, Florida's lower infection rate is striking due to the state's Republican Gov. Ron DeSantis waging a fierce campaign resisting vaccine mandates and other coronavirus measures, earning him greater prominence in the Republican Party.
On Monday, Florida Republicans announced a new set of proposals that include measures that would let workers opt out of vaccine mandates and allow parents to sue school districts with mask mandates.
Dubbed the "Keep Florida Free" agenda, DeSantis and the GOP leaders of the state House and Senate detailed their agenda ahead of a special session meeting of the legislature on Monday.
"At the end of the day we want people to make informed decisions for themselves, but we've got to stop bossing people around," DeSantis said. "We've got to stop the coercion, we've got to stop trying to browbeat people."
State Republicans are also pushing to withdraw Florida from the federal Occupational Safety and Health Administration, which recently issued a new COVID-19 vaccine requirement for employees at businesses with 100 workers or more.
The rule, set to go into effect early January, has already prompted legal challenges from more than two-dozen Republican-led states, including Florida, according to the Associated Press.
It comes after a prominent Florida newspaper denounced DeSantis' attempts to take credit for the state's declining coronavirus cases.
In an op-ed in late October, the editorial board of the Orlando Sentinel slammed DeSantis as a "fraud" and a "phony" after the governor's office claimed the recent decline in cases was due to DeSantis' "leadership and our data-driven approach free of mandates."
"With numbers finally falling, DeSantis now has the gall, the nerve, to take a victory lap," the newspaper's editorial board said. "Florida led the nation in case rates for much of the summer, and our governor was silent. Well, not totally silent. He did rail against mask and vaccine mandates, measures intended to prevent people from falling ill."
It concluded: "Now, the do-nothing governor is trying to claim credit for this surge coming to an end. It is DeSantis' final and most essential command—to reject the evidence of your eyes and ears. How Orwellian."