Florida Gov. Thinks Young People Driving Coronavirus Surge at Lower Risk, So Won't Go Back on Reopening
Despite a considerable uptick in new COVID-19 cases and hospitalizations reported in Florida over the past four weeks, the state will not reinstate restrictions implemented earlier during the pandemic due to a high concentration of diagnoses identified in young people.
Echoing previous comments about younger demographics driving the recent surge in Florida's virus outbreak, Governor Ron DeSantis said reversing reopening procedures was not a priority since individuals that fall within those age brackets are at lower risk of developing serious complications from the infection.
"Most of the folks in those younger demographics, although we want them to be mindful of what's going on, are just simply much, much less at risk than the folks who are in those older age groups," DeSantis said during a news conference to discuss Florida's outbreak on Tuesday. He noted that protecting more vulnerable residents is a priority for the state and should be for its residents as well.
On Tuesday, data published by the Florida Department of Health (DOH) placed the median age of residents who have contracted the virus at 40 years old, one year younger than the median age reflected in its data several days prior. In a number of Florida counties, the median age of individuals who have tested positive for the respiratory illness is up to 15 years younger. Although figures included in the health department's virus dashboard show more than half of Florida's cases were diagnosed in people younger than 45, individuals older than 65 account for most hospitalizations and deaths reported throughout the state.
DeSantis discussed the higher incidence of new virus cases among young people in relation to Florida's reopening progress. During Tuesday's conference, the governor said he did not intend to close businesses, nor would he recommend state residents stay home, in response to rising numbers. In Texas and Arizona, where virus cases have also spiked, Governors Greg Abbott and Doug Ducey encouraged people to limit nonessential activities outside of their residences last week.
"We're not going back, closing things. I don't think that that's really what's driving it, people going to a business is not what's driving it," DeSantis told reporters. "I think when you see the younger folks, I think a lot of it is more just social interactions, so that's natural."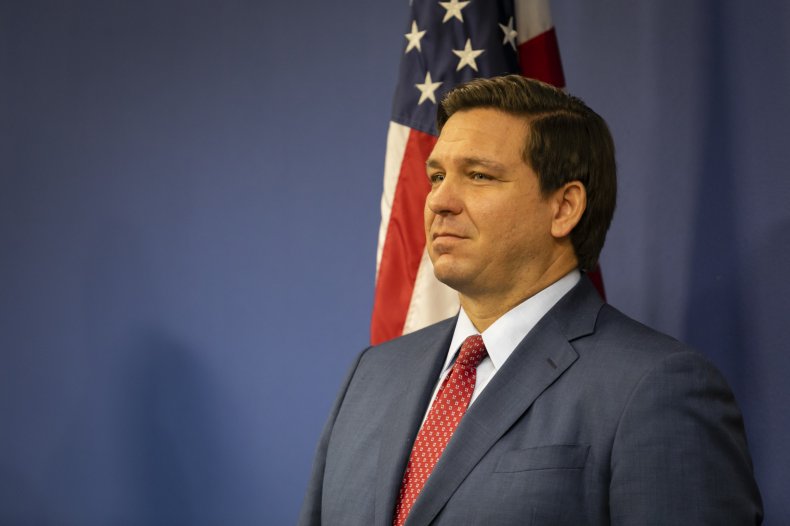 Newsweek reached out to DeSantis' office for additional comments but did not receive a reply in time for publication.
As of Tuesday, when the Florida DOH last updated the state's virus figures, more than 152,400 people had tested positive since initial cases were identified in March. Of those diagnosed, more than 3,500 people had died and close to 14,600 were hospitalized for some duration of time.
Similar to other states reporting outbreak resurgences, Florida officials have connected the recent rise in cases to an influx of social gatherings at bars amid reopening. On Friday, Florida's Department of Business and Professional Regulation announced a suspension of onsite alcohol consumption at bars statewide for that reason.