Mostly Nude Florida Man Cycling Backwards on Highway in Pink Sneakers and Socks Goes Viral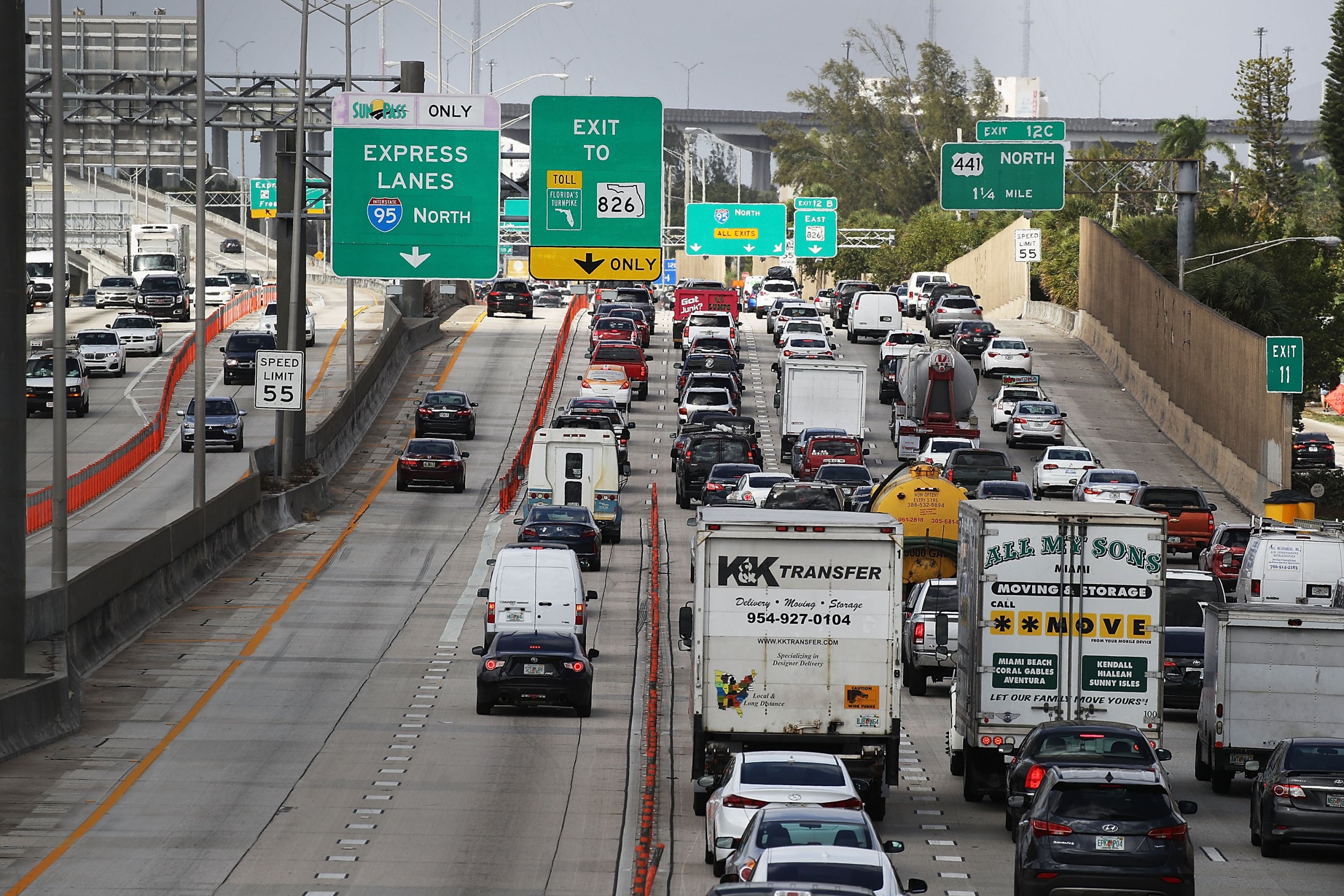 A video of a man cycling backwards on the I-95 in Florida, wearing pink underwear, socks and sneakers, has gone viral on social media.
Shared to the "Florida Man" Twitter page on Sunday, the short clip has racked up more than 250,000 views as of Tuesday morning.
"He coming'," a man says off camera. "Watch this shit." Filmed from a passing car, the man then appears through the window of the vehicle. "Oh my god," the man says, laughing. "Y'all playin' too much. Y'all play way too motherfucking much."
"Only in motherfucking Miami," he continues, as the cyclist disappears into the flow of traffic ahead.
"I see this dude all the time. I affectionately call him, Flamboyro! The hero Miami deserves," Twitter user Peter Sierra commented on the video.
User Ted Vician urged other Florida cities to step up their game, writing: "Tampa! Orlando! Time to step up. Miami is kicking our butts in weird."
According to The Sun Sentinel, this isn't the first time a scantily-clad cyclist has surprised drivers on the I-95. Last August a man breezed past traffic on the highway wearing only underwear, socks and sneakers. Thought to be the same individual, he appears to have "upped his game" by sitting backwards, user Chris Kimball commented on the Twitter post.
Driver Jesse Schwartz of Fort Lauderdale photographed the cyclist last summer and said, "he was beating traffic. Apparently, this guys does this often," the Sentinel reported.
According to the publication, cycling on the I-95 is illegal.
Although this Florida man's antics are certainly notable, they don't appear to be unique. "We have a guy in our town called "green shorts guy" who wears tiny green short[s] and no shirt," user Linsey Godfrey commented on Sunday's video. "[He] carries around a photo of himself in the winter with the green shorts and no shirt just in case you don't recognize him because he's wearing pants."
Other Florida men have made headlines in recent weeks for dragging a shark through the ocean using a boat, for throwing a toilet through glass in an Illinois government building, and for fighting off a coyote with a coffee cup, before hitting it with his truck.
Authorities punished the shark-dragging man with a 10 day jail spell. The toilet-thrower was arrested and released on bond in back in February. The coffee-cup wielder said he was protecting himself and his dogs, and said he would "do it again in a heartbeat."