Florida Paid over $12K for Each Migrant Flown to Martha's Vineyard: Records
Florida spent $615,000 to fly nearly 50 migrants to Martha's Vineyard under a relocation program championed by Governor Ron DeSantis as an innovative response to federal immigration policy that was denounced by critics as a cruel political maneuver.
The Florida Department of Transportation, according to records posted online, paid Vertol Systems Company Inc. state funds on September 8 to fly men, women and children—many seeking asylum from Venezuela—to the upscale Massachusetts vacation enclave. As records of the transaction are released, questions remain after their surprise arrival in Martha's Vineyard on Wednesday.
The number of transported migrants has been reported as around 50, with the Tampa Bay Times putting the number at exactly 48. Figures range from $12,812.50 to $12,300 per migrant that was paid out of a $12 million fund to relocate unauthorized immigrants from Florida.
DeSantis defended the policy during a Friday press conference as part of his aggressive approach toward illegal immigration that he said was needed to counter the "millions of people illegally pouring across the southern border" under President Joe Biden's hands-off approach.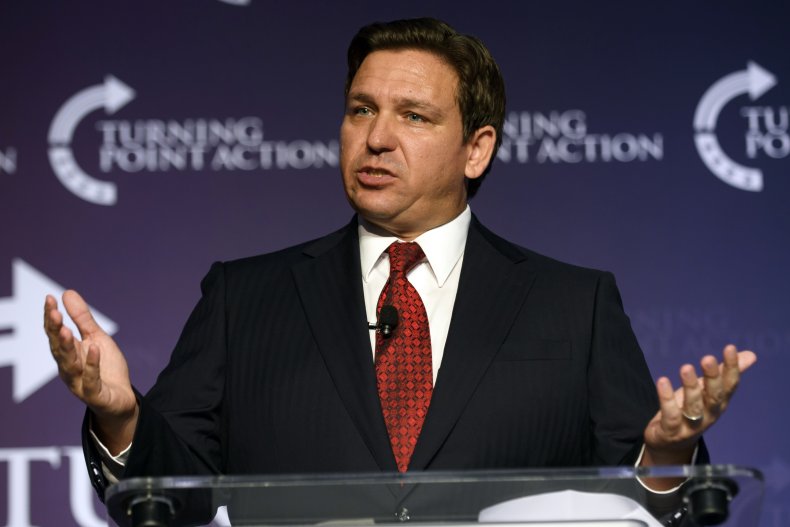 "I think what we're continuing to do is use every tool at our disposal to insulate the state of Florida from the negative ramifications of his reckless border policies," he said. "And yes, that involves helping with transport."
DeSantis said a day earlier that Florida is not a so-called "sanctuary state" with policies accommodating unauthorized immigrants. The Republican governor said Florida was helping the migrants get to "greener pastures."
Meanwhile, the sudden influx of migrants to Martha's Vineyard is straining the community's social services resources. White House Press Secretary Karine Jean-Pierre called DeSantis and a similar effort by Governor Greg Abbott "shameful, reckless and just plain wrong," citing reports that the migrants were falsely promised jobs and housing.
"If migrants were defrauded, and if this fraud was intended as a vehicle for anyone's material gain including that of an elected official, then there is a case for investigating it as trafficking," Polaris, an anti-human trafficking organization, said in a statement released Friday.
Charlie Crist, a Democratic challenger to DeSantis' reelection bid, tweeted on Friday that his opponent's "latest cruel political stunt was human trafficking." Crist has also filed a public records request seeking documents around the relocation program, reports Florida Politics.
DeSantis on Thursday said the program would prevent unauthorized immigrants from ever reaching Florida. Taryn Fenske, DeSantis' communications director, said Friday in a media release that the program would "prevent illegal aliens at the southern border from entering Florida."
The airport director of Martha's Vineyard told 7News Boston WHDH that the flight carrying the migrants originated in San Antonio, Texas.
However, the Miami Herald reports that DeSantis' administration is only allowed under state law to "transport unauthorized aliens from this state." The paper reports that DeSantis has not provided additional details on the flights, including whether the migrants were transported from Florida or another state.
Newsweek reached out to DeSantis' office for comment.