Violent Spring Break Brawls in Miami Beach See Over 100 Arrested
Over 100 arrests have been made in Miami Beach in the past week, including 42 felony charges, following a series of violent brawls among rowdy spring break crowds, Miami Beach Police said.
Video footage from Only in Dade showed chairs being thrown with people exchanging blows surrounded by a crowd of mostly maskless spring breakers.
One video showed 19-year-old James Harrison being body-slammed by police during an arrest near 8th Street and Ocean Drive, according to footage by Only in Dade posted Saturday, which has had nearly 1,000 views since it was first shared.
During the arrest "officers were forced to utilize pepper balls to disperse members of the crowd who were disorderly and surrounding officers," Miami Beach Police tweeted.
"Several subjects have been detained. Two officers were injured and have been transported to the hospital," police added.
Harrison was reported to have been aggressive towards police, resisting arrest by grabbing an officer's vest.
Miami Beach Police Officer Ernesto Rodriguez told WSVN: "That man was inside that crowd inciting the rest of the crowd. The objective of getting that violent man into custody was achieved."
"The crowd ended up turning on those officers who were there," Rodriguez told Miami's Local 10.
Other videos showed people punching and shoving each other to the ground outside the Breakwater hotel before a shooting occurred, while others hid inside a shop, according to videos tweeted by Only in Dade. The videos have each had over 1,000 views since they were first posted.
Police made 30 arrests on Saturday while patrolling South Beach, while citations were issued after officers stopped a vehicle with a woman riding on top of a car on Washington Avenue, Miami Beach Police tweeted Saturday.
Kenneth Adams, 55, was reported to have been arrested after witnesses claimed he beat a 73-year-old homeless man with a chair, according to Local 10.
Since last Monday 119 arrests have been made, with 13 guns seized and around 900 traffic citations issued, according to police, Local 10 reported Friday.
Miami Beach Mayor Dan Gelber to WSVN: "We're arresting a lot of people right now. We don't like it, but we're going to do it," adding "because we don't have another option, because the option of letting people run wild is just not one we can tolerate."
Gelber told CNN Saturday morning: "We're seeing too much spring break activity. We've got a problem with too many people coming here, we've got a problem with too many people coming here to let loose.
"We are concerned," the mayor said, adding "it's very challenging."
From late February, Miami Beach imposed enhanced safety measures in anticipation of spring break crowds. They include capacity limits on public beaches and some streets as well as a ban on "all direct or indirect consumption of alcohol" on all public beaches, the city government said in a statement.
"A countywide curfew remains in place from 12 a.m. to 6 a.m. in response to the COVID-19 public health emergency. All package liquor sales will cease citywide in Miami Beach after 10 p.m. and after 8 p.m. in the ADCD [Art Deco Cultural District]," the statement said.
These measures will remain in place throughout the "high impact period" until April 12.
Miami Beach's city manager, Raul J. Aguila, said last month: "We have zero tolerance for street fights, theft of any kind and illegal drug use. That simply puts our visitors and residents at risk of serious injury, or worse. If you plan to vacation on Miami Beach, do so responsibly or be arrested."
The latest incidents come amid the ongoing COVID-19 pandemic in Florida, where a statewide mask mandate is not in place. Local mask orders are in effect in Miami-Dade, Broward (whose county seat is Fort Lauderdale) and Orange counties.
Last September, Florida Gov. Ron DeSantis barred individuals from being fined for not wearing masks under a new executive order. He also lifted restrictions on businesses including restaurants, which may operate at 50 percent capacity.
"Every business has the right to operate," DeSantis said at the time. "Some of the locals can do reasonable regulations. But you can't just say no."
Last week, the U.S. Centers for Disease Control and Prevention (CDC) warned that spring break crowds could lead to another rise in COVID-19 cases.
CDC Director Dr. Rochelle Walensky said: "Every time there's a surge in travel, we have a surge in cases in this country," during a White House briefing last Monday.
Walensky said last month: "The continued proliferation of variants remains a great concern and is a threat that could reverse the recent positive trends that we are seeing.
"Please continue to wear a mask and stay 6 feet apart from people you don't live with. Avoid travel, crowds and poorly ventilated spaces and get vaccinated when it's available to you."
Total confirmed cases in Florida are approaching two million, with 32,255 total reported deaths, as of Monday, according to Johns Hopkins University.
A total of 7,108,286 vaccine doses have been administered across the state, as of Sunday, according to the latest report by the CDC.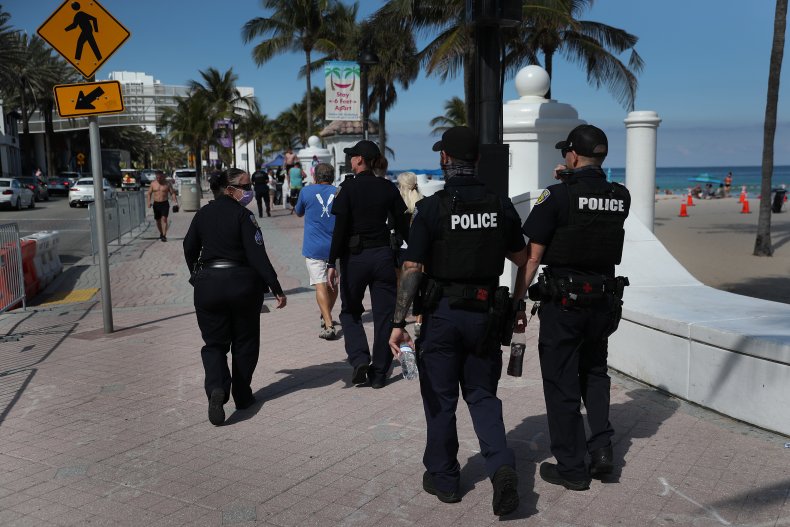 The wider picture
Coronavirus has infected more than 119.8 million people, including over 29.4 million in the U.S., since it was first reported in Wuhan, China.
More than 2.6 million people have died worldwide and more than 67.9 million have recovered as of Monday, according to JHU.
The graphic below, produced by Statista, illustrates the spread of COVID-19 cases in the U.S.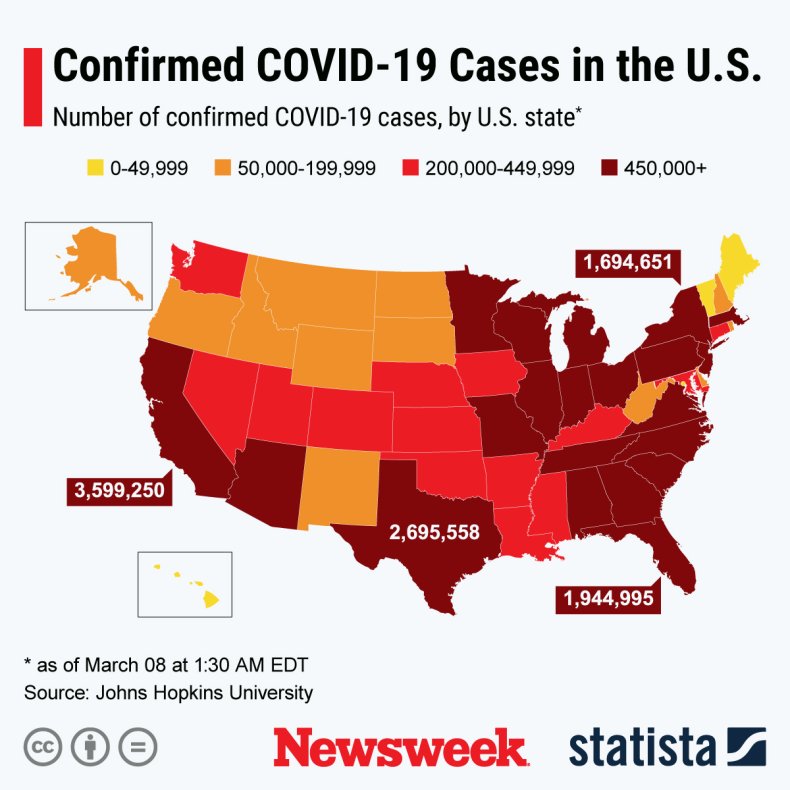 The graphic below, produced by Statista, illustrates countries with the most COVID-19 vaccine doses administered per 100,000 people.