Ford F-150 Lightning Throws Snow in Alaska During Final Winter Weather Tests
Ford is buttoning up it's development of its 2022 F-150 Lighting electric pickup truck. The latest round of cold weather testing for its four-wheel drive system took place in the frozen landscape of Alaska, through feet of snow and on rocky trails.
"Alaska provides us the extremely cold temperatures, snow and ice-covered surfaces that we need to push the F-150 Lightning in this type of testing, which is really focused on dialing-in how the truck delivers its power to the ground on slippery surfaces," said Cameron Dillon, F-150 Lightning powertrain engineer.
"Customers may not regularly see minus 30-degree mornings like we are seeing here, but they will see winter cold, snow and icy roads, and they should feel confident their F-150 Lightning is ready for all of it."
The Lightning EV was announced last year and will go into production this spring. Buyers have two powertrain options in the truck. The base model delivers 426 horsepower and 775 pound-feet (lb-ft) of torque with a range of 230 miles on a full charge. Higher grade models get 563 horsepower and give drivers access to the same amount of torque, but can go 300 miles before a recharge.
The electric truck also comes with a bunch of EV-specific features like the on-board power generator that can plug into your house during a power outage, and the 14.1-cubic-foot Mega Power Frunk front trunk, which is made possible by the lack of an engine under the hood.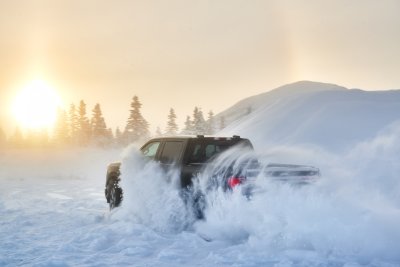 Ford brough six pickups to America's coldest state, checking on every slippery surface imaginable from loose snow to solid ice. The team also tested on half-concrete/half-ice surface, which can be especially tricky for the traction control system to figure out.
"F-150 Lightning in the snow is a very different ballgame compared to gas vehicles," said Nick Harris, F150 Lightning powertrain engineer. "The responses are extremely quick and the dual motors make it as if you have two engines pumping out power in one vehicle. A lot of our work is to coordinate the two motors to work together to best deliver torque to the ground, so that customers who drive in the snow and ice ultimately feel very confident."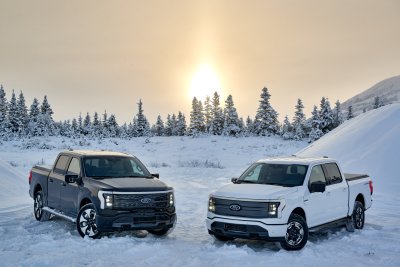 The 2022 Ford F-150 Lightning has been priced to start at just under $40,000 before tax credits, but like many popular EVs, it's reservation card is full for now. Ford is working to double production of the model to expand its availability in the coming years.