Ford Focuses on Female Off-Roaders as Bronco Market Matures
There's not signs that say women aren't allowed on off-road trails, but they are not traditionally the ones that opt outside for mud, dirt, gravel and rock-filled adventures.
That shows in the vehicles that they buy. While women influence over 85 percent of new car, truck, sport utility vehicle (SUV), and van purchases in the United States according to a 2019 Cars.com survey, they fall far behind men as the primary purchaser of 4x4s.
The number of off-road worthy models is expanding. In recent years, the introduction of the Jeep Gladiator pickup truck, Ford Bronco SUV, Chevrolet Silverado 1500 ZR2 truck and GMC Sierra 1500 AT4-X truck have made more extreme off-roading accessible to new buyers.
At the same time, automakers are ruggedizing existing SUVs (if only in appearance alone) to make them appeal to women who don't want the status quo. For example, the Honda Passport is available in a TrailSport grade that adds bold front and rear fascia, an off-road tuned suspension, contrast stitching in the cabin and aggressive tires. The company will soon add a Pilot TrailSport to its lineup.
On the flip side, those same companies are toning down some of their most traditional off-roaders to better suit on-road responsibilities as well. The primary example of this is the Toyota 4Runner. The Japanese automaker introduced the 4Runner TRD Sport model for the 2022 model year, combining on-road tuning and comfort with off-road looks and capability.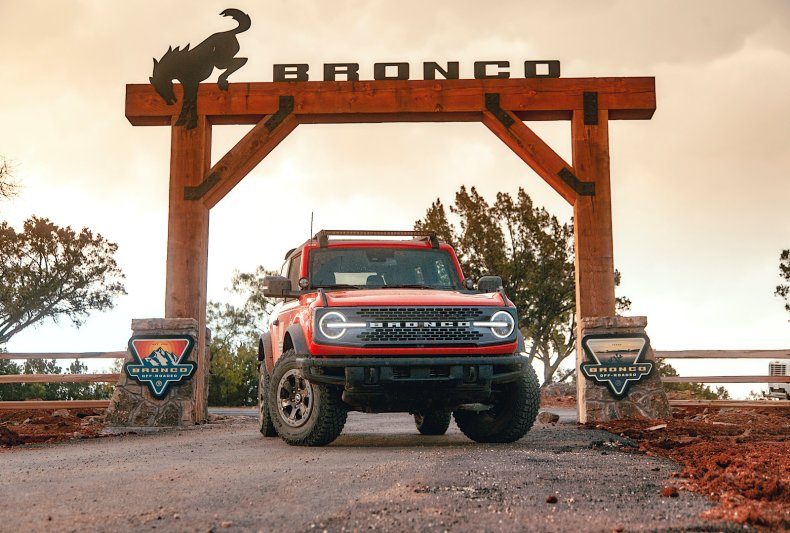 "Toyota is proud to offer multiple vehicles that embody our tagline of Let's Go Places. From 4Runner to Tacoma to the all-new Tundra and Sequoia, having capable vehicles both on- and off-road is quintessential to the Toyota brand," Kert Wilson, Senior Manager of Trucks and SUVs at Toyota, told Newsweek.
It's not just about the vehicles. Ford introduced its Bronco Off-Roadeo destinations shortly after its heralded SUV made a reappearance in its lineup. The four off-road playgrounds are located in key markets: Moab, Utah; Texas Hill Country; Mt. Potosi, Nevada; and New England.
Currently, the Off-Roadeos are only open for Bronco reservation holders and their guests. Ford is working through the process of opening the adventure arenas to the public.
According to vehicle registration data, Jeep is still the preferred brand for female 4x4 buyers, far outpacing Ford's Bronco sales nationwide. The worst market for Jeep with women, by volume and percentage of sales, is better than Bronco's best market.
Jeep as a brand with Wrangler, Compass, Renegade, Grand Cherokee, Grand Cherokee L, Wagoneer and Grand Wagoneer in its stable has far higher model production capacity than the Ford does with its Bronco. Ford's off-roader has also been notoriously plagued by supply chain holdups beyond the semiconductor chip shortage.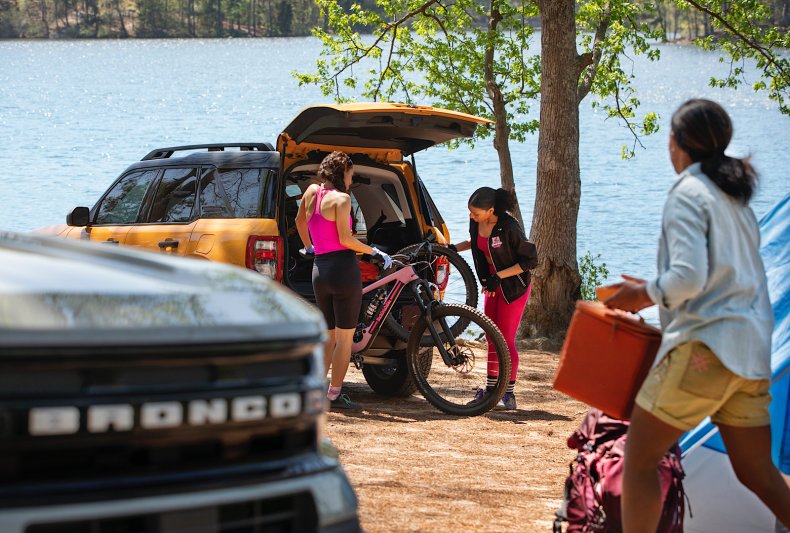 Dearborn, Michigan's hometown automaker is fostering its relationship with female Bronco buyers, recently hosting a women-only day at the Texas location.
The ladies in the group fit no stereotypes for off-roading enthusiasts. They were young, middle aged, retired and everything in between. On the shuttle ride from the hotel to the Off-Roadeo site, a heavily tattooed woman with a Jason Andean tank top on sat beside a woman who looked straight out of the REI catalogue who might list one of the hobbies she is most passionate about as birdwatching. They all had one thing in common, a love of the Ford Bronco.
Many are members of the Bronco B.A.B.E.S. (Bad Ass Bronco Enthusiasts) private Facebook group, a community of women who adore their new, on-order, or dreamt-about Bronco, as well as heritage model enthusiasts. Many participants mentioned the community, calling it "supportive" and "a great group" that stands in stark contrast to much of the comments that can be found on social media.
Off-Roadeo participant discussions around the breakfast table mostly involved asking each other about various issues they've run into over the last several months of ownership. One had a particularly bad differential issue. Several others mentioned roof rubbing and DIY fixes they have found for that and other small vehicle aches along the way.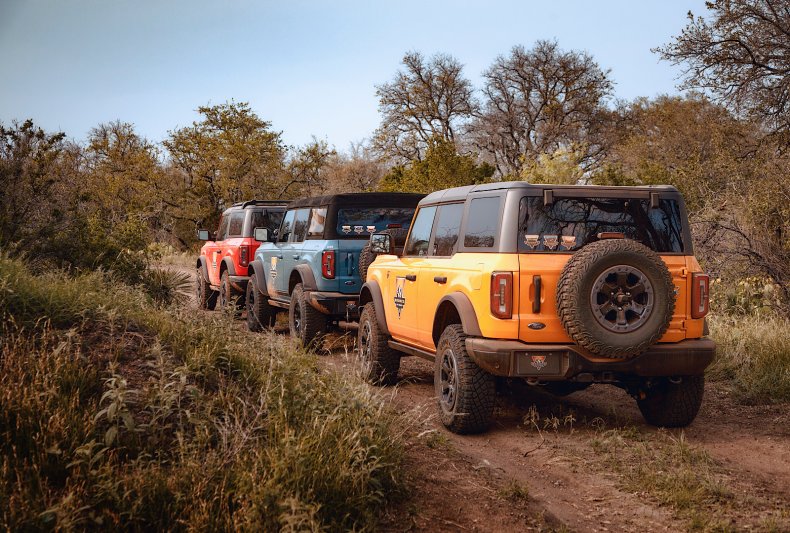 Among the participants are Becky Cotton, Kelly Boyd and Erin Emmrich. Cotton, along with her husband Dwayne and son Gavin run the Driven Wild Outdoors YouTube channel. She drives an Eruption Green 2022 Bronco Badlands. Its one of several the family owns.
Boyd, who runs the All Terrain Nation website with her husband, met Cotton online through their mutual love of the Bronco. She dailies a 2021 Ford Bronco Badlands with the Sasquatch Package.
Emmrich is a nurse administrator who bought her Bronco as a gift to herself in celebration of finishing her masters degree. She, like many others who have ordered, has yet to take delivery of her model.
Most of the women in the group had little to no off-roading experience. Others were experts. Off-Roadeo instructors welcome all kinds, teaching the basics before heading out on the trail to experience rocks, sand, and gravel that showed what the model is truly capable of.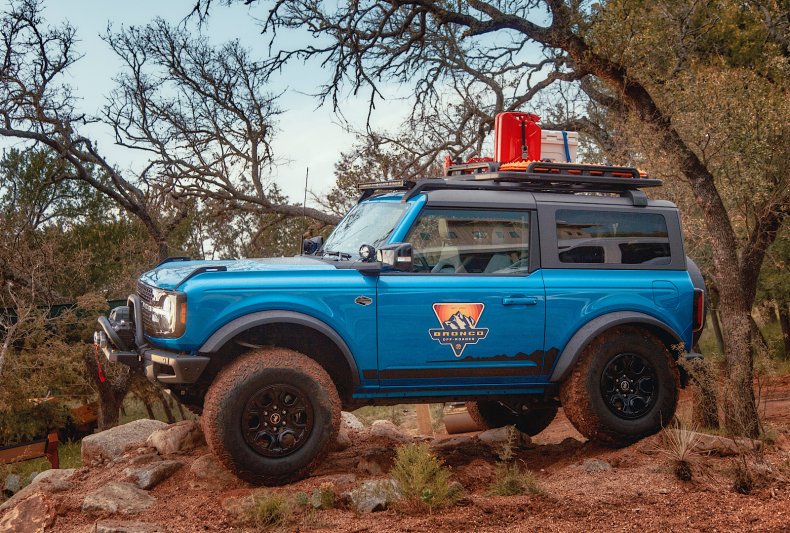 The Bronco owners at the Off-Roadeo event are the exception to the rule. Men still make the majority of 4x4 purchases in the U.S. Year-to-date, through July, women represent over a quarter of all 4x4 retail sales, up from just over 23 percent in 2019.
Some models are more popular with woman than others. Just over 50 percent of 4x4 variants of the Jeep Compass, Renegade and Cherokee are purchased by women. This is the highest mix of female 4x4 buyers.
Women account for just under 50 percent of Ford Bronco Sport and Jeep Grand Cherokee sales while nearly 40 percent of Jeep Wrangler and Wrangler 4XE sales are to females.
"Newer authentic 4x4 products like Bronco are capitalizing on consumers desire for an off-road image with nostalgia," Tony Salerno, managing director of automotive advisory and analytics at J.D. Power told Newsweek.
"Even electrified 4x4 products like Hummer and Wrangler 4XE are carving out a niche of their own. Also, some brands are executing the rugged image with an option package like the Honda Passport TrailSport. Not everyone needs, or wants, full off-road capability so the variety gives consumers choices which is always good."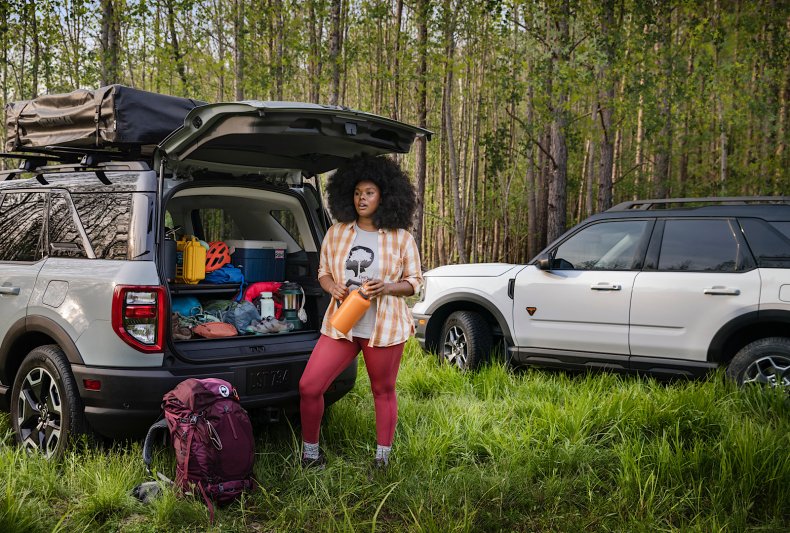 For Jolanta Coffey, Bronco's chief product engineer, gaining a share of the female enthusiast market is just one of the keys to the model's success. The other bits come from the features and technology that the SUV offers its drivers. "Bronco makes off-roading accessible to all customers thanks to the advanced features such as G.O.A.T modes, front and rear locking differentials and the sta-bar disconnect," she told Newsweek.
"Regardless of their off-road experience, all women are able to get out on the trails with confidence that their vehicle will get them there and back. The Bronco Off-Rodeo is an excellent opportunity to learn about these features and build confidence in a comfortable and laid back environment."