Ford Will Now Pickup and Deliver Your Car if it Needs Service, For Free
Ford Motor Company is expanding its Pickup and Delivery Mobile Service appointments to all Ford Service customers. That means if your car is going to a Ford dealership to be repaired the cost for transport will be zero.
Ford says the new service is just another in its aim to improve ownership experience by easing maintenance calls and scheduling for everything from minor repairs to recall work. The company also says this will help brand loyalty with more personalized service options. The new option also expands its Mobile Services like oil and filter changes, brake service and light recall work.
A 2022 J.D. Power study asked customers who they felt about remote experiences like these and found that the customers who used them were more likely to recommend their brand to a friend or family member.
"Customers who've experienced Pickup & Delivery and Mobile Service love the convenience and flexibility," said Todd Rabourn, North America Regional CX Director in a press release. "This program increases the access customers have to remote service options, so whether you're due for an oil change or need to resolve a recall, it's easier to have your vehicle serviced with less disruption to your life, and the activities and people you care about."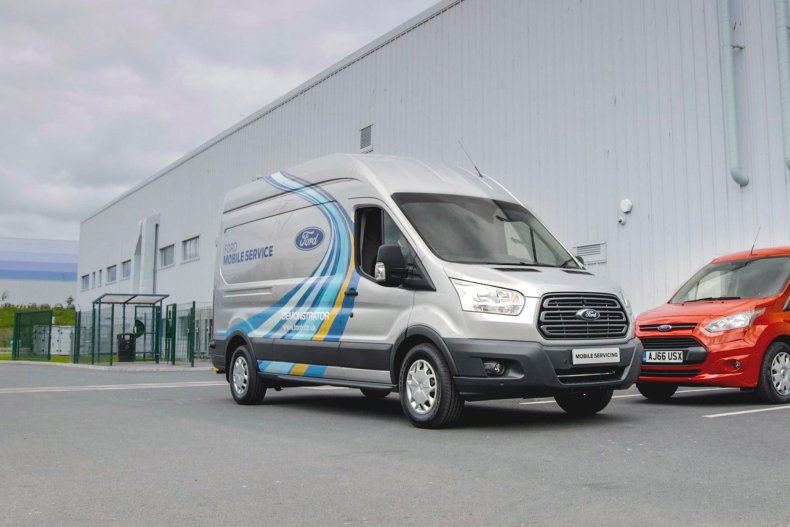 Pickup and Delivery, as it sounds, will allow Ford representatives to go to the customer's home or workplace, take the vehicle to the customer's preferred Ford dealer, and return it when the service is done. The program provides dealers with additional support.
"We've been working with multiple teams at Ford to offer our customers more ways to personalize vehicle service," said Tim Hovik, National Dealer Council Chairperson in a press release. "By expanding the remote experiences offerings, we can accelerate our ability to be there for customers whenever and wherever they need us."
Participating dealers can set their own service and mileage limits for both types of remote maintenance. The service is also voluntary meaning every dealer might not have Pickup and Delivery. Owners can call their local dealer and ask.
Ford joins many automakers that have some sort of service deal after the purchase of the vehicle. Both Infiniti and Acura offers dealer pickup for oil changes and minor repairs. Volvo does the same.
BMW and MINI offer free maintenance for the first three years or 36,000 miles, which would cover most of a lease agreement. Beginning in 2023 Honda is now offering free maintenance for two years or 24,000 miles. Jaguar offers five years or 60,000 miles of free maintenance.