Former General 'Disappointed' More Republicans Have Not Condemned Trump's Protest Response
It is no secret that retired Lieutenant General Russel Honoré does not mince his words. And he didn't hold back describing how Republicans on Capitol Hill have responded to President Donald Trump's handling of the George Floyd protests.
"Silence," he said.
In a phone interview Friday, Honoré told Newsweek that like Senator Lisa Murkowski (R-Alaska), he agrees with former Trump Secretary of Defense James Mattis' searing rebuke of the president. Plain and simple, he is "disappointed" more Republicans haven't spoken up.
The general, best known for overseeing the military response to Hurricane Katrina in 2005, reflected upon what the late-Senator John McCain (R-Ariz.)—a politician never afraid to buck his own party to condemn Trump—might think.
"Can you imagine if McCain were around right now? I don't think he would be too happy with things going on right now," Honoré said.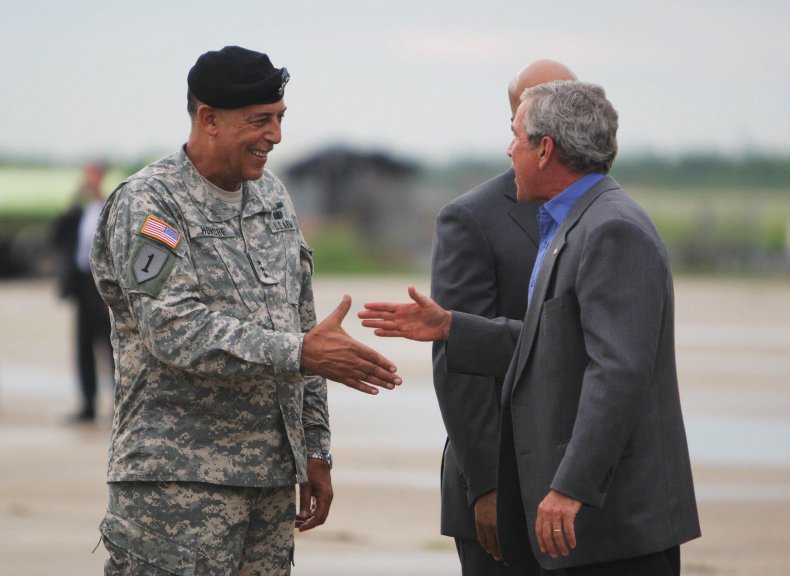 Honoré is part of a growing list of current and former military leaders, ambassadors or senior officials who have criticized Trump's response to the racial justice demonstrations occurring from sea to shining sea—including in front of the White House—over the May 25 killing of Floyd, a black man, by a now-former white police officer.
In fact, that list is comprised of hundreds of names. Others, such as Trump's former White House Chief of Staff John Kelly, former Defense Secretary William Perry, retired Marine General John Allen, former Joint Chiefs of Staff Retired General Martin Dempsey and Army Secretary Ryan McCarthy, have issued their own rebukes.
"That's pretty unusual. I've never seen nothing like this before, and I hope I never see it again," Honoré said, referring to the president's actions that have compelled the extraordinary remarks from typically reserved former officials.
And his frustration with GOP lawmakers, the vast majority of whom have shrugged off recent searing rebuke from Mattis that Trump is a threat to the Constitution who pits Americans against one another, comes as one Republican has stuck out her neck to express grave concern.
Senator Murkowski on Thursday made the remarkable comments to reporters on Capitol Hill that she is "struggling"—and has been "for a long time"—with whether to support Trump at the polls in November. She even went a step further to suggest that perhaps some of her colleagues may finally come forward with disapproving voices thanks to the president's actions and Mattis' remarks.
"I think you know that I didn't support the president in the initial election, and I work hard to try and make sure that I'm able to represent my state well, that I'm able to work with any administration and with any president," Murkowski said. "When I saw General Mattis' comments [Wednesday], I felt like perhaps we're getting to the point where we can be more honest with the concerns that we might hold internally, and have the courage of our own convictions to speak up."
Honoré, who knows Mattis personally, described the former defense secretary's condemnation of the president as "very thoughtful" and "very courageous."
"Because normally as retired generals, we don't mess around with that," he said, briefly pausing for a laugh, "once we leave office."
Much of the uproar over Trump's actions since the police brutality protests began came from two incidences on Monday that occurred just moments apart: a threat to use the Insurrection Act to send U.S. troops into American cities to quell the violence and federal law enforcement officials violently dispersing peaceful demonstrators outside the White House so the president could have a photo-op in front of an historic church that was vandalized the previous night.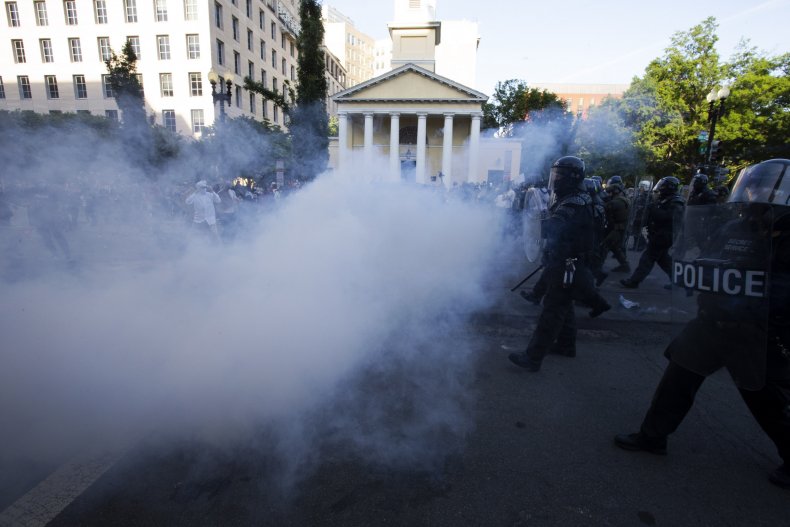 Pepper balls and smoke canisters were lobbed into the crowd as officials with riot shields and horses physically moved protesters from the area just minutes before Trump walked across the street to stand in front of St. John's Episcopal Church, with Bible in hand, and pose for photographs.
"The president either doesn't understand the Constitution or he don't give a damn," Honoré said of the threat to invoke the Insurrection Act. "Trump has embraced the military as his personal protectors. They're for national security, not political security. They're in the court of the Constitution."
Since the Monday night squabble, protests demanding change for Floyd have been far more peaceful. But where the violence has subsided, the political rhetoric from Republicans and the White House has emerged. Administration officials and some GOP lawmakers have denied the notion that the breakup of the demonstrators—which the president has painted with a broad brush as "thugs," "hoodlums" and shared a letter calling them "terrorists"—and the church visit were connected.
Honoré characterized that claim as "trying to put lipstick on a pig."
"It's hard to deny what you see. People overnight just created their own narrative," he said, laughing.