Former 'Nuke Football' Handler Hits Out After Trump Nuclear Code Claims
Claims Donald Trump could have compromised America's nuclear launch codes have been rejected by one of the men who used to carry the famed 'nuclear football'.
Mar-a-Lago, the former president's luxury Florida private members club, was raided by the FBI on Monday.
Speaking to The Washington Post, senior officials said there were concerns Trump had kept hold of classified documents, including some related to nuclear weapons.
This sparked outrage on social media, with some users worried Trump could have given away the U.S. launch codes.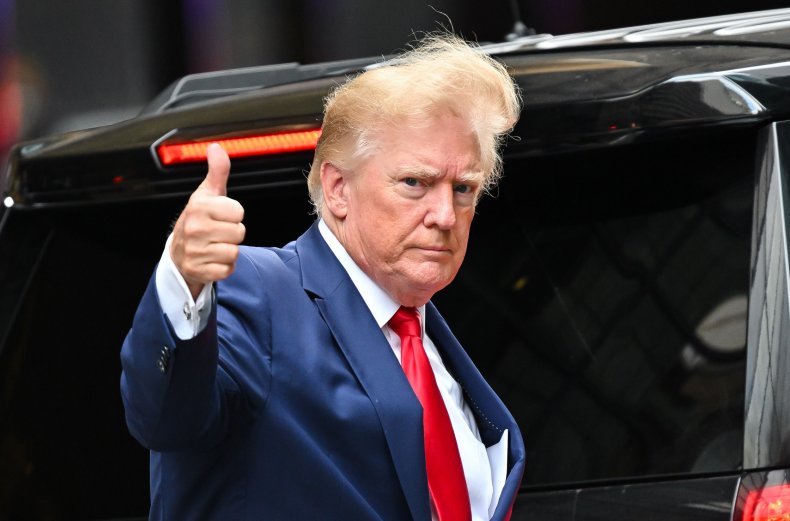 Tristan Snell, who previously was involved in legal action against the New York businessman over Trump University, raised the concern with his 251,000 Twitter followers.
He asked: "Serious question now: Does Donald Trump have the nuclear codes at Mar-a-Lago?"
However, the suggestion was rejected by Buzz Patterson, an author who served as senior military aide to President Bill Clinton between 1996 and 1998.
During this time Patterson was responsible for Clinton's emergency satchel, more commonly known as the nuclear football, which can be used by the president to launch a nuclear strike whilst they are away from designated command centers.
He tweeted: "For those who buy the lie that President Trump "stole" nuclear codes. It doesn't work like that. Codes change when presidents change. It's not that intriguing."
Patterson's message struck a chord with other social media users, receiving more than 8,000 likes and 2,000 retweets.
The author had earlier used Twitter to comment on reports President Clinton's nuclear codes were briefly lost in 2000, after he'd stepped down as senior military aide.
Patterson wrote: "Just a reminder, but Bill Clinton actually LOST the nuclear codes during my tenure with him. We weren't raided."
In his 2010 memoir 'Without Hesitation: The Odyssey of an American Warrior' General Hugh Shelton, Chair of the Joint Chiefs of Staff from 1997 to 2001, sensationally claimed Clinton's launch codes were misplaced.
General Shelton recounted how Pentagon officials repeatedly asked to see the codes "around the year 2000," only to be told they were with the president.
He wrote: "This comedy of errors went on, without President Clinton's knowledge I'm sure, until it was finally time to collect the current set and replace them with the new edition.
"At this point we learned that the aide had no idea where the old ones were, because they had been missing for months.
"The President never did have them, but he assumed, I'm sure, that the aide had them like he was supposed to."
General Shelton said at this point an internal investigation was launched, and procedures around the codes tightened.
On Thursday Attorney General Merrick Garland said he is seeking to make the search warrant used for the Mar-a-Lago raid public.
Lawyers from the Department of Justice have asked a federal judge to release the warrant.
In a statement, Trump also called the document's "immediate release," even though he claimed it was "drawn up by radical left Democrats and possible future political opponents."