Where to Find Chickens in 'Fortnite': Location and How to Catch Them
The latest Winterfest 2021 challenge in Fortnite tasks players with catching a chicken and then using the domesticated poultry to fly around the map.
If you haven't been keeping up with the holiday event in Fortnite, then you likely won't know much about Winterfest. In a nutshell, it's the game's nondenominational Christmas celebration that adds seasonal décor to the island and a special cabin that you can visit to unwrap gifted rewards.
In addition to all the freebies and tinselly ornaments, there are also a number of special missions that you can complete for Winterfest. Every day between now and January 6, another one of these challenges will be added to get you into the festive spirit. So far, the quests have had you doing things like rounding up lost toys and sliding around on ice blocks, but the latest one is even quirkier.
Now, Sgt. Winters (Fortnite's equivalent of Santa Claus) is inexplicably asking you to get a hold of a chicken and then use its flapping wings to traverse the island.
Where to Find Chickens in 'Fortnite'
The annoying thing about the chickens in Fortnite is that you come across them constantly when you don't need them, but as soon as you're actually hunting them down they are nowhere to be seen.
Unfortunately, the Winterfest 2021 quest doesn't even mark suggested areas for you to search on your map, so you are basically left to your own devices here. To help you out, Newsweek has highlighted a few spots on the island where the birds seem to spawn quite regularly.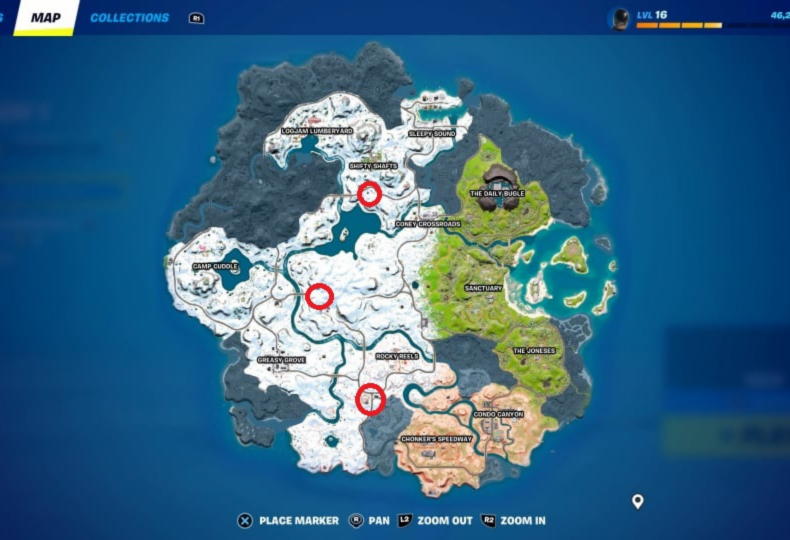 Specifically, we managed to find chickens loitering around the following locations:
Near the bend in the road between Coney Crossroads and Shifty Shafts
Near the river bridge to the east of Camp Cuddle
At the crossroad gas station to the south of Rocky Reels
In all three cases, the chickens are roaming around freely, so you might need to do a little bit of hunting for them. However, they consistently spawned in those spots.
How To Catch a Chicken in 'Fortnite' and Fly
Finding a chicken is only the initial step in completing the new Winterfest 2021 quest.
You will then need to successfully grab it by holding down the contextual button that appears on screen when you are in close enough range (for instance, it's triangle on PlayStation). Once you have done that, your character will hold the chicken above their head, and you will be able to use its wings to fly around.
To do this, just press the jump button. It will take quite a few goes to meet the criteria for finishing the quest, so you will preferably want to take care of any nearby threats before you start.
As for grabbing the chicken in the first place, it can be a little tricky as they run faster than you do. Your best bet is to try and chase them into a corner or to use the crafting mechanics to build an improvised coop that they cannot escape from.
Fortnite Chapter 3 is free to play on Xbox One, Xbox Series X, PS4, PS5, Nintendo Switch and PC.