'Fortnite' Toy Biplane Locations at Condo Canyon, Greasy Grove and Sleepy Sound
A festive quest in Fortnite tasks players with collecting three toy biplanes that are hidden in various places on the map. This walkthrough will show you where to find each one of these Christmas presents.
The Winterfest 2021 celebrations recently kicked off in Fortnite. Between now and January 6, seasonal content will be drip-fed through into the battle royale, with new cosmetics being added to the Item Shop, holiday-themed decorations adorning the island, and Sgt. Winter (who is essentially the game's equivalent of Santa Claus) handing out free rewards over at the Cozy Lodge.
Speaking of which, the jolly gift-giver is also assigning limited-time challenges for Winterfest 2021. These special missions are being issued periodically throughout the festive season and players can choose to take them on for a chance at earning some bonus XP.
Newsweek has already prepared a quick guide on how to complete the Icy Feet challenge (which asks you to travel a certain distance with your shoes totally frozen). However, that is not the only quest being offered by Sgt. Winter right now, as he also wants you to round up some missing presents on his behalf.
Here is where to find the toy biplanes in their hiding places at Condo Canyon, Greasy Grove and Sleepy Sound.
Where Are the Toy Biplanes in 'Fortnite'
The new Winterfest 2021 challenge tasks you with finding three toy biplanes, which are just miniaturized versions of the aircrafts used in the Freaky Flights mode from earlier this year.
To clarify, this is not one of those missions where the collectables are infinite and spawn in random places around the island. Instead, you will have to consult your map to pinpoint the vague locations of the toy biplanes.
If you do this, then you will see that there is one at Condo Canyon, one at Greasy Grove and one at Sleepy Sound. However, the map only gives you the general area that you will need to search and does not highlight exactly where you ought to be looking.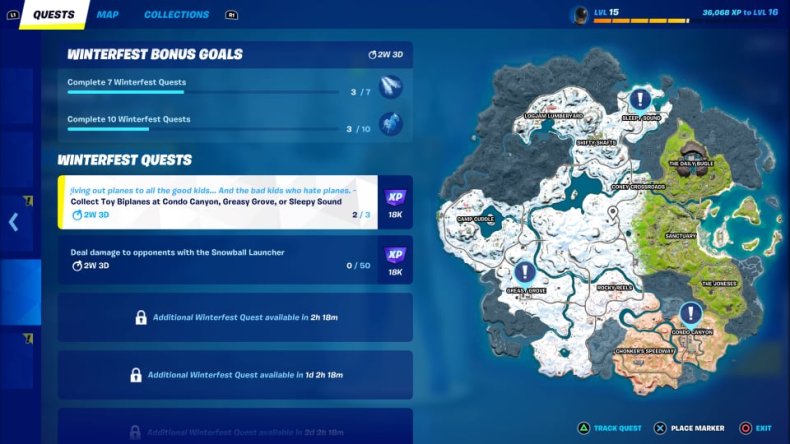 For more specific directions, check out the below screenshots.
Toy Biplane Location #1
The toy biplane over at Greasy Grove is located next to the workbench in a garage. To find it, head just below the second "G" in "Greasy Grove on your minimap.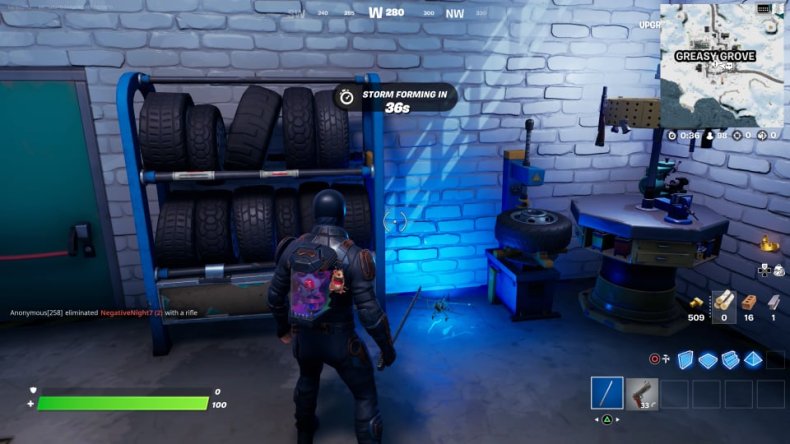 Toy Biplane Location #2
A second toy biplane can be found at Greasy Grove. This one is a little trickier to find as it is nestled within a Christmas display inside one of the shops. Specifically, it is hidden behind the quad-bike pictured below.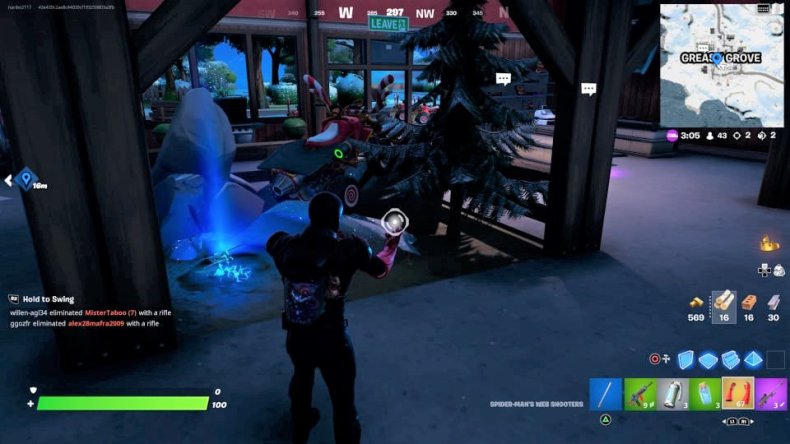 Toy Biplane Location #3
The toy biplane over at Condo Canyon is lying next to a pool. It can be found by heading slightly north of the second "N" in the "Condo Canyon" label on your minimap.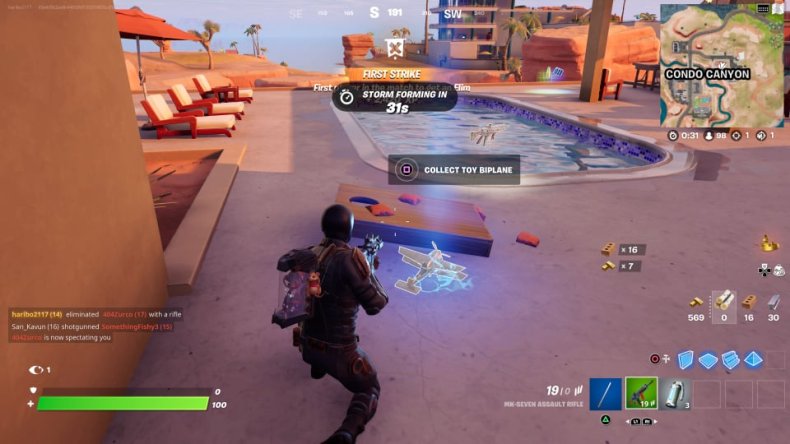 Toy Biplane Location #4
You only need to collect three biplanes to complete the quest, but if you are struggling to find one of those listed above, then there is another toy at Sleepy Sound. It's to the south of the second "S" in the Sleep Sound label on your minimap.