'Fortnite' Winterfest 2021: Where Is Cozy Lodge in 'Fortnite' Chapter 3
Cozy Lodge has returned to Fortnite just in time for Christmas, but it's not immediately clear how to access the festive cabin if you have never been there before.
The jolly location was added to the game as part of a recent Winterfest 2021 update, which also introduced new limited-time challenges, seasonal decorations around the island, and chiller grenades that can be used to encase opponent's feet in solid blocks of ice.
There is certainly a lot of fresh content to explore here and you will need to be quick if you want to see it all before the Winterfest event concludes on January 6. Yet getting to the Cozy Lodge ought to be at the top of your to-do list for the celebrations, as it's the only place that you will be able to find Sgt. Winter (Fortnite's take on Santa Claus) and his stash of freebies.
If you are not familiar with how this works, you are entitled to open one gift every 24-hours between now and January 6 (there are 14 in total, so you don't have to visit daily). The catch, however, is that these presents are all wrapped, so you can't tell what you will be getting until you have opened them. The only one that gives you an obvious clue is The Matrix Sentinel glider, as that box is appropriately themed with green digital rain.
You will definitely want to open every gift, as it is not often that Fortnite hands out free cosmetics to players. Indeed, a battle pass is not even a requirement here, because anybody can access Cozy Lodge.
Cozy Lodge Location in 'Fortnite' Chapter 3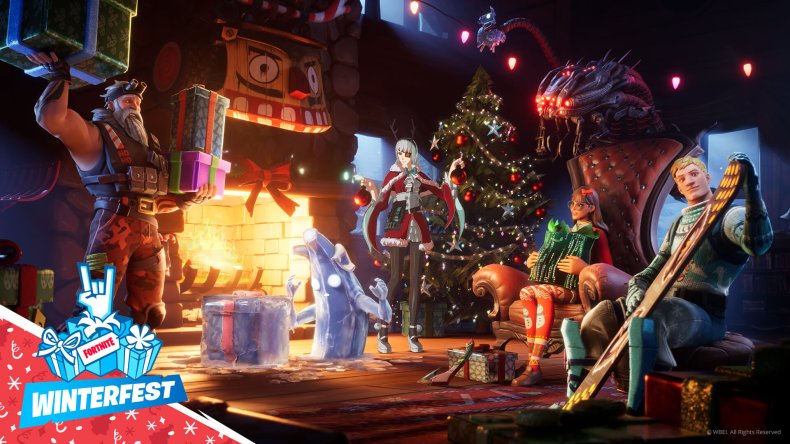 Speaking of which, if you did not participate in the Winterfests from previous years, then it won't be immediately apparent how to get to Cozy Lodge.
Your first instinct might be to explore the snow-swept regions of the map, but you will not be able to find the grotto that way. It's not a point of interest on the island, like the newly-erected Daily Bugle tower, and you needn't jump into a Battle Royale match to get there.
Instead, the cabin has its own dedicated area on the main menu. Don't beat yourself up if you missed this, as the corresponding button is quite hard to spot given that it blends in so well with the festive background.
If you look at the very top of the screen (where there are tabs for things like the Battle Pass, your Locker and the Item Shop), you should be able to make out a snowflake icon. We have highlighted this for you on the screenshot below.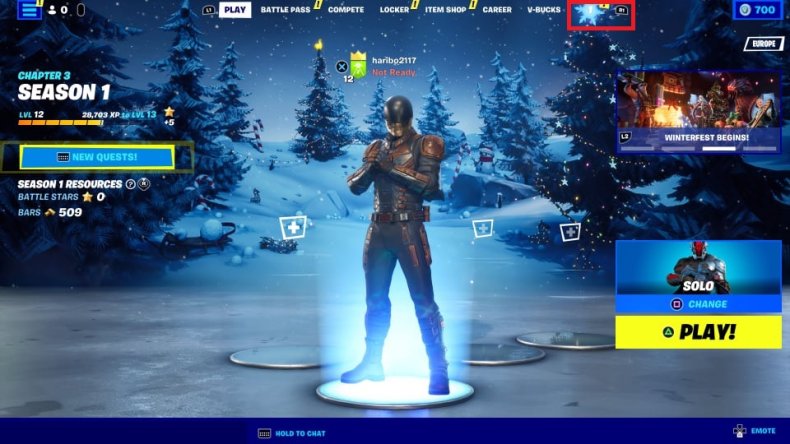 Navigate to the tab by pressing the shoulder buttons on your controller or using the mouse cursor on PC. Once you have selected the snowflake icon, you will be taken to an exterior shot of Cozy Lodge and there will be an on-screen prompt telling you what button you need to press to head inside.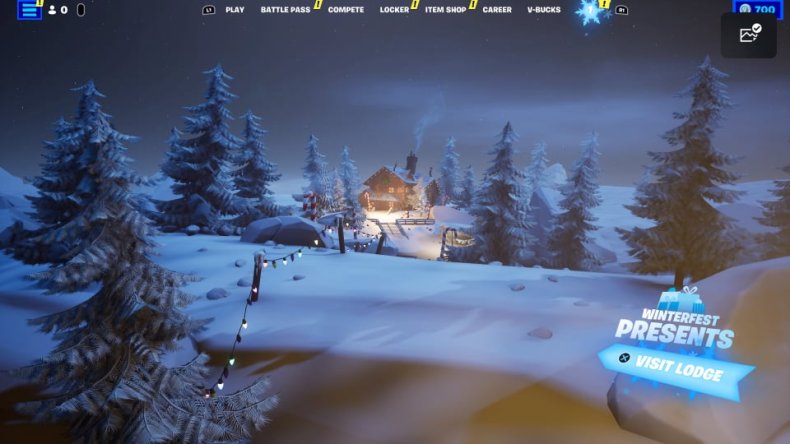 Depending on what day of Winterfest it is, you will then be able to open a certain allowance of presents. This stacks up, so don't worry if you miss a day as it will just carry over.
To open a present, select one of the piles on the floor and then choose the individual gift that you want.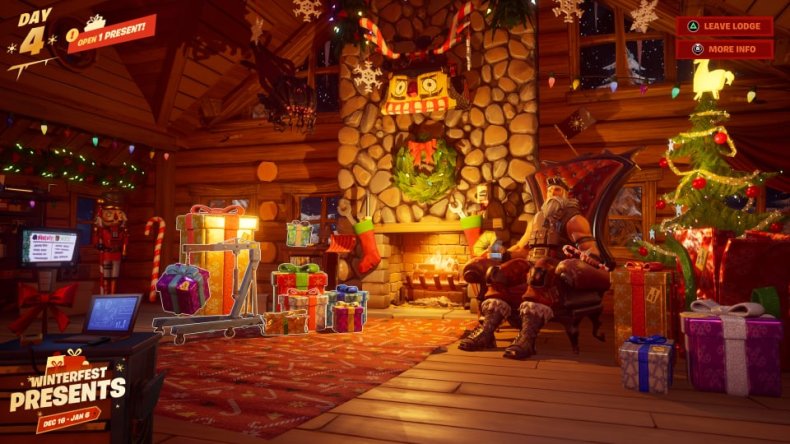 How To Warm Yourself at the Yule Log
In addition to tearing open presents, there are a few other activities that you can do in the Cozy Lodge. For instance, there is a jukebox that you can interact with to play music and a few other objects scattered around the cabin that each have their own fun animations.
One thing that has a little more utility however is the Yule Log in the center of the room. By warming yourself next to this, you will get an XP boost for the remainder of the day.
To do so, you must first select Sgt. Winter himself while in the Cozy Lodge. After you have done this, you will then be able to highlight the fireplace and interact with it. Just make sure to wait by the Yule Log for at least a few seconds so that you get the aforementioned XP boost.