'Fortnite' Haven Masks: How To Unlock Each Outfit Style and Where To Find Feathers
Haven, the latest addition to Fortnite's battle pass, is a character skin that comes in various styles, with a number of collectible masks for you to try on.
The customizable outfit was added as part of the V19.20 patch, alongside the new Covert Cavern base and the mythic variant of the Stinger SMG.
Haven is an original Fortnite character, rather than a crossover guest from a popular movie or TV franchise. She is part of the "Kindred Spirit" cosmetic set and her defining personality trait is that she has a strong affinity with animals. In fact, if you find the NPC version of this avatar wandering the island, she will even sell you Klomberries, which are in turn used to placate the giant Klombo dinosaurs.
Given that she is so uniquely in touch with the natural world, it makes sense that Haven would want to express a love for wildlife in her appearance.
Players who get her skin from the Battle Pass menu will be able to dress her in one of 30 spirit masks (like the ones seen in Kena: Bridge of Spirits). Each of these takes the form of a different animal, with styles depicting owls, rabbits, cats and even Klombos.
However, you do not have immediate access to all of Haven's masks in your item locker. Instead, you will have to earn each of them as individual rewards.
This guide will explain all you need to know about unlocking the full wardrobe.
How To Unlock Haven Masks in Fortnite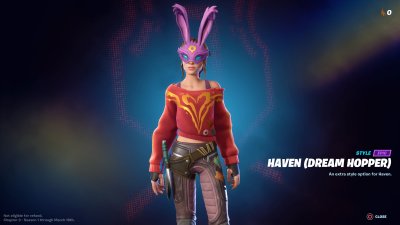 Before you can unlock any of her masks, you must buy Haven herself as a character from the Chapter 3, Season 1 Battle Pass.
She can be redeemed for 9 battle stars and is on the fifth page of the menu. You will also need to unlock every other item on that screen before she is available to purchase.
Once the Haven outfit has been added to your item locker, you will then be able to start building your mask collection.
Each mask has a prerequisite condition that you need to fulfil before you can buy it. Think of these like mini-quests that gradually open up more of the storefront. For instance, you might need to catch a certain type of fish or harvest a given number of materials.
Meeting the prerequisite does not instantaneously unlock a mask for you though. After you have completed the associated mission, you still need to buy the cosmetic item. A new currency has been added to the game just for this, known as feathers.
To sum up, here are the steps for unlocking Haven masks in Fortnite.
Buy the Haven outfit from page 5 of the battle pass menu
Meet the unlock prerequisite for the mask you want
Purchase it from the dedicated storefront using feathers as a currency.
How To Get Feathers in Fortnite
Similar to the rainbow ink resource (that was used to apply different paint colors to the old Toona Fish skin) feathers only have one purpose in Fortnite. They cannot be exchanged for V-bucks, nor can they be traded for bundles over at the Item Store.
Instead, the only way to spend feathers is to head into the dedicated Haven style menu (in the Battle Pass tab) and trade them for masks.
In terms of how to get that special currency in the first place, it is deposited in random chests around the island. You will not find them lying around on the ground and you cannot loot them from other players you have killed either.
Even if you haven't unlocked Haven yet, you will stumble across feathers from time to time and they will still be added to your inventory.
To reiterate, they can only be found in random chests and there is no specific place that you should look. You just have to listen out for the tell-tale glistening sound that indicates a chest is nearby and hope that you get lucky when you open it.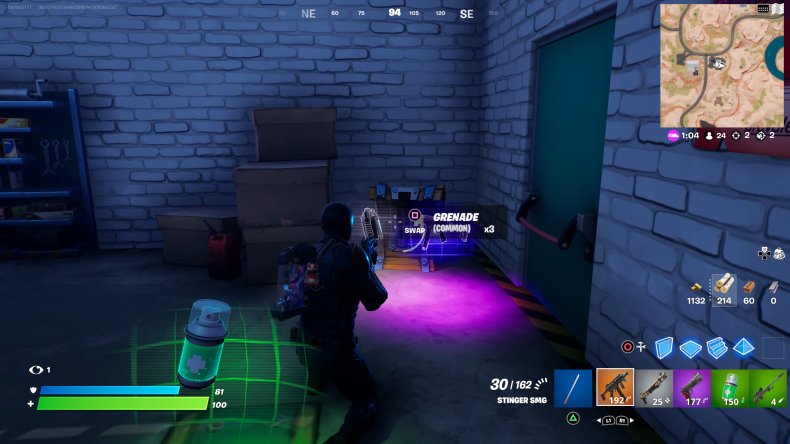 Haven Mask Unlock Criteria
As aforementioned, there are two steps to unlocking a Haven mask in Fortnite. You obviously need enough feathers to buy them, but you also need to complete an associated quests as well. Otherwise, the transaction will be unavailable to you.
To help you figure out what each mask requires, Newsweek has listed all of these prerequisite unlock conditions below.
| | | |
| --- | --- | --- |
| Mask Style | Prerequisite | Cost |
| All-Seeing Cat | Claim the Haven Outfit | Free |
| Autumn Stag | Consume 3 different types of foraged items | 10 Feathers |
| Elder Wolf | Hunt 5 chickens | 10 Feathers |
| Hidden Scales | Slide 300 meters | 10 Feathers |
| Frosty Savenger | Search 10 chests | 10 Feathers |
| Reanimated Cat | Catch a Shield Fish, a Spicy Fish and a Jellyfish | 15 Feathers |
| Skelle Stag | Gather foraged items at 3 different named locations | 15 Feathers |
| Cuddle Wolf | Hunt 5 boars | 15 Feathers |
| Hypno Scales | Slide continuously for 8 whole seconds | 15 Feathers |
| Golden Scavenger | Search 3 chests that belong to either "The Seven" or the "Imagined Order" | 15 Feathers |
| Midnight Cat | Catch a total of 20 fish | 20 Feathers |
| Primal Stag | Consume a total of 25 foraged items | 20 Feathers |
| Primal Wolf | Hunt a total of 5 wolves | 20 Feathers |
| Glowing Scales | Deal a total of 1000 damage to opponents while sliding (does not have to be in one go) | 20 Feathers |
| Midnight Scavenger | Search 2 rare chests | 20 Feathers |
| Spring Owl | Land on a tree after gliding | 10 Feathers |
| Dream Hopper | Drive a car, a quadcrasher, and a boat | 10 Feathers |
| Friendly Klombo | Ride on a Klombo for 10 seconds | 10 Feathers |
| Tropical Chirper | Complete 5 daily quests | 10 Feathers |
| Fire Hunter | Claim 5 other Haven masks | 10 Feathers |
| Primal Owl | Glide for a total of 1,000 meters | 15 Feathers |
| Frosty Hopper | Get 10 seconds of air time in a vehicle | 15 Feathers |
| Hungry Klombo | Feed a Klombo with a Klomberry | 15 Feathers |
| Frosty Chirper | Complete 10 daily quests | 15 Feathers |
| Snow Hunter | Claim 15 other Haven masks | 15 Feathers |
| Tropical Owl | Damage an opponent within 10 seconds of gliding | 20 Feathers |
| All-Seeing Hopper | Drive 5,000 meters in a vehicle | 20 Feathers |
| Grouchy Klombo | Deal 50 damage to Klombos | 20 Feathers |
| Primal Chirper | Complete 20 daily quests | 20 Feathers |
| Eclipse Hunter | Claim 25 other Haven masks | 20 Feathers |