Why Using the Unofficial Frozen Peely Glitch in 'Fortnite' is a BAD Idea
Some players have figured out how to unlock the frozen Peely skin early in Fortnite, but the unofficial method for doing so could result in you getting banned from the game.
Fortnite's Winterfest 2021 update has introduced plenty of seasonal content to the popular battle royale. The island has been given a holiday-themed makeover (with it now being covered in snowmen, Christmas trees and fairy lights), there are several limited-time challenges to complete for bonus XP, and you can even visit a log cabin to unwrap daily cosmetic gifts.
Speaking of which, one of these free rewards is a winter-themed variant of the game's anthropomorphic banana, known as "Polar Peely." While you can open most of the presents in Cozy Lodge in whatever order you want, this one is off-limits for the time being.
If you head into the cabin, you will notice that there is one box (next to the pile of gifts on the right) that is encased in a solid block of ice. This contains the frozen Polar Peely skin, and you will have to wait for it to thaw out before you can open it.
If you are patient enough, this will happen on Tuesday, December 28.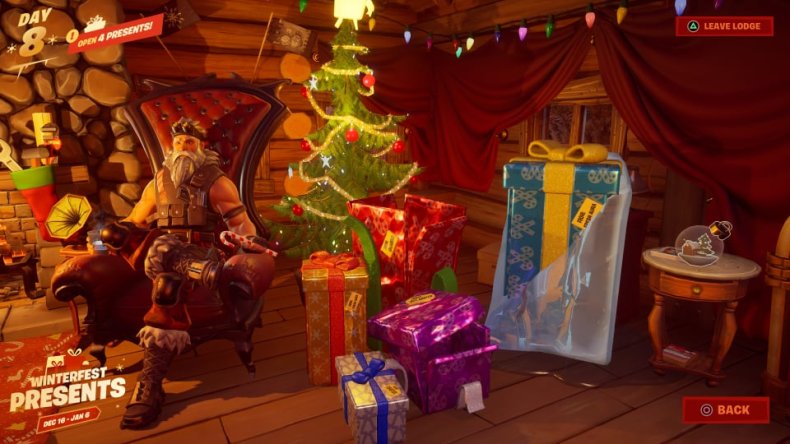 How Players Have Managed to Get Polar Peely Early
Despite the fact that it's not supposed to be available yet, there is a good chance that you will have already seen the Polar Peely costume in Fortnite.
A glitch has enabled some gamers to see the costume unwrapped in the Cozy Lodge area, in the spot where there should just be a thawing gift box. Elsewhere, you might stumble across a few players who have deliberately gone out of their way to get it early and have it equipped right now.
If you are wondering how they managed to get a hold of the skin before its release date, an unofficial method has been circulating online. This involves you joining the AK Facility Discord server, and then messaging a bot account named AK47.
From there, the steps involve you logging in to your Epic Games account, copying various bits of code, and then redeeming the Polar Peely outfit via a dropdown menu. Once you have done all of that, the costume will be available in your item locker the next time that you log into the game.
Suffice it to say, this isn't a recommended way of doing things.
Why You Shouldn't Use the Discord Glitch
The frozen Polar Peely will be available for free on Tuesday, December 28, and it's better to wait for then.
Exploiting the glitch described above is not only risky as far as cyber security is concerned (seeing as you are giving the Discord bot access to your Epic Games account), but it might also result in you getting banned from Fortnite for good.
If you check out the Code of Conduct section on the Epic Games website, it explicitly states that cheating or abusing glitches like this can result in your Fortnite account being banned.
Depending on the severity of the infraction, this could last for just 30 days or be a permanent punishment, in which case you would lose all of your battle pass progress, V-bucks and cosmetic unlocks.
So to reiterate, it's not worth taking the risk just to get this one skin a few days early.
Newsweek has contacted the Epic Games Newsroom for comment on the Polar Peely glitch, but it had received no response at the time of writing.