'Fortnite' Refund: How To Get Your Money Back After the Latest Update
As part of the V18.20 update, Fortnite has slightly changed the way that its refund policy works.
You can still return items that have been purchased using your V-buck wallet, but there are several caveats on this. For a start, you can only get a refund for cosmetics that were purchased directly from the item shop, meaning that it will not work for the battle pass or your Fortnite crew subscription.
Secondly, the return policy only covers transactions from the last 30 days, so you will not be able to get your money back for anything that you acquired over a month ago.
Even if the item you want to return is eligible, there is still a cap on how many refunds you can actually request in a given timeframe. Every Fortnite account has a maximum of three returns (denoted by little ticket icons) and these can be depleted if you are not careful about how you use them.
With the V18.20 update, Epic Games has changed the way these tokens work. Under the new system, if you submit a return request in Fortnite, it will trigger a 365-day countdown.
Once this time has elapsed, your ticket will be restored. For example, if you submit a return request on 1 January, then you will only have two tokens left until the beginning of the next year.
How To Request a Refund in 'Fortnite Season 8'
With all that said, if you are experiencing buyer's remorse over one of your recent item shop purchases, then this is how you can submit a refund request.
In this example, we are going to be returning the Grave Robber harvesting tool, which was only just added as part of the Fortnitemares Halloween event (and is therefore within the 30-day refund window).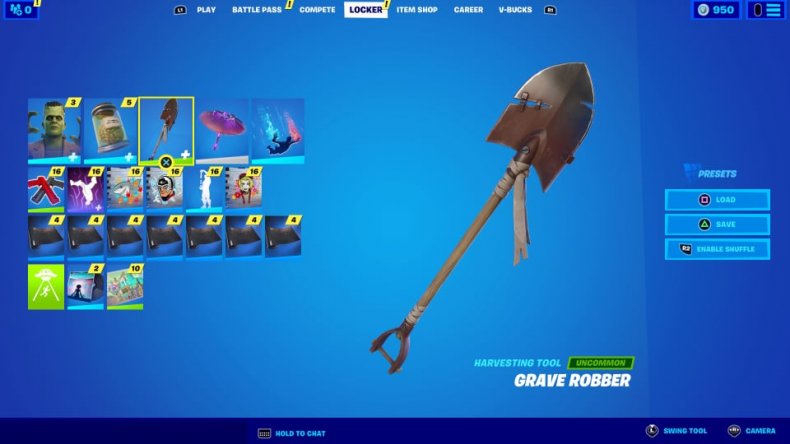 The first thing you will need to do is boot up Fortnite and open the setting menu. From there, navigate all the way to the "Account and Privacy" tab at the far end (indicated by the silhouette of a person) and go down to the "Return Request" button.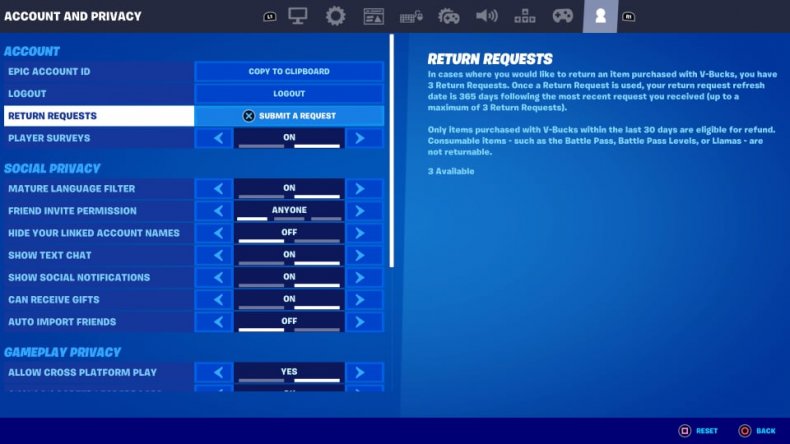 Once you have selected this option, you will then be presented with a screen that displays all of the items in your possession that are eligible for a refund. If you look to the righthand side of that menu, the game will tell you how many return tickets you have left.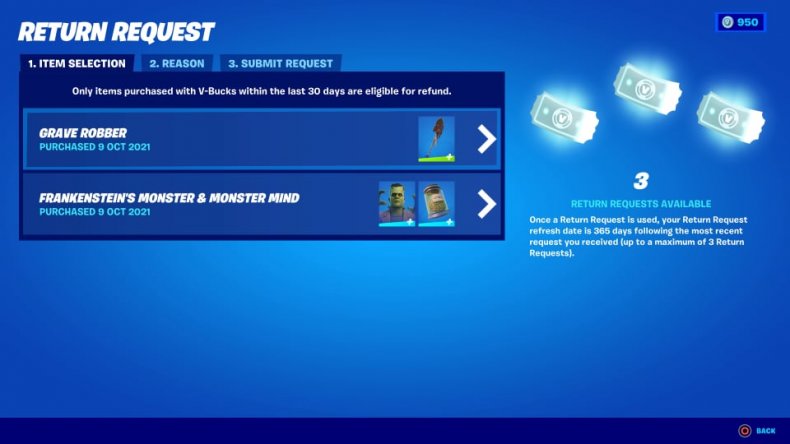 After you have chosen the item you want to return, you will then be prompted to give a reason for why you are submitting this request. Your choices are as follows:
Accidental Purchase
Unauthorized Purchase
Item Not As Expected
Select the applicable option and then you will be taken to the final screen.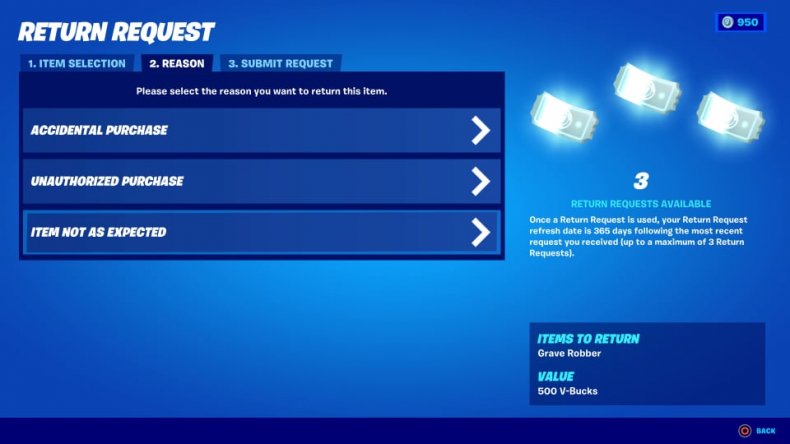 The last step is to confirm that you want to submit your request. Before you do so, read the "Warning" text to ensure that you understand how many return tokens you will have left afterwards and when they will be replenished.
For more help with Fortnite Season 8, check out Newsweek's guides on how to complete Sideways encounters, how to unlock the various Toona Fish skins and where to find IO Guards on the island.