Fox News anchor Bret Baier confronted Senator Jim Risch, an Idaho Republican, on Sunday over his vote against additional military aid to Ukraine, asking him to "defend that vote."
In total, 31 GOP senators voted against the aid, which was passed as part of an omnibus $1.5 trillion appropriations package. While many of the Republicans said they supported sending additional support, they criticized the lack of time they were given to review the massive bill that provided funding for a range of different government priorities, and would have supported a targeted Ukraine bill instead.
During an interview with Fox News Sunday, Risch contended that the U.S. should be sending surface-to-air missiles to Ukraine to help them set-up their own no-fly zone. Baier then pointed out that Risch had just voted against sending military aid to the Eastern European nation as Russian President Vladimir Putin continues to press his internationally condemned invasion of the neighboring country.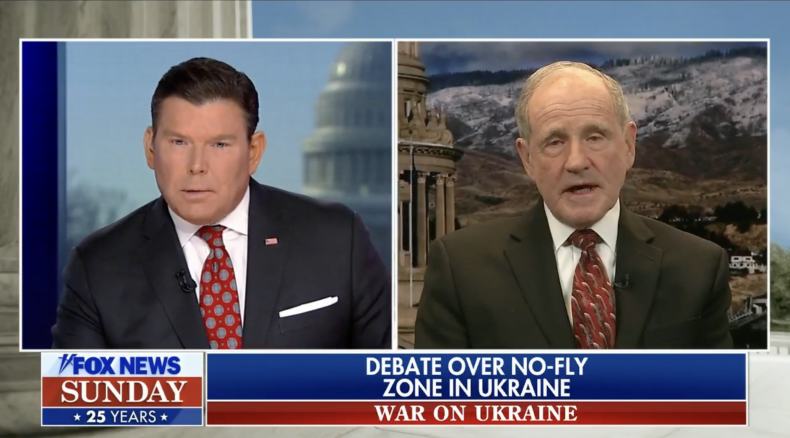 "Senator, you voted against the omnibus and in there is aid for Ukraine. So you're talking about aid going into Ukraine, but you voted against that," the host said. "Defend that vote."
"If it was just that straight up vote this would have been absolute no-brainer for me," Risch responded. "I support that 100 percent," the Idaho Republican continued, noting that he was against the "other pork" included in the overall package.
"Whenever we have these doggone big bills you're damned if you do and damned if you don't when you vote yes or no," he said. "I hope that no one would take this as not being in support of the Ukrainian people."
In addition to Risch, some of the GOP senators who voted against the bill included: Ted Cruz of Texas, Steve Daines of Montana, Josh Hawley of Missouri, Rand Paul of Kentucky, Mitt Romney of Utah, Marco Rubio of Florida, Ben Sasse of Nebraska, Rick Scott of Florida, Thom Tillis of North Carolina and Pat Toomey of Pennsylvania.
"Forcing us to swallow the bad to get the good is concerning, unsustainable, and no way to govern over the long-term. While I strongly support providing Ukrainians desperately needed aid, I ultimately could not support the rest of this bloated spending bill for the aforementioned reasons," Romney said in a statement about his vote.
Rubio shared similar thoughts about his opposition to the omnibus package on Twitter.
"We should have passed funding for Ukraine two weeks ago," he tweeted. "But instead, Democrats held it hostage so it could ram through thousands of earmarks, green new deal programs, the hiring of 10,000 IRS agents & other woke priorities buried in thousands of pages. This is a ridiculous process."
Of the $13.6 billion ultimately approved for Ukraine, over $6.5 billion will go to the Pentagon to be dispersed. Another $3.9 billion will go to the State Department to provide humanitarian assistance to Ukrainians, and a further $2.8 billion will go to the U.S. Agency for International Development as it provides support as well.