Fox News Host Confronts GOP Gov. Greg Abbott on Texas Abortion Law, Vow to 'Eliminate Rape'
Fox News anchor Chris Wallace confronted Texas Governor Greg Abbott, a Republican, over his state's new anti-abortion law—asking pointed questions over whether the GOP lawmaker supports the ban in cases of rape and incest as the law is currently written.
The U.S. Supreme Court at the beginning of September allowed the highly controversial Texas anti-abortion law to take effect in a 5-to-4 decision. The legislation effectively bans all abortions after a fetal heartbeat is detected—generally around six weeks. Critics have repeatedly explained that most women are not even aware they are pregnant at that point in the pregnancy.
Wallace raised the issue with Abbott during a Sunday interview on Fox News Sunday, pointing out that the law does not even offer any exceptions in cases of rape or incest. The GOP governor has previously defended the law and argued that Texas will "eliminate" rape going forward.
"In 2019, which is the last year that we have numbers for, almost 15,000 cases of rape were reported in your state of Texas," Wallace said. "And almost everyone says that's a severe undercount. There are a lot more cases that just aren't reported."
"Is it reasonable to say to somebody who is the victim of rape and might not understand that they are pregnant until six weeks, 'Well, don't worry about it because we're going to eliminate rape as a problem in the state of Texas?'" the Fox News host asked the Republican lawmaker.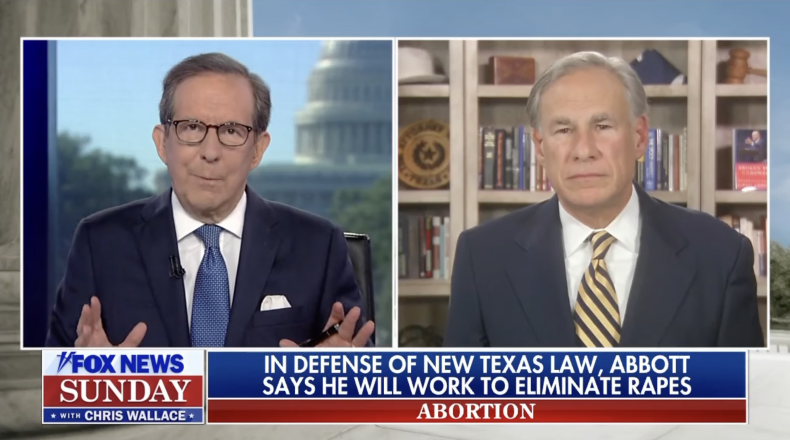 Abbott responded by saying that survivors of sexual assault "deserve support." He said that his state is "stepping up to make sure we provide that by signing a law and creating in the governor's office a sexual assault survivors task force."
Wallace then interjected, again reiterating that "there were more than 15,000 rapes in 2019 when you were governor." He asked Abbott if he would be willing to sign legislation to amend the current ban to carve out exceptions for rape and incest. Texas state Representative Lyle Larson, a Republican, has put forward a bill that would make such exceptions, but it's not expected to pass in the conservative legislature.
"Will you sign it or not?" the Fox News host asked Abbott.
We've got to go back to the reason the law was passed in the first place," the Texas governor responded. "The goal is to protect the lives of every child with a heartbeat."
Wallace again cut in, asking: "Including the child of a rape?"
Abbot replied by insisting that the law was constitutional. However, the Fox News host then doubled down on his question, asking again: "But are you saying that you will not sign an exception for rape and incest?"
The GOP governor punted, saying that it wouldn't pass in the state's legislature.
"You're making a hypothetical that's not going to happen because that bill is not going to reach my desk," Abbott said.
The Texas anti-abortion law used an unusual legal strategy in its bid to be upheld by the Supreme Court. Instead of calling for state government officials to enforced the ban, it allows anyone in to file lawsuits against women who seek abortions as well as those who assist them in that process. The law imposes fines of $10,000—which would be collected by the individual who sues.
Critics—conservative and liberal—have raised concerns about the legal precedent being set by the legislation. Many have argued that it essentially setup a vigilante justice system. Even some prominent Republicans have said they believe the controversial law, which reproductive rights activists argue is unconstitutional, will eventually be struck down in the courts.
"I think the Supreme Court will swat it away once it comes to them in an appropriate manner. If it is as terrible as people say it is, it will be destroyed by the Supreme Court," GOP Senator Bill Cassidy, a Louisiana Republican, told ABC News' This Week earlier this month after the Supreme Court allowed the law to go into effect.
The nation's top court said in its ruling that its decision should not be seen as resolving core issues related to abortion.
"In reaching this conclusion, we stress that we do not purport to resolve definitively any jurisdictional or substantive claim in the applicants' lawsuit," the court said in the decision. "In particular, this order is not based on any conclusion about the constitutionality of Texas's law, and in no way limits other procedurally proper challenges to the Texas law, including in Texas state courts."
The Justice Department has sued Texas over the anti-abortion laws, saying it's "clearly unconstitutional." Other legal cases involving the law are pending as well.
Newsweek reached out to Abbott's press secretary for further comment, but did not immediately receive a response.