Fox News Host Confronts Lindsey Graham on Abortion Ban: 'You Gotta Explain'
Fox News host Shannon Bream confronted Senator Lindsey Graham, a South Carolina Republican, on Sunday about his proposal to ban abortion nationwide after 15 weeks of pregnancy.
During an interview on Fox News Sunday, Bream asked the senator about his thoughts on proposing such a bill ahead of the upcoming midterms as it might affect the GOP's chances in the elections.
"I'm pro-life, even in an election year," Graham said. "And to those who suggest being pro-life is losing politics, I reject that."
Graham announced the new federal legislation proposal on Tuesday, which would allow no abortion "on demand" after 15 weeks except in the cases of rape, incest, or if the mother's life is at risk.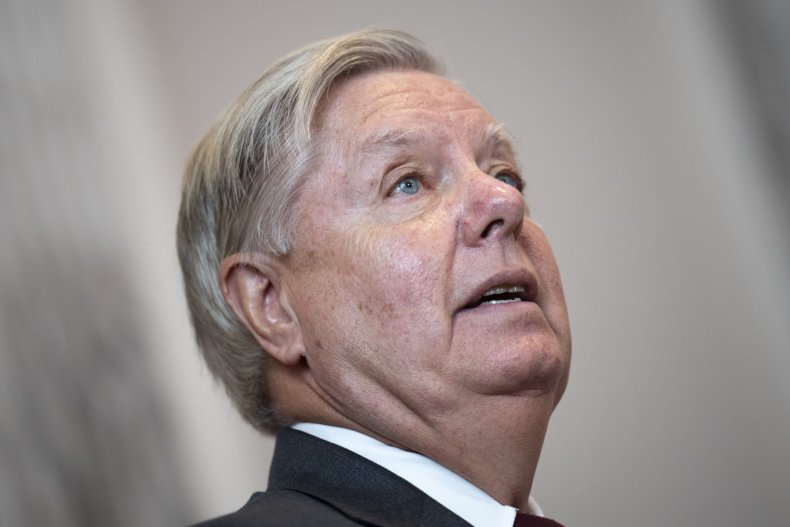 "Only in Washington is it extreme to protect the baby at 15 weeks from an excruciating death. [The] only thing I got going for me is every pro-life group in America and about 70 percent of the American people," the senator said. "So I don't apologize for being pro-life. I think the pro-life movement has found a position that most Americans will agree upon."
Bream then confronted him about what he said in June when the Supreme Court overturned Roe v. Wade, a 1973 landmark decision that gave a woman the federal right to have an abortion.
Graham said at the time that "there is nothing in the constitution that creates the right to abortion as a Constitution principle," and that the Court brought back the pre-1973 era where states get to make decisions about the medical procedure.
Bream then told the Republican senator "you gotta explain the pivot" on abortion after she reiterated a tweet by President Joe Biden in which he said on Friday: "When a lawmaker goes from touting states' rights to touting a nationwide ban, it becomes clear that they're not concerned with the Constitution."
"...For 20 years I've been supporting federal legislation banning late-term abortion," Graham said before Bream interrupted to tell him that he previously said that states should make those decisions.
Graham then defended himself saying: "Here's what Dobbs says elected officials can make the decisions state or federal. I'm not inconsistent. In 2020, I had a bill on the floor of the United States Senate right across the Capitol that banned abortion at 20 weeks because the baby can feel pain...To suggest that I'm new to the game, opposing late-term abortion is ridiculous."
He continued: "I will not sit on the sidelines and watch this nation become China when it comes to aborting babies up to the moment of birth. I reject that. I will continue to introduce legislation at the national level setting a minimum standard at 15 weeks no abortion except for save life of the mother, rape, [and] incest."
Graham was criticized by some fellow Republicans over his bill, which might divide the Republican Party and negatively impact voters ahead of the midterms, NBC News reported Tuesday, with GOP strategist Chris Mottola calling the proposal a "bad idea."
"It rips open a political sore. The political environment was moving back to economic issues. It further nationalizes an issue that works against Republicans generically," Mottola said.
Senate Minority Leader Mitch McConnell also expressed his concern on Tuesday, saying that "most of the members of my conference prefer that this be dealt with at the state level."
Republican Senator Mike Rounds of South Dakota also opposed Graham's proposal, saying on CNN's State of the Union on Sunday that "a better approach probably will be to allow states to work through this."
Meanwhile, Republican Senators Lisa Murkowski of Alaska and Susan Collins of Maine rejected Graham's proposal, along with Democratic Senators Tim Kaine of Virginia and Kyrsten Sinema of Arizona, and gave their support for codifying federal protections for abortion.
"Here's what I would tell the Republican Party. Be not afraid, stand up for the baby, all over the country," Graham said on Sunday. "I'm confident the American people would accept a national ban on abortion at 15 weeks with exceptions for the life of the mother, rape, and incest and reject the Chinese abortion policy being pushed by the Democratic Party."
Newsweek reached out to The Republican National Committee (RNC) for comment.