GOP Senator Rejects Graham's Abortion Ban Bill: 'Not the Right Direction'
Senator Mike Rounds, a South Dakota Republican, said Sunday that he doesn't support legislation proposed by Senator Lindsey Graham, a South Carolina Republican, that would ban abortions after 15 weeks nationwide.
Graham announced the new federal legislation proposal on Tuesday, which would allow no abortion "on demand" after 15 weeks except in the cases of rape, incest, or if the mother's life is at risk.
In an interview on CNN's State of the Union, host Jake Tapper asked Rounds whether he supports Graham's bill.
"No, I think right now we should allow the states to explore the different possibilities about the appropriate way," he said. "I think the individual states will come up with...a whole lot of different ideas about how to appropriately discuss abortion in general, and then I think there will be a consensus over a period of years."
The senator added that "at this point to have Congress...tell all of the states that we know better than them how to handle is probably not the right direction to go."
Rounds said that senators previously considered a proposal to ban any abortion past 20 weeks of pregnancy, which did not earn enough support in the upper chamber to pass.
"We weren't successful at that time. I don't think any proposal today would be successful in the House and the Senate. I think a better approach probably will be to allow the states to work through this and to find the appropriate language on a state-by-state basis," the South Dakota senator said.
During a press conference last week, Graham said that if his bill was enacted, "we would be in the mainstream of most everyone else in the world."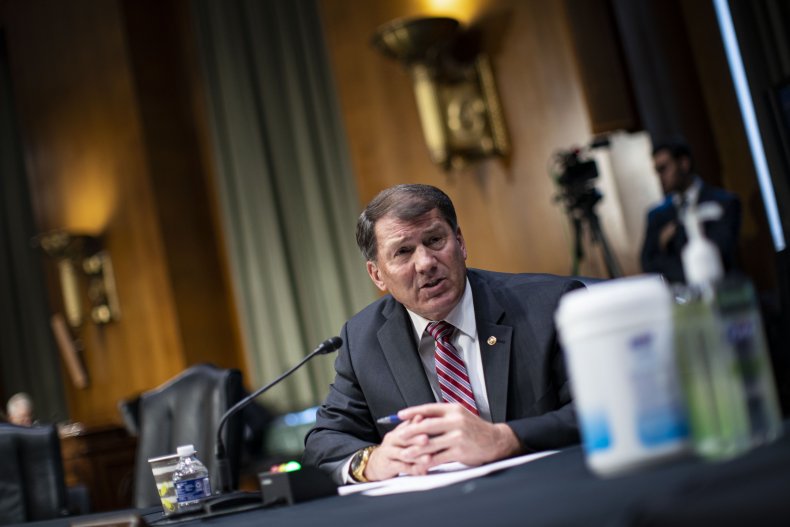 "There are 47 of 50 European countries that have banned abortion from 12 to 15 weeks," Graham added.
Senate Minority Leader Mitch McConnell has also distanced himself from the legislation and when pressed by reporters last week, said he believes decisions on abortion policy should be left up to individual states.
Few Republicans have voiced support for the ban so far. GOP Senator John Thune, of South Dakota, has backed the legislation and told CNN that he believes "there would be pretty good support" for the legislation "among, you know, pro-life Republicans and maybe some pro-life Democrats."
Newsweek has reached out to Graham's press office for comment.
Graham's proposal came after the U.S. Supreme Court in June overturned Roe v. Wade, a 1973 landmark decision that gave a woman the federal right to have an abortion.
A poll by SurveyMonkey and The 19th, a news organization focused on gender and politics, found that most Americans believe that abortion should be legal in all or most cases, while 35 percent of voters say it should be illegal. The majority of Republicans though—72 percent—believe the procedure should be illegal in most or all cases.