New Polling Pours Cold Water on Lindsey Graham's Abortion Gamble
Republican Senator Lindsey Graham surprised his own party this week when he unveiled the first bill that would limit abortion access on a national level since the Supreme Court overturned Roe v. Wade in a bombshell decision earlier this year.
The move, which comes amid an increasingly difficult midterm election for the GOP largely in response to the SCOTUS decision, has raised concerns among Graham's own Republican colleagues who have shied away from a nationwide ban on abortion months before Election Day. The implementation of Graham's bill would effectively ban abortion after 15 weeks.
A new poll released by SurveyMonkey and The 19th, a new organization focused on gender and politics, is signaling that the congressional backlash surrounding Graham's bill may just be a forewarning of the public's response.
Thursday's poll found that a majority of Americans continue to believe that abortion should be legal in all or most cases, while 35 percent of voters say it should be illegal.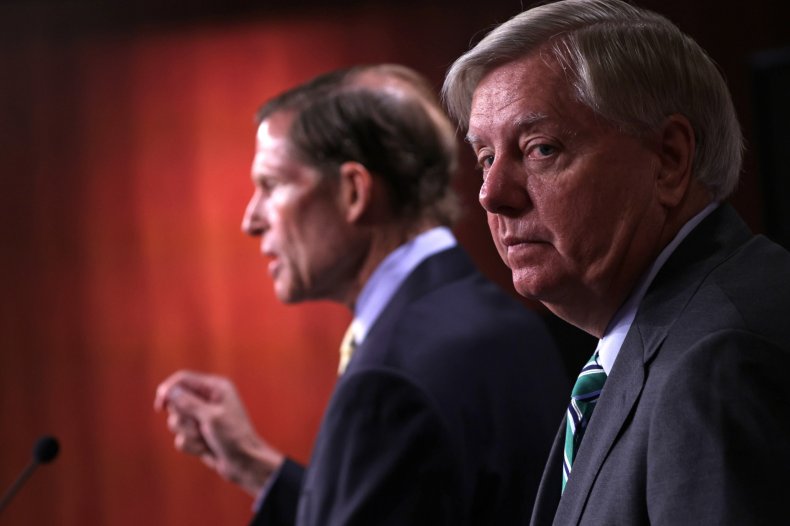 While the bulk of Republicans are in favor of limiting abortion, with 72 percent saying the procedure should be illegal in most or all cases, 65 percent of independents disagree. Only 33 percent of independents and 12 percent of Democrats said abortions should be illegal in most or all cases.
The latest polling contradicts recent comments from former Vice President Mike Pence, who defended Grahams' bill on Wednesday.
In an interview with RealClearPolitics, Pence said that he is "convinced" that the "enthusiasm among pro-life Americans in states across the country is equal to, or greater than, any new motivation by people that support abortion rights."
Thursday's survey of more than 20,000 Americans not only reaffirmed that the majority thinks abortion should be legal, but also revealed that most voters don't think politicians are "informed enough" to create fair policies on abortion—a position held by 70 percent of Republicans and 74 percent of Democrats.
The sentiment on abortion policies echoed a greater pessimism about the government that 6 in 10 respondents expressed. Only 4 in 10 say American institutions are "working well for them."
Despite the skepticism, voter enthusiasm was relatively high among both Republicans and Democrats, with 73 percent and 72 percent, respectively, saying they are excited about voting in November.
The new poll also reflected the increasingly optimistic outlook for Democrats, who were previously projected to lose largely in a midterm election that historically favors the minority party.
With a slight lead, 39 percent of respondents said they would prefer to elect a Democratic candidate to Congress compared to the 38 percent who would rather vote for a Republican candidate.
Newsweek reached out to Graham for comment.