Lindsey Graham Abortion Bill Explained: What We Know About Nationwide Ban
Senator Lindsey Graham of South Carolina on Tuesday announced a new bill that would ban abortions nationwide after 15 weeks.
The proposed federal legislation would allow no abortion "on demand" after 15 weeks except in cases of rape, incest or to save the life of the mother.
"If we adopted our bill, we would be in the mainstream of most everyone else in the world," Graham said during a press conference at the Capitol. "There are 47 of 50 European countries that have banned abortion from 12 to 15 weeks."
He went on to say he chose the 15-week mark because "science tells us" that nerve endings are developed in children at the womb at that point and that the child feels pain.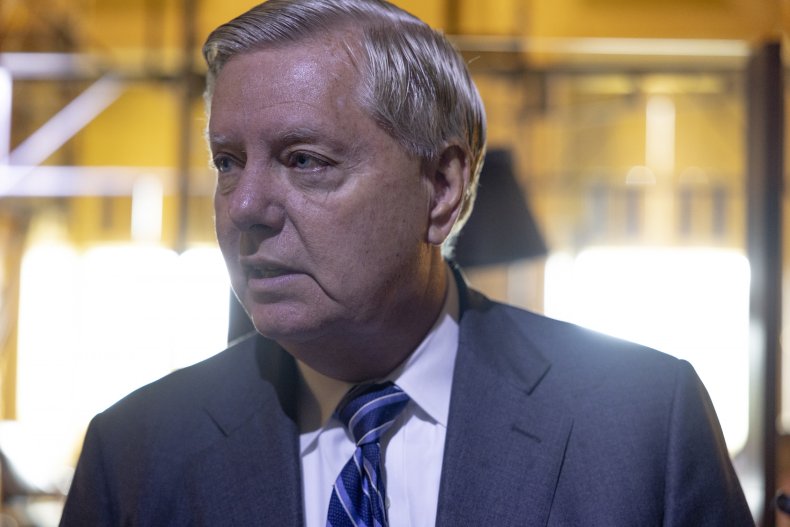 "If you need to provide anesthesia to keep the baby from feeling pain to help save its life, should we as a nation be aborting babies that can feel excruciating pain from an abortion?" he said.
The bill alludes to prenatal development and the medical knowledge behind it, including how an unborn child first reacts to touch at eight weeks' gestation; how eyes begin to form and conclude formation between five and 10 weeks; and how at 12 weeks an unborn child takes on "human form," in accordance with the 2007 Gonzalez v. Carhart U.S. Supreme Court ruling.
Last month, Graham said he was in favor of states deciding on abortion and marriage.
Graham was joined by advocates including Susan B. Anthony Pro-Life America President Marjorie Dannenfelser in announcing the Protecting Pain-Capable Unborn Children from Late-Term Abortions Act. It comes as abortion rights resulting from the U.S. Supreme Court's overturning of Roe v. Wade this summer has politically galvanized Americans and made reproductive rights a front-and-center issue.
"Since the historic Dobbs victory, more than a dozen states have taken action to protect unborn children and mothers, potentially saving more than 200,000 lives," Dannenfelser said. "This is incredible progress, but much more action is needed. In Washington and in states across the country, Democratic Party leaders refuse to name any limits whatsoever on abortion that they support."
March for Life President Jeanne Mancini said at the press conference that she and other campaigners marched 50 years to get to this day, which she called the "second phase of building a culture of life."
She called the proposed legislation "the bare minimum" when it comes to late-term abortions, adding that 90 percent of Americans reject the view that abortions should be legal up until birth.
"Politicians voting against this bill will stand against science and the American public, not to mention compassion for women and babies," she said.
The bill's ban of abortions after 15 weeks is more restrictive than Graham's previous proposal in January of 2021 that banned abortions at 20 weeks. Graham criticized the United States for being one of seven countries, including China and North Korea, that allow abortions at the 20-week mark.
On Tuesday, Graham asked a rhetorical question about whether the U.S. wants to be like Iran, Syria and North Korea or like Denmark, which has policies more consistent with his newly proposed legislation.
Last year, he said, "I don't believe abortion, five months into pregnancy, makes us a better nation. America is at her best when she's standing up for the least among us, and the sooner we pass this legislation into law, the better. We are on the right side of history."
The proposed legislation would be more relaxed than other conservative lawmakers want.
Ahead of the Supreme Court ruling, Senator Joni Ernst and other Republicans met to discuss banning abortion at about six weeks in what's often referred to as a "heartbeat" ban, according to The Washington Post. That legislation was never put forward.
In July, Ernst blocked the Expanding Access to Family Planning Act proposed by senators Patty Murray, Tina Smith and Elizabeth Warren. The legislation would have provided $500 million in mandatory funding for Title X services for each of the next 10 fiscal years, and $50 million in mandatory funding for clinic construction, renovation and related infrastructure enhancements for each of the next 10 fiscal years.
It also would have required that pregnancy counseling include information about prenatal care and delivery, infant care, foster care, adoption and pregnancy termination.
When asked by a reporter about why Graham went from a 20-week ban in 2021 to a 15-week ban in the present time, he said the Supreme Court ruling in June dealt with abortions in Mississippi at 15 weeks and the time period was adjusted accordingly.
"I feel like we are on solid ground. ... This is a reasonable position," Graham said, adding that Democrats went too far in previous legislation to allow abortions up until birth.
Republicans in major races across the country have started to move away from promoting strict abortion bans after abortion-rights candidates appear to have the upper hand.
Dr. Mehmet Oz has focused more on the economy and less on abortion in his Senate race against Democrat John Fetterman in Pennsylvania. Arizona Senate candidate Blake Masters and Minnesota gubernatorial candidate Scott Jensen have also adjusted their stances. Masters even scrubbed language from his campaign website that previously said he was "100 percent pro-life."
Last week in Graham's home state, five Republican state senators—two men and three women—prevented the passage of a near-total abortion ban because exceptions in cases of rape and incest were not included in legislation.
South Carolina state Representative Bill Taylor, a self-described "pro-life" legislator, cautioned his colleagues against pursuing abortion bans. A primary sponsor of a previous "fetal heartbeat" abortion ban, Taylor called abortion a "political minefield" and urged his colleagues to heed the lesson learned in Kansas.
In August, Kansas voters rejected a proposed amendment to the state constitution that would have said there was no right to abortion in the state. The first state to vote on a proposal of its kind since the Supreme Court Dobbs ruling, President Joe Biden used it as evidence Americans want women to make their own decisions.
Update 9/13/22, 1:19 p.m. ET: This story was updated with additional information.