Fox News Host Confronts Texas GOP Governor Over Double Standards on Migrant Detention Criticism
Fox News Sunday anchor Chris Wallace confronted Texas Governor Greg Abbott, a Republican, over his apparent double standard when it comes to publicly expressing concern over the treatment of detained migrant minors during the administration of President Joe Biden compared to under former President Donald Trump.
Republicans, including Abbott, have repeatedly slammed Biden's response to the surge in migrants at the border with Mexico. More than 172,000 migrants were detained in March, the highest monthly number in nearly two decades. That included a record number (19,000) of migrant children, the vast majority of whom were unaccompanied by parents or guardians. Abbott warned last week that there were new reports of sexual abuse against migrant minors at the Freeman Coliseum detention facility in San Antonio, Texas.
The Quote
"Governor, there were thousands of complaints of sexual abuse at migrant shelters during the Trump years, not to say that what's going on now is right, but we couldn't find one instance of you complaining and calling that out when [former] President Trump was president," Wallace pointed out during an interview on Fox News Sunday.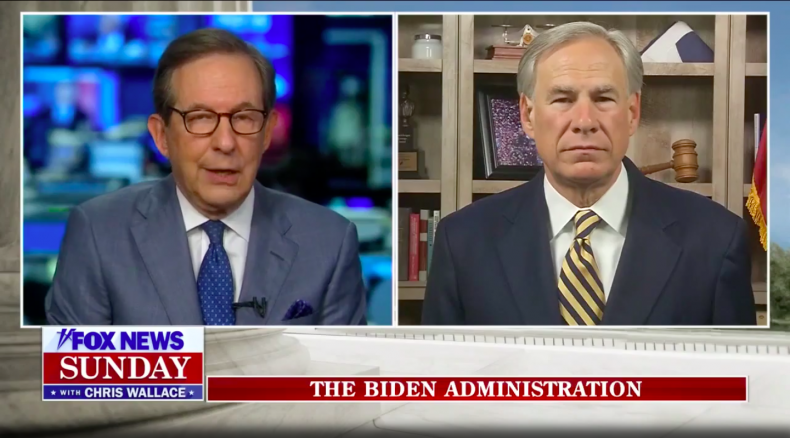 Abbott responded by saying that the approach from the new administration has changed significantly. "The Trump administration remained in constant communication with me and with my office and let us know what was going on," the GOP governor said. He said that he regularly "saw reports" about the complaints of sexual abuse during the Trump administration.
"Today, the Biden administration has done nothing to address these situations that will lead only to more allegations of child sex abuse," Abbott said. Newsweek reached out to Abbott's press office for further comment.
Why It Matters
Democrats constantly attacked Trump for his hardline border policies, which saw thousands of migrant children forcibly separated from their parents or guardians upon arrival in the U.S. This policy was ended by court order in 2018 after the Trump administration received national and international condemnation. Hundred of those children remain separated from their families to this day.
Biden campaigned on taking a more humane approach to undocumented immigration, which Republicans argue has been key factor behind the influx in migrants crossing the southern border. Although the Biden administration has noted that the numbers are reaching record levels, they have also characterized the situation as part of a decades-long pattern—pointing to a comparable surge in 2019 under Trump. However, progressive Democrats have also raised alarms about the current situation at the border, criticizing the conditions in which migrant children and adults are detained.
"The Biden administration opened the borders and failed to plan for the influx of unaccompanied children crossing the border, and now we are faced with our worst fears—allegations of child abuse and neglect," Abbott said in a statement last week. "I am calling on the Biden administration to close this facility, and I am directing the DPS and the Texas Rangers to immediately begin investigating these allegations. President Biden's disastrous decisions caused this crisis, and his administration must act now to protect these children, secure the border and end this crisis."
Opposing View
Democrats argue that the situation in detention centers has improved under Biden, although they admit further changes need to be made. They say that migrant minors are now provided with three hot meals, beds, hygiene products and other essentials that were not always the norm under the previous administration. They have argued that Biden is working to rebuild an immigration system that was dismantled during Trump's tenure in the White House, saying the situation will improve in the coming months as changes are implemented.
"The fact is is that, we're on a good path a the border under leadership of President Joe Biden," said House Speaker Nancy Pelosi, a California Democrat, on Wednesday. "It's about restructuring how we do what is happening there, because we were in a very bad situation under the Trump administration. It's about a refugee plan."