Fox News Host Pushes GOP to Investigate 'Biden Crime Family'
Fox News host Jesse Watters said that he wants Republicans to open hearings on "the Biden crime family," while expressing disappointment at GOP probes that have targeted Democrats so far.
House Republicans have launched politically charged subcommittees aimed at the supposed "weaponization" of the federal government against conservatives, as well as tackling the origins of COVID-19, since taking control of the chamber in January.
Additional investigations on issues that include President Joe Biden's handling of the U.S. military withdrawal from Afghanistan, U.S.-Mexico border policies and multiple allegations against his son Hunter Biden have yet to fully take off.
Watters complained that the Republican investigations had been moving slowing during a Jesse Watters Primetime broadcast on Friday night, while lamenting that Biden had worked on more days this year than Congress.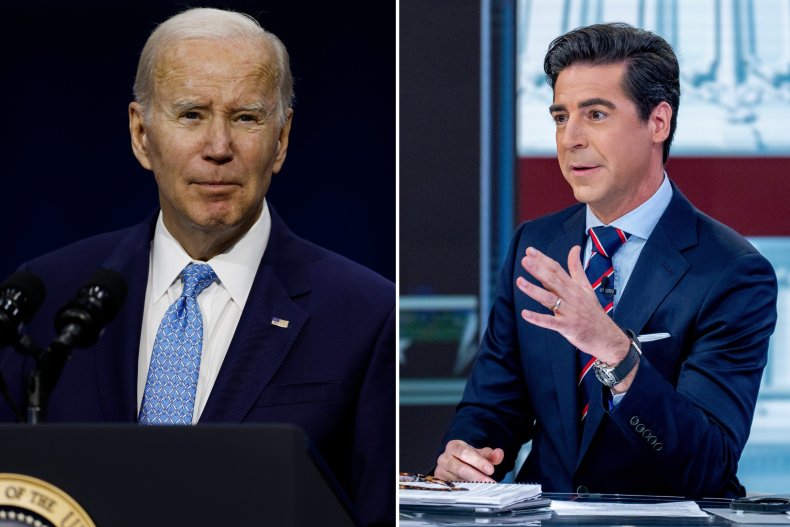 "I love these guys, but I just checked the calendar and it's already March," said Watters. "Republicans have had the House since January. Why haven't we had a hearing on the Biden crime family?"
The conservative pundit demanded that House Republicans hold hearings featuring witnesses "sweating under the bright lights," before a chyron appeared describing the GOP investigations that have taken place so far as "a nothingburger."
Watters indicated that he was disappointed that "all we've gotten" was an investigation into the "tall tales" of Republican Congressman George Santos and the famous "Eat the Rich" dress of Democratic Representative Alexandria Ocasio-Cortez.
"I haven't seen a single guy sweating under the bright lights," Watters said. "Are we gonna drill down on anything? Are we going to see anybody squirm and cough up the truth, or at least plead the fifth or something so that we can start showering these goons with subpoenas?"
"Where are the bombshells, have the investigations even started?" he continued. "If their schedule holds up, this isn't even a part-time job ... Biden has worked more days than Congress ... I'm starting to lose my patience a little."
Republican-led hearings held by the House Select Subcommittee on the Weaponization of the Federal Government over the past month have ironically been criticized by Democrats for being politically motivated events that are themselves attempting to "weaponize" the government.
The credibility of Judiciary Committee Chairman Jim Jordan was questioned by the committee's ranking Democrats on Friday with the release of a more than 300-page report on subcommittee and supposed government "whistleblowers" who had been called to testify.
The investigation into the COVID-19 pandemic has also featured some embarrassing moments for Republicans, including Democratic Representative Jamie Raskin pointing out that former President Donald Trump repeatedly praised Chinese President Xi Jinping's handling of the virus before changing course.
Newsweek has reached out to the White House and Jordan's office for comment.