Republicans' Big Hopes For Attacking Joe Biden Spectacularly Unraveled
The new House Select Subcommittee on the Weaponization of the Federal Government appeared to be off to a rough start for the Republican majority on Thursday.
The panel is a subcommittee of the House Judiciary Committee, both of which are chaired by Republican Representative Jim Jordan, and is part of a wider GOP push to investigate President Joe Biden's administration.
Democrats on the panel took some witnesses to task, while Democratic Representative Jamie Raskin testified as a minority witness and criticized the committee as well as former President Donald Trump.
Raskin told the panel "the weaponized MAGA campaign isn't exactly partisan, it is entirely political, because it's got an overriding electoral focus and you know what it is."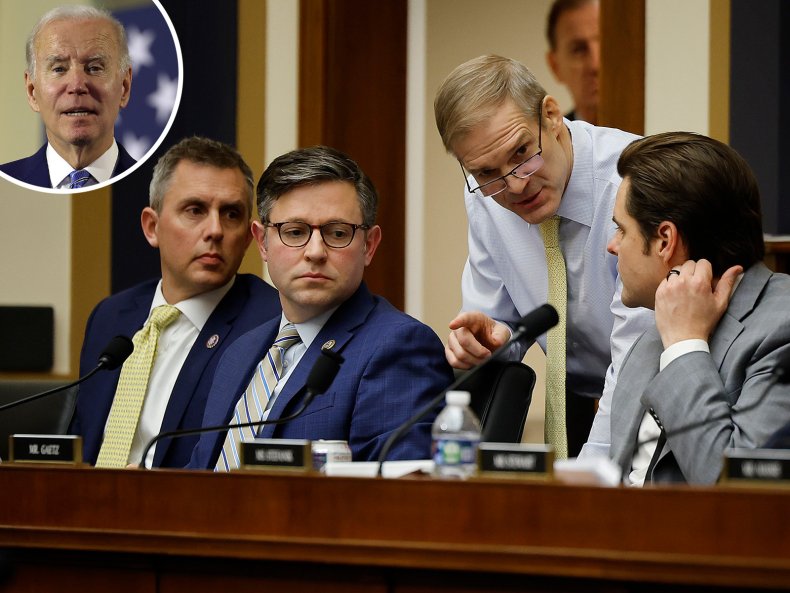 "It's all about restoring Donald Trump, the twice-impeached former president to the office he lost by seven million votes in 2020 and tried to steal back in a political coup and violent insurrection against our constitutional order on January 6, 2021," he said.
Raskin then quoted remarks Jordan had made about investigations during a Conservative Political Action Conference (CPAC) in Dallas, Texas before the midterm elections where Jordan had linked potential probes to a Trump 2024 campaign.
Republican Senator Chuck Grassley testified before the committee on Thursday and accused former Secretary of State Hillary Clinton's 2016 presidential campaign of colluding with Russia.
Republican Senator Ron Johnson also testified.
Sharing a clip of Grassley's comments, journalist Aaron Rupar called them "Completely absurd," while ABC News investigative reporter Will Steakin shared a photo to Twitter that appeared to show Republican Representative Chris Stewart struggling to stay awake.
"GOP Rep. Stewart appears to have nodded off during Sen Grassley's opening statement at the Weaponization of the Federal Government hearing," Steakin wrote.
Democratic members of the subcommittee took the opportunity to grill witnesses brought in by the majority.
Representative Dan Goldman appeared to be particularly critical of attorney Jonathan Turley, who had earlier testified about Twitter.
Goldman asked Turley if he had ever worked for the federal government and he responded that he had been an intern as well as representing Congress in lawsuits.
"That's not working for the federal government. You were an intern," Goldman said, and the two then had a brief back and forth about Turley representing Congress.
"You represented Congress, you didn't work for Congress," Goldman said.
Turley replied: "Well they paid me. That's my standard."
Earlier in the hearing, Democratic Representative Debbie Wasserman Schultz had asked Turley if he had any unique knowledge about the inner workings of Twitter and he acknowledged he didn't.
"So essentially your responses to the questions here today were your own opinion and pure conjecture," Wasserman Schultz said but Turley defended his views, saying he was offering legal analysis "based on facts that are in the public domain."
Wasserman Schultz responded by saying "legal analysis is another word for opinion," while Turley said he believed there was "some distinction" between them.
Democratic Representative Colin Allred asked former FBI agent Thomas Baker if he believed the January 6, 2021 storming of the U.S. Capitol was "an act of domestic terrorism."
Baker said he wasn't sure he was in a position to say whether it was domestic terrorism but said it was "lawless" and that it might rise to the level of domestic terrorism. He also described it as a "riot."
Allred pointed to convictions of rioters, saying it was domestic terrorism, and thanked Baker for "clarifying for all of us here that you can't decide whether it was or not."
Representative Goldman also questioned Baker and pointed out that he had left the FBI in 1999, before smartphones were available or the Department of Homeland Security was established.
Goldman also noted that Baker had never investigated foreign interference in U.S. elections or had involvement in search warrants for emails.
Goldman also clashed with Jordan over Republicans' claim to have "dozens" of whistleblowers.
"You just said dozens. Do you have notes from those? Or are they just talking to your staff?" Goldman asked. Jordan said that committee members would have access to transcripts of interviews with whistleblowers.
The first hearing of the subcommittee has been met with criticism and some mockery.
"You know, we began with a rousing presentation from two old guys who apparently wanted to vent every grievance real and imagined they've experienced over the last 20 to 30 years," Democratic Representative Gerry Connolly, a member of the panel, told MSNBC on Thursday, referring to Senators Grassley and Johnson.
Commentator and former MSNBC host Keith Olbermann tweeted "1st Rule of Weaponization Hearings? NEVER POINT THE WEAPON AT YOURSELF: @Jim_Jordan's star FBI whistleblower turns out to have retired in 1999!"
"Donald Trump owns a social media platform. His spokesperson owns another. This one is owned by a pro-DeSantis troll," tweeted Tim Miller of The Bulwark.
"@JonathanTurley & GOP reps claiming there are conservative free speech concerns online has to make this one of the stupidest hearings ever before Congress," he added.
"At what point are republicans going to realize these panels are doing them more harm than good?" tweeted Aléx Young, founder and publisher of media company Consequence
CNN political correspondent Sara Murray said: "Essentially what we heard were a lot of their personal grievances" and added "a lot of what we heard were personal opinions, not so much evidence to back up Jordan's claim."
Newsweek has reached out to Jim Jordan's office for comment.