Fox News' Laura Ingraham, White House COVID Adviser Accuse Dr. Fauci of Being Joe Biden's 'Political Pundit'
Dr. Anthony Fauci was subject to a series of allegations that linked his public comments about an effective COVID-19 vaccine to the recent presidential election on Tuesday.
During an evening Fox News segment, host Laura Ingraham and Scott Atlas—a radiologist who joined Fauci as a member of the White House Coronavirus Task Force over the summer—claimed the leading public health expert changed his estimates for a possible vaccine timeline because of allegiance to Joe Biden. The Democratic nominee was named the projected winner of last week's election on Saturday.
"[Fauci] became a political pundit for Joe Biden," Ingraham said during Tuesday's broadcast segment. "I tried to warn everyone."
Earlier, the host suggested Fauci's attitude regarding the timely delivery of a COVID-19 vaccine turned optimistic in the aftermath of Biden's anticipated presidential win. Atlas similarly proposed that his task force colleague "cheered up" in light of the election news.
Fauci's measured approach to managing COVID-19 transmission stood in stark contrast to Atlas' when the latter health adviser first arrived at the White House and publicly advocated for herd immunity, a hands-off virus mitigation strategy whose efficacy is debated.
Speaking about Fauci, Atlas said, "This is the same person who said we wouldn't have any vaccine data this year even though the president and I both said we would probably have some results hopefully in October. For sure hopefully in November."
As the longtime director of the National Institute of Allergy and Infectious Diseases (NIAID) at the National Institutes of Health, Fauci's public remarks about potential COVID-19 immunization candidates, and when they might become available, have erred on the side of fact rather than conjecture.
He refrained from expressing support for Trump or Biden's respective presidential campaigns throughout the election season, but clashed with Trump over the nation's COVID-19 response in several instances. Most recently, Trump threatened to fire Fauci if he was reelected, after Fauci told the Washington Post that Biden "is taking [the pandemic] seriously, from a public health perspective." In contrast, he said the president was "looking at it from a different perspective."
In August, when Trump insisted a vaccine would be ready by Election Day, Fauci said he was "cautiously optimistic" one of a few candidates at the forefront of the global immunization race would be approved for distribution before the end of the year. At the time, he additionally noted that hundreds of millions of vaccine doses could be produced by the end of next year if one does prove safe and effective.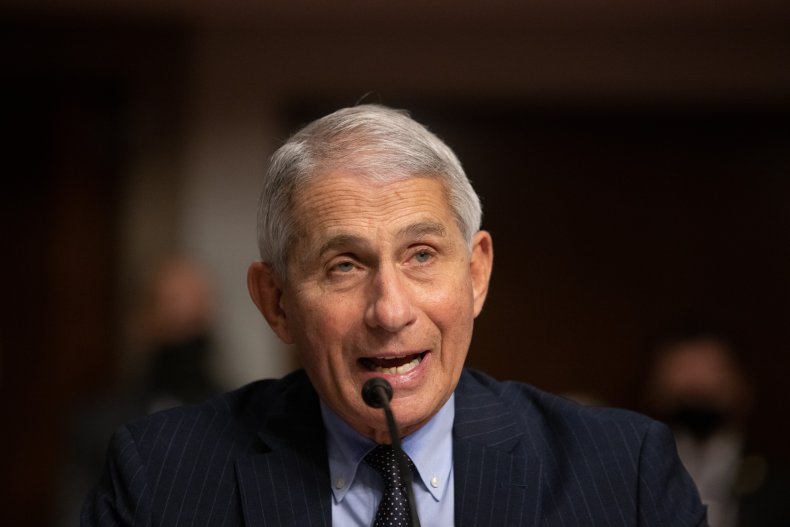 Two days after major news outlets called Biden's projected election victory, pharmaceutical company Pfizer shared early results of its COVID-19 vaccine program, which indicated it was "more than 90 percent effective" in protecting against the infection. In its Monday announcement, Pfizer said it plans to apply for regulatory approval with the Food and Drug Administration later this month.
Fauci praised the vaccine development's progress in subsequent interview comments and suggested Pfizer's immunization could be available to high-risk individuals by December, if the upcoming authorization process unfolds as planned.
"They're going to dot all the I's and cross all the T's, but I believe with the impressive nature of the data that it should go through smoothly...that by the time we get into December, we'll be able to have doses available for people who are judged to be at the highest priority to get it first," the NIAID director said during a Tuesday appearance on MSNBC.
Newsweek reached out to the NIAID for comments but did not receive a reply in time for publication.