Tucker Carlson Takes Thinly Veiled Swipe at Fox News Colleague Neil Cavuto Over Trump Coverage
On Monday night, Fox News host Neil Cavuto cut away from coverage of White House Press Secretary Kayleigh McEnany's press conference—and Tucker Carlson is not impressed.
During the broadcast, McEnany's opening statement immediately delved into unproven claims about voter fraud, as Donald Trump still refuses to concede the presidency.
Cavuto swiftly cut away from the footage saying they could not air the speech unless facts to back up the claims were presented.
"You take these positions because you are welcoming fraud and you are welcoming illegal voting," McEnany said just before Fox News cut away.
"Whoa, whoa, whoa. I just think we have to be very clear: she's charging the other side as welcoming fraud and illegal voting, unless she has more details to back that up, I can't in good countenance continue to show you this," Cavuto said.
Carlson appeared to take a shot at this editorial decision taken by Cavuto on his own show, Tucker Carlson Tonight afterward on Monday.
"In a democracy, you can't ignore honest questions from citizens," Carlson said. "You can't dismiss them out of hand is crazy or immoral for asking. You can't just cut away from coverage you don't like."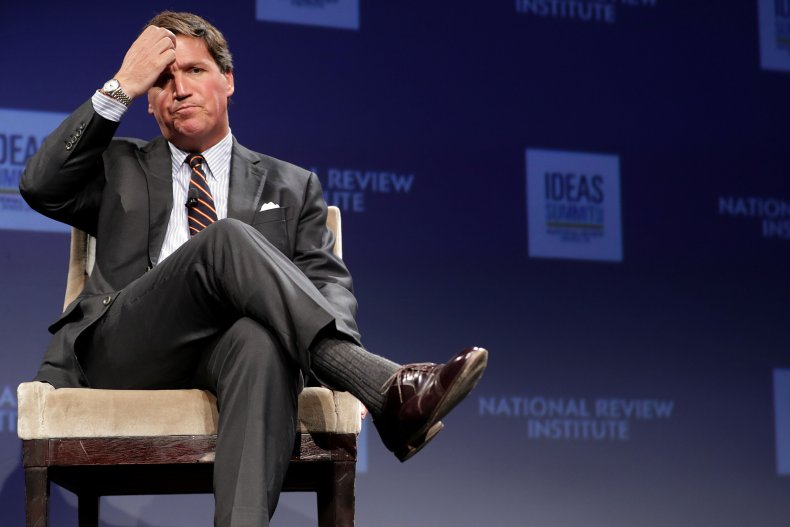 Further explaining his reasons for cutting off the press conference, Cavuto said: "But that's an explosive charge to make, that the other side is effectively rigging and cheating, if she does bring proof of that, of course, we'll take you back so far she has started saying, right at the outset, welcoming fraud, welcoming illegal voting. Not so fast."
No specific evidence in support of the claims was presented at the press conference.
Earlier in his monologue Monday night, Carlson said: "If after all the questions have been answered it becomes clear that Joe Biden is a legitimate winner of the presidential election, we will accept that and encourage others to accept it too."
Carlson previously compared the alleged election fraud to a rigged carnival game, telling his viewers: "It's the milk bottles at the fair. They knew you were coming. They laughed at you when you left. We wish that wasn't true, but it is true and you are not crazy for knowing it. You are right."
All major networks, including Fox News, have projected Biden to be the winner of the 2020 election.
In fact, Fox's coverage of the election has caused something of a schism between the network and its Trump-supporting viewers, as well as the end of the symbiotic relationship the channel once had with the Trump administration.