Russia and France have vowed to further their coordination in delivering humanitarian aid to Syria, an arena in which Moscow has been eager to seek Washington's help as well.
Russia has supported Syrian President Bashar al-Assad in his seven-year civil war against rebels and jihadis, while France had backed efforts to depose him. With the Syrian military having reclaimed most of the country, French President Emmanuel Macron has joined many Western leaders in abandoning efforts to overthrow Assad and instead focus on helping rehabilitate the conflict-ravaged nation, where the U.S. still refuses to cooperate directly with Russia or its Syrian ally.
In a phone call Friday, Russian President Vladimir Putin and his French counterpart "exchanged views on the ongoing developments in Syria, and praised the operation carried out by Russia and France in July to deliver and distribute humanitarian aid in the Syrian province of Eastern Ghouta," according to a readout provided by the Kremlin.
"Vladimir Putin stressed the importance for the international community to keep up its efforts to facilitate the restoration of Syria's social and economic infrastructure, as well as to help refugees and internally displaced persons to return to their places of permanent residence," it added.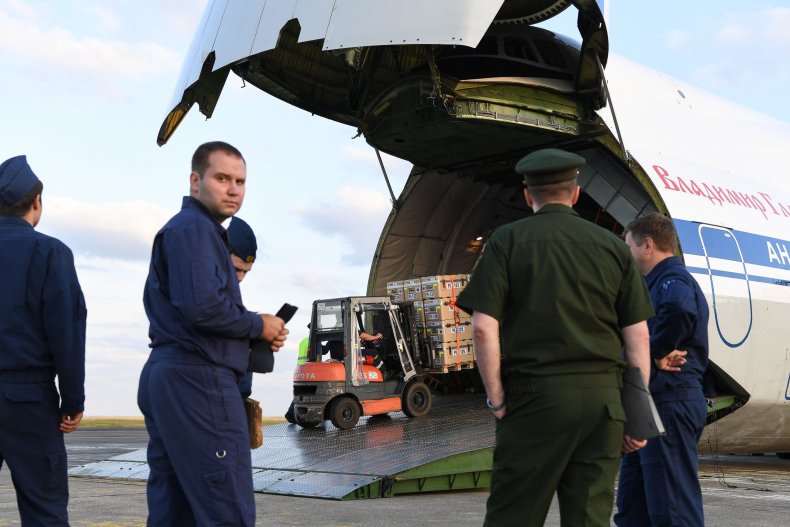 A readout provided by Élysée Palace also highlighted the two leaders' discussion on Syria, specifically about "the military situation and the conditions necessary for a safe, dignified and voluntary return of refugees." Macron stressed "the importance of an inclusive political solution that alone will bring lasting peace and stability to Syria."
The joint Russian-French humanitarian operation in Ghouta came just months after the Syrian military and its allies retook the Damascus suburb from Islamist-led rebels and jihadis who had occupied it in the earlier years of the uprising against Assad. Like the U.S. and other Western allies, France has accused the Syrian leader of war crimes, including the use of chemical weapons, and—along with the U.K.—joined President Donald Trump's second round of strikes on the Syrian government in April in response to allegations of a toxic gas attack in Ghouta.
Still, extensive support from Russia and Iran has helped Syria to largely thwart the insurrection, which was also backed by Turkey and the Sunni Muslim monarchies of the Gulf. Trump has long called for closer cooperation with Putin and, following their first bilateral summit last month, the two men appeared to align their positions in coordinating humanitarian affairs in Syria. This would include the resettling of millions who have been displaced inside and outside the country, especially in neighboring Jordan, Lebanon and Turkey.
The Pentagon appeared to push back against this notion, generating a harsh Russian response that called on the U.S. to cooperate or withdraw from Syria, whose government only considers Moscow and Tehran to be legitimate partners in the conflict. Defense Secretary James Mattis, however, has suggested he was open to the idea of rebuilding military ties to Russia. The Pentagon recently told Newsweek that Helsinki was "the beginning of a process between the United States and Russia to reduce tensions and advance areas of cooperation in our mutual interest."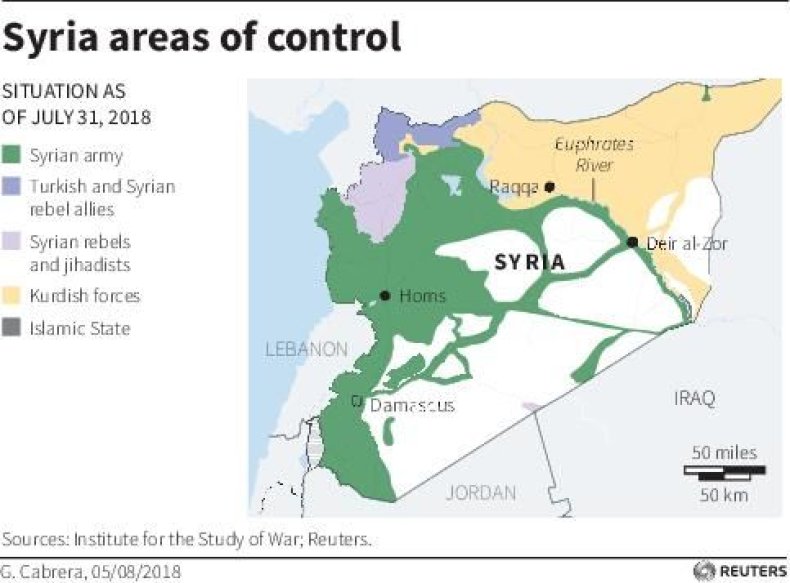 The top Russian and U.S. diplomats also discussed Syria on Friday. Secretary of State Mike Pompeo "reiterated that the United States seeks an improved relationship with Russia and agreed to future dialogue" in a call with Russian Foreign Minister Sergey Lavrov, according to a statement by State Department spokesperson Heather Nauert.
The pair reportedly addressed "the ongoing challenges in Syria," as well as recent U.S. sanctions imposed on Russia due to allegations that the Kremlin was behind the poisoning of an ex-Soviet spy in the U.K. in March, an event for which Moscow has denied any responsibility.