ISIS-Inspired French Teen Who Attacked Jewish Teacher Jailed for Attempted Murder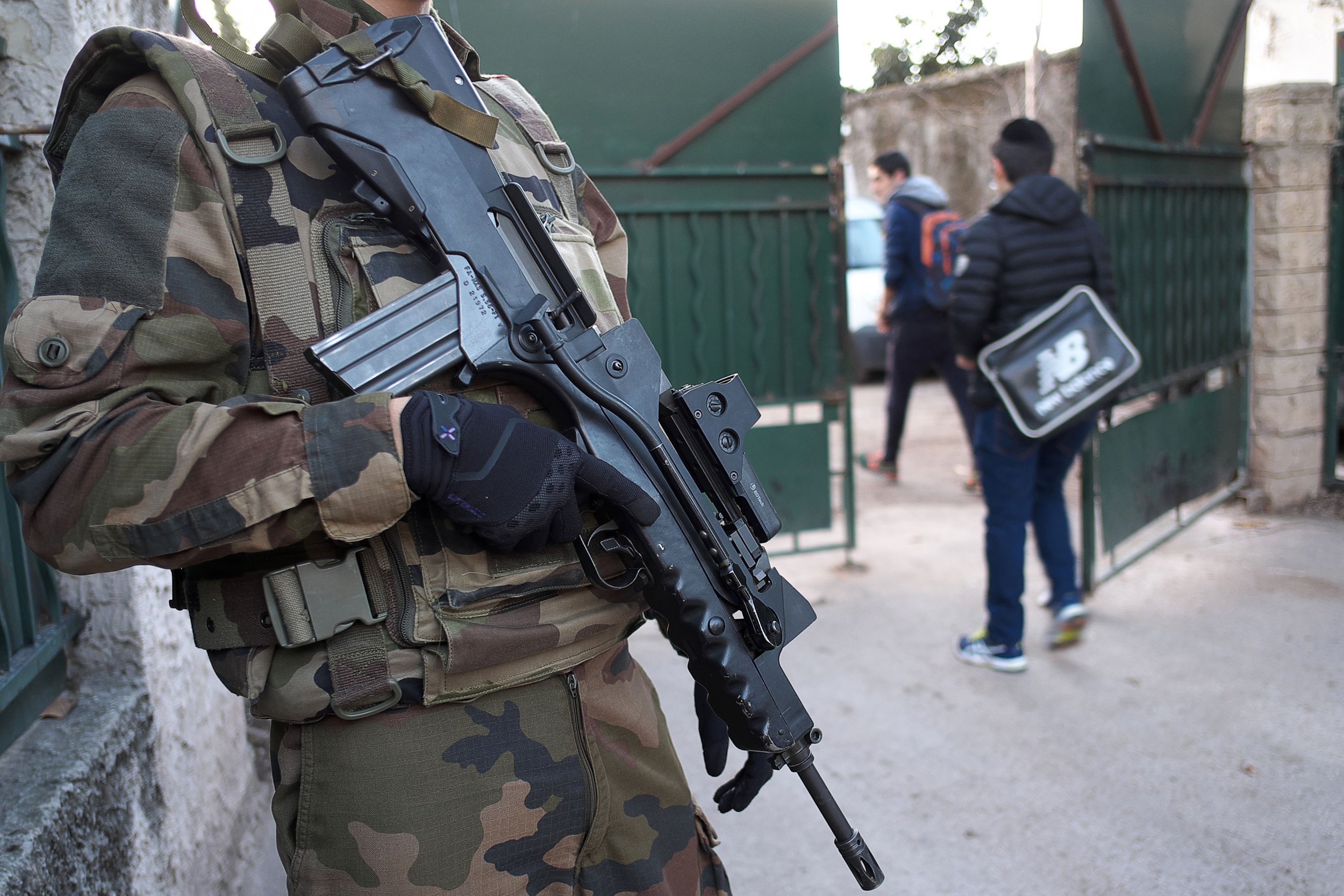 A French teenager inspired by the Islamic State militant group (ISIS) has been sentenced to seven years in jail for attempting to murder a Jewish teacher.
The attacker, a 17-year-old of Kurdish origin, was sentenced by a juvenile court on Thursday, the Paris prosecutor's office confirmed.
In January 2016, the teenager, then 15, assaulted Benjamin Amsellem with a machete and a knife at a Jewish school in the southern city of Marseille. The teacher was wearing a kippa, or Jewish skullcap.
The attacker injured his back and one of his hands, and the teacher fell to the ground, kicking out and using a copy of the Torah to protect himself.
President François Hollande condemned the "abominable and unjustifiable" attack.
After his arrest, the perpetrator told authorities he had acted on behalf of ISIS. The trial was held behind closed doors on account of his young age.
Prosecutors told Newsweek that the attacker will begin his sentence in a facility for minors before being transferred to prison when he turns 18.
In the aftermath of the incident, Zvi Ammar, the leader of the city's Jewish community, advised Jews not to wear their kippas in public as he did not "want anyone to die in Marseille because they had a kippa on their head. " His comments sparked debate and several Jewish community leaders rejected his suggestion.
The attack should alert authorities and force them to take more stringent protection measures for France's Jewish community, the largest in Europe, according to Moshe Kantor, president of the European Jewish Congress.
"It is very dangerous that some feel that this is the new normal for French Jewry," he says in an email statement. "We hope that there will be greater protection for Jewish communities and that a strong message will be sent that extremism will not be tolerated and perpetrators of racial or religious violence will be given harsh sentences."
Read more: France's Jews are fleeing Paris for London
Lawmakers say the sentence sends a clear message to other potential attackers that hate crimes based on race or religion will not be tolerated on French soil.
"We have to prevent people from doing the same, otherwise people will start a kind of knife war in this country," says Nathalie Goulet, French senator and co-chair of the French Senate's committee on jihadism.
"Thinking about the teenager is one thing, but you have to think about the shock to the victim and all of the Jewish community. If you cannot wear a kippa safely in France, what do you want to do with this country?" she asks. "There is no way that he can have a lighter punishment, because I think it sets an example. If someone stabbed a Muslim lady with a veil, he would get the same."
France has suffered more than half a dozen attacks claimed or inspired by ISIS since January 2015, the deadliest being the November 2015 Paris massacre which left 130 people dead and the Nice truck attack that killed 86 people.
The country's Jewish community of around 500,000 has faced several radical Islamist attacks in recent years. A shooting at a Kosher supermarket after the assault on the offices of satirical magazine Charlie Hebdo killed four shoppers in January 2015.
Some 5,000 Jews left France and made aliyah to Israel last year, adding to a record 7,900 who left in 2015, according to the Jewish Agency. But although anti-Semitic violence remains a major concern, there was a 60 percent fall in the number of incidents last year, according to the French Interior Ministry, with 335 attacks compared to 800 recorded in 2015.