France's Francois Hollande Warns ISIS Jihadis Escaping Mosul Battle Fleeing to Raqqa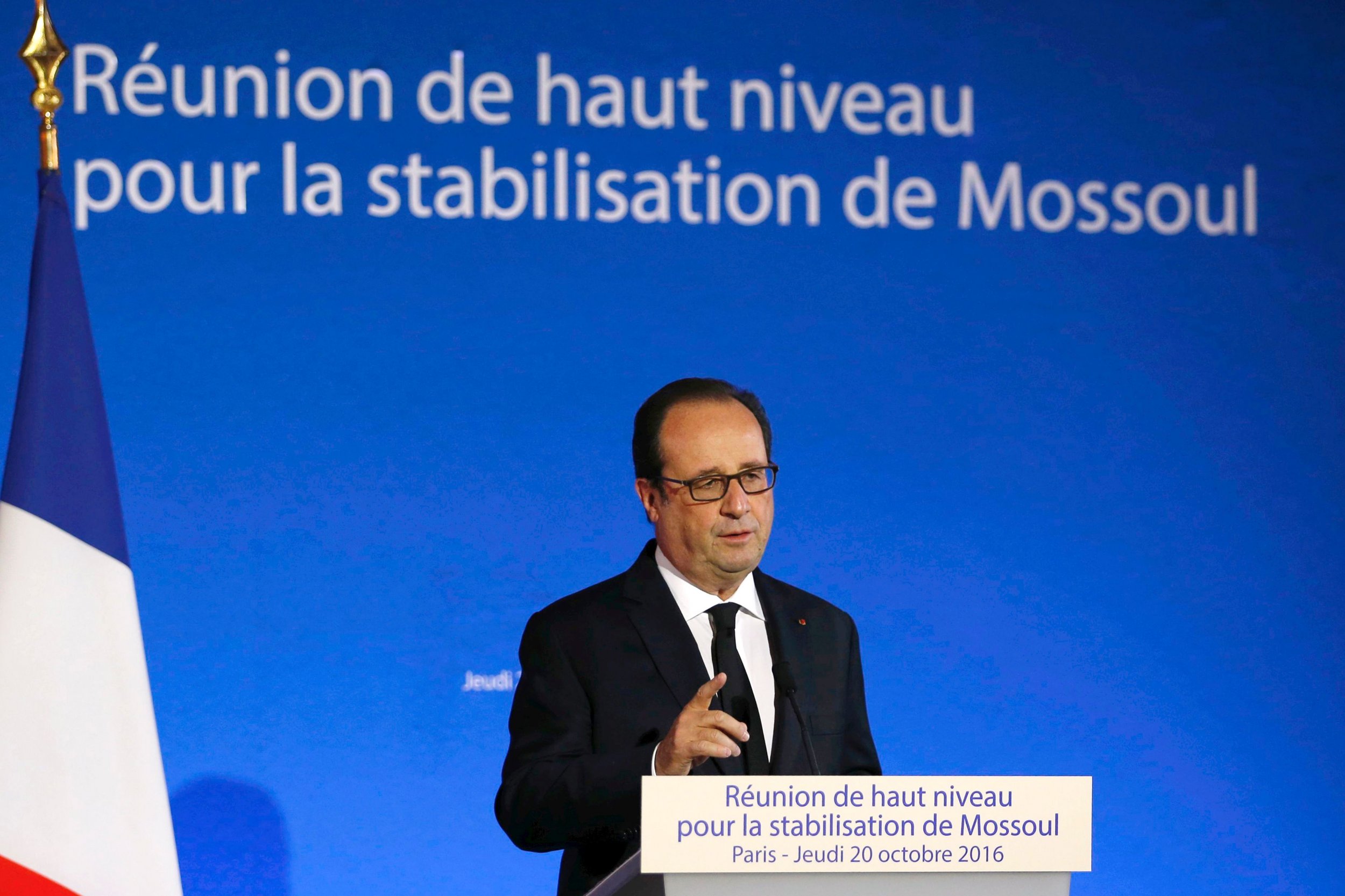 French President Francois Hollande warned Thursday that fighters for the Islamic State militant group (ISIS) are already fleeing the embattled northern Iraqi city of Mosul to regroup in its de-facto capital, the Syrian city of Raqqa.
"We can't afford mistakes in the pursuit of the terrorists who are already leaving Mosul for Raqqa," Hollande said at an international conference in Paris.
France has been the target of several high-profile radical Islamist attacks in the last two years, the most deadly being the Paris attacks in November 2015 when an ISIS cell killed 130 people in the French capital. French authorities ordered airstrikes on Raqqa immediately after the attack and believe that plots have been organized and directed from ISIS-controlled territory.
The meeting in the French capital is bringing together top officials from more than 20 members of the U.S.-led coalition to decide on a stabilization plan for Mosul, Iraq's second-largest city, as the offensive to recapture the ISIS bastion intensifies.
U.S. and Iraqi officials expect the battle to take weeks, if not, months. Diplomats from more than 20 countries are holding talks about how to ensure civilian safety, aid distribution and governance post-ISIS.
Iraqi special forces joined the battle for Mosul Thursday, launching an offensive on the town of Bartella on the road to the city. U.S.-led coalition airstrikes and artillery supported the elite troops. They will be the force that leads the offensive into the center of Mosul. But they met stiff resistance upon reaching Bartella.
ISIS militants carried out nine suicide car bombs against the forces as they advanced, an officer in the forces told the Associated Press. One struck a Humvee, while soldiers shot and prevented eight others from reaching their targets. The officer did not give a casualty figure from the one successful car bomb.
ISIS captured Mosul in a lightning offensive across northern Iraq in June 2014. It is both symbolically and strategically important to ISIS. It is the location where self-declared caliph Abu Bakr al-Baghdadi announced himself as the leader of all Muslims in his first public sermon.