Frank James 'Kept to Himself,' Brooklyn Shooting Suspect's Sister Says
Frank James, the man named a suspect in Tuesday's subway shooting in Brooklyn, was out of touch with his family, according to what one of his sisters told The Daily Beast.
James' sister Catherine told the news outlet on Tuesday that she hasn't spoken to her brother in years, saying that he "kept to himself."
"I don't know what might have been his motivation. Last I spoke to him was like three years ago," Catherine James said. "We don't keep in contact with each other... I don't know what he was thinking, I don't know anything about why he might have done what he did."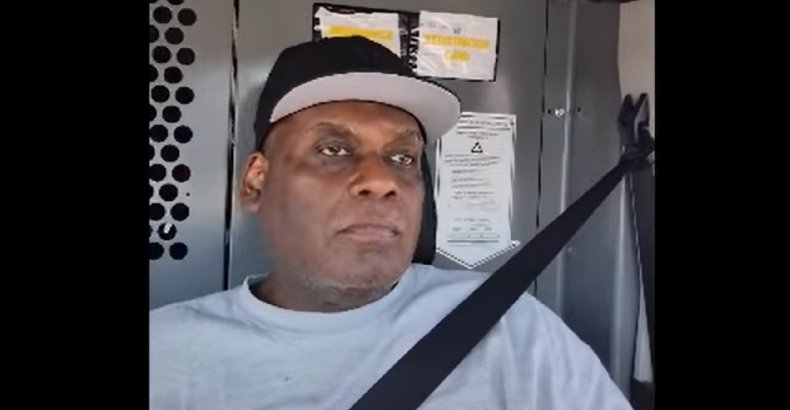 A masked gunman set off two smoke bombs in a northbound subway train full of commuters driving through Brooklyn on Tuesday, as the train was pulling into the 36th Street station in Sunset Park. The gunman opened fire shortly after.
The man is believed to have fired 33 times before fleeing the scene, reports The New York Times.
At least 23 people were injured, ten hit by the gunman's bullets and another 13 hurt in the panic that accompanied the attack. Five of those hit by gunfire were critically injured, according to media reports.
On Wednesday, James was named as a suspect. He had previously been identified by authorities as a "person of interest" in the case, with authorities calling for information on him from anyone who sees him and offering a $50,000 reward for his capture. James remains at large.
To make the manhunt more complicated, at least one camera in the subway system failed to record the shooting as it was not properly functioning. Police are now asking any witness to turn in any video evidence of the shooting.
On the scene of the attack, police have found a credit card with James' name on it, a Glock 9-millimeter handgun, three ammunition magazines, a hatchet, fireworks, a liquid believed to be gasoline and a key to a van which deputies believe belong to the gunman.
The van, that officials said James had rented in Philadelphia over the past seven days, was found parked in Brooklyn abandoned near the subway line.
Police said they found evidence of troubling posts and videos online shared by James ahead of the shooting on Tuesday morning.
In a video on his less-than-popular YouTube channel prophetoftruth88, James talks about going through New York's mental health system for PTSD, receiving treatment in facilities in the Bronx and New Jersey. The experience he had of it, he says, was scarred by such emotional violence that would make anyone "go and get a gun and shoot motherf***ers," per The Daily Beast.
"Mr. Mayor, I'm a victim of your mental health program," James said in another video quoted by The Daily Mail. "I'm 63 now full of hate, full of anger, and full of bitterness."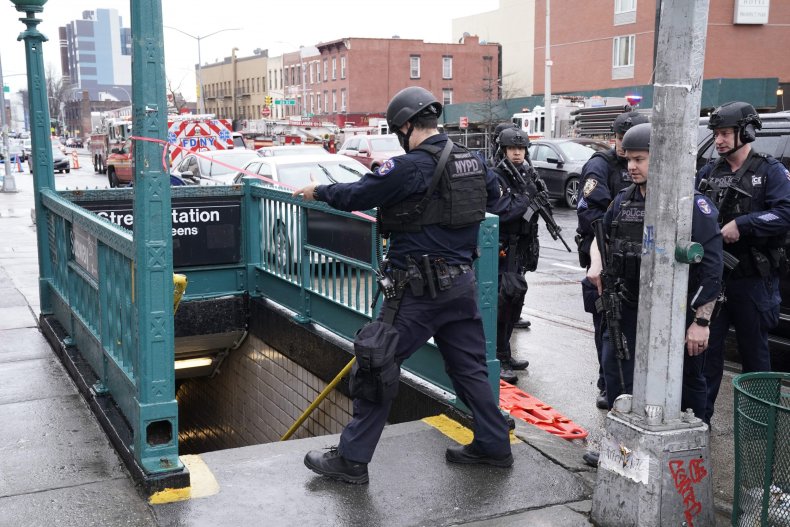 Many of James' videos on his YouTube channel contain rants on race and violence as well as harsh criticism of New York City's mayor, Eric Adams.
The number of subscribers to James' channel just about topped 300 before the shooting in the New York subway. By the time this article is being published, his channel has reached over 2,500 subscribers, and all his videos count thousands of views.
A federal law enforcement source told Newsweek that a suspect in the shooting was previously known to the FBI and was entered into the Guardian lead system in New Mexico, but was cleared after multiple interviews in 2019. That suspect was not James.
Most subway services, halted after the shooting, had resumed by Tuesday evening, reports The New York Times, but trains are still not stopping at the 36th Street station where the attack took place.
Correction: 4/13/2022, 6:00 p.m ET: A previous version of this story incorrectly stated that James was on an FBI watchlist before Tuesday's attack in Brooklyn. Newsweek's reporting on a person of interest in the investigation who was previously on an FBI watchlist referred to someone who was not James.
The FBI has clarified to Newsweek that James was not on a watchlist before Tuesday's attack.