Franklin Graham Backs Georgia Voting Law, Asks if MLB Should 'Pull Out of New York Too'
Prominent evangelical leader Franklin Graham came out in support of Georgia's new restrictive voting law, questioning MLB's decision to move its summer All-Star Game out of Atlanta in protest of the legislation.
Graham, the president and CEO of the Billy Graham Evangelistic Association (BGEA) and of Samaritan's Purse, has long allied himself with Republicans and conservative causes. The evangelical leader was strongly supportive of former President Donald Trump, even voicing support for his baseless legal challenges to the 2020 presidential election.
In a Tuesday morning post, Graham shared a screenshot from Fox News comparing Georgia's new voting law with existing election laws in New York.
"All the uproar about Georgia's new voting laws, and look at this comparison to New York! Maybe Major League Baseball should pull out of New York too??!! There have been so many false claims about the new Georgia voting law as they try to safeguard election integrity in their state. President Biden even jumped on the bandwagon and received 'four Pinnochios' [sic] from the Washington Post for false claims he made about Georgia," Graham wrote in a Facebook post on his official public profile.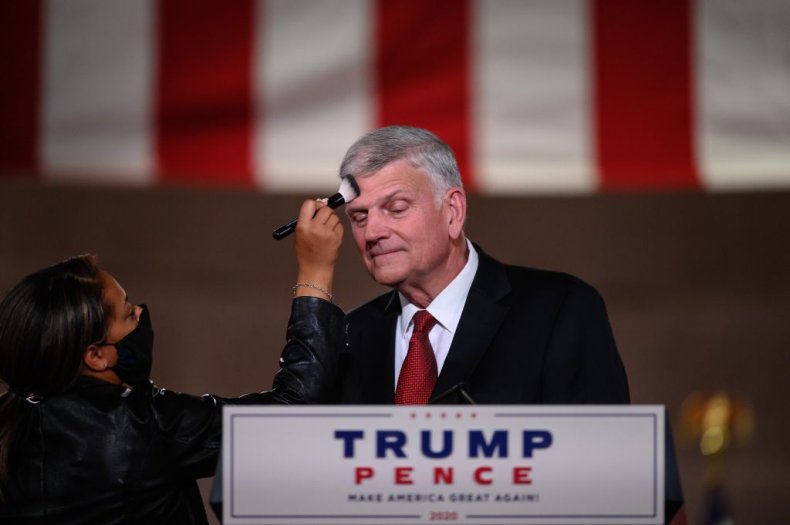 "Any effort toward strengthening election integrity is being painted as voter suppression, and that is just wrong. I personally think that voter ID is a practical idea that would, no question, bring integrity to elections across our country. We have to show our ID to fly on an airplane, check into a hotel room, pick up game tickets, or buy cold medicine. What's wrong with showing it to vote? Pray for our nation," he added.
Newsweek reached out to the MLB for comment but did not immediately receive a response. The 2021 All-Star Game reportedly will be played in Denver.
Democrats have come out strongly against the new Georgia election law, which was pushed through by state Republicans after Georgia narrowly flipped blue for President Joe Biden and Senators Jon Ossoff and Raphael Warnock. GOP lawmakers in the state justified their efforts by touting Trump's unsubstantiated conspiracy theory that the 2020 election was "rigged" or "stolen" by Democrats.
The new Georgia voting law shortens the time for voters to request absentee ballots, makes it illegal for election officials to mail out absentee ballot applications, institutes strict voter ID requirements, reduces the number of ballot drop boxes, and makes it a crime to provide food and water to voters waiting in lines to cast ballots, among a number of other substantial changes.
Republicans defend the law, saying that it makes it easier to vote while ensuring the state's elections are secure. But there is no evidence to support claims of widespread voter fraud or that show the 2020 election in the Southern state was not secure.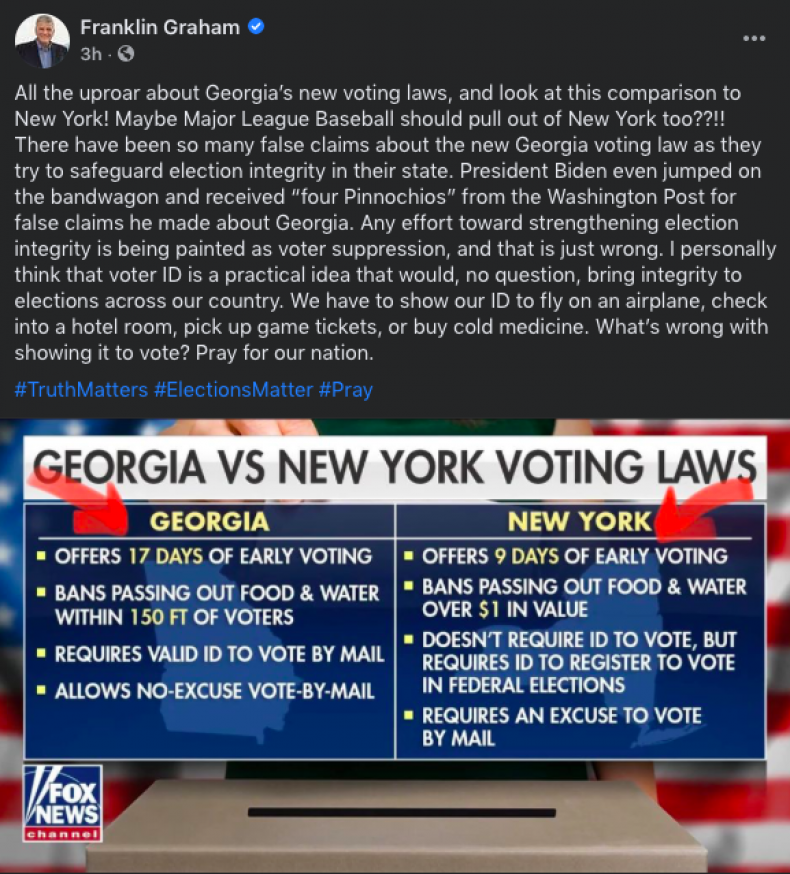 Dozens of election lawsuits filed by Trump and his supporters were dismissed in state and federal courts. Even judges appointed by the former president and other Republicans rejected the allegations. In November, shortly after the election was called by the media, the Cybersecurity and Infrastructure Security Agency at the Department of Homeland Security—which was led by a Trump appointee—asserted that the 2020 election was the "most secure in American history."
Former Attorney General William Barr, who was widely viewed as one of Trump's most loyal Cabinet members, said in early December that there was "no evidence" of widespread fraud that would change the election's outcome. Multiple audits and recounts in key battleground states—including in Georgia—reaffirmed Biden's win.
In Georgia, the election was overseen by Secretary of State Brad Raffensperger, a Republican who voted for and donated to Trump. But the former president and his allies continue to insist there was significant fraud.